FORTIFIED UNIVERSITY BY REVOLUTION WELLNESS CENTER
About this Event
Calling all Health Freedom Fighters & Truth Seekers! Introducing a completely NEW 4-Part Series Launching March 2021: FORTIFIED University
FORTIFIED: to make strong, such as to strengthen and secure; to give physical strength, courage, or endurance to; to add mental or moral strength to; to encourage; to strengthen or enhance by the addition of some substance or ingredient
It's TIME to FORTIFY & OCCUPY! We are torch bearers of truth and information that can save and change lives. It's time to "gird up the loins of our minds" (1 Pet 1:13) and stand strong, informed, and equipped through the trials of our time.
Each week in March Fortified University will feature a personal interview with Dr. Suzy Youngquist, DC, Owner & Founder of Revolution Wellness Center, and a prominent thought-leader on timely topics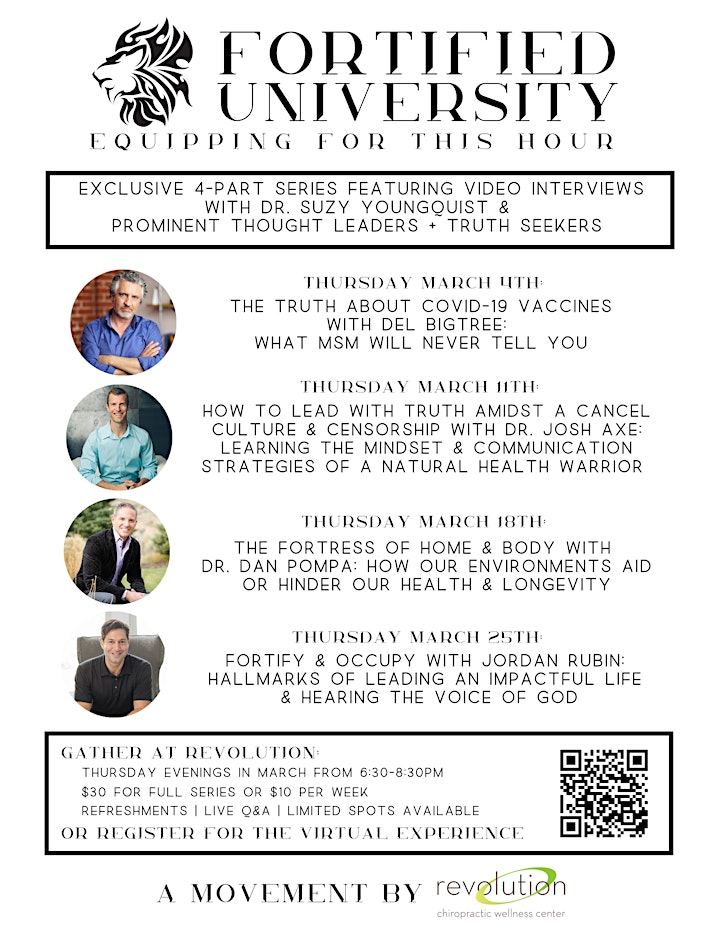 CHOOSE YOUR EXPERIENCE:
1. IN PERSON FULL SERIES | $30 | Gather each Thursday night in March at Revolution Wellness Center from 6:30pm-8:30pm with passionate, like-minded members of our community to view each week's interview, enjoy light refreshments & participate in a Live Q&A with the Team of Revolution. Seating is limited.
Dates: Thursday March 4th, 11th, 18th and 25th from 6:30pm-8:30pm
WEEK 1 | Thursday March 4th: The Truth About COVID-19 Vaccines with Del Bigtree: What Mainstream Media Will Never Tell You
WEEK 2 | Thursday March 11th: How to Lead with Truth Amidst a Cancel Culture & Censorship with Dr. Josh Axe: Learning the Mindset & Communication Strategies of a Natural Health Warrior
WEEK 3 | Thursday March 18th: The Fortress of Home & Body with Dr. Dan Pompa: How our Environments Aid or Hinder our Health & Longevity
WEEK 4 | Thursday March 24th: FORTIFY & OCCUPY with Jordan Rubin: Hallmarks of Leading an Impactful Life & Hearing the Voice of God
2. IN PERSON BY WEEK | $10 | Can't attend all four evenings? Purchase individual tickets to attend specific Thursday nights of your choosing
3. VIRTUAL SERIES | Free | Register for this ticket type and receive a link each week to the featured video interview to view at your convenience
Because our space to gather in person is so limited, we are unable to offer refunds for in person ticket packages and in person individual tickets.