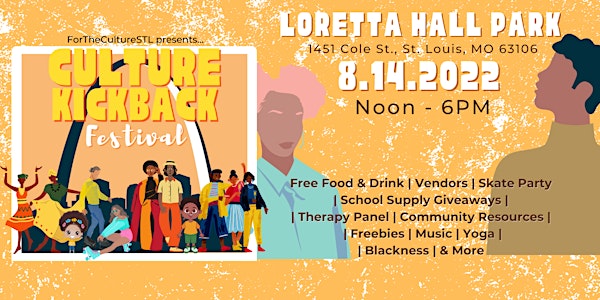 ForTheCultureSTL Presents: The Culture Kickback Fest
A festival celebrating Black culture mixed with good vibes, community resources, healing, fun and most importantly; Blackness.
When and where
Location
Loretta Hall Park 1451 Cole St. St. Louis, MO 63106
About this event
The Culture Kicback is BACK but this time we're going BIGGER!!!! THE CULTURE KICKBACK FEST is the BIGGEST AND BLACKEST, family reunion styled kickback in St. Louis. Come out for FREE food, shop with Black vendors, play games, skate at the outdoor rink and of course, enjoy ALL of our CULTURE! We mentioned we're going bigger, right? This year we'll have a stage for entertainment, therapy panel, yoga, live DJs and MORE! Not only will it be filled with good vibes but we're also focused on HEALING our community, so be prepared for ALLLLL of the resources you can possibly think of. And to top it off there is a BACK TO SCHOOL GIVEAWAY, so come get the youth in your life the school supplies they'll need for the upcoming school year.
This is a FREE, open, kid friendly event so bring your crew and wear your most afrocentric outfits (please use covid precautions and safety measures). DON'T FORGET TO BRING YOUR ROLLER SKATES because there'll be a skate party!
Meet us at Loretta Hall Park to build community while having a whole lot of fun.
From August 11th-14th ForTheCultureSTL is bringing the Black community multiple events that focus on mental/physical wellness, community engagement and equity in business. Every event is For The Culture.
8/11: 90s Adult Game Night
8/12: Community 1st Responder Class
8/13: Black Owned Farm Tour
8/14: Culture Kickback Fest