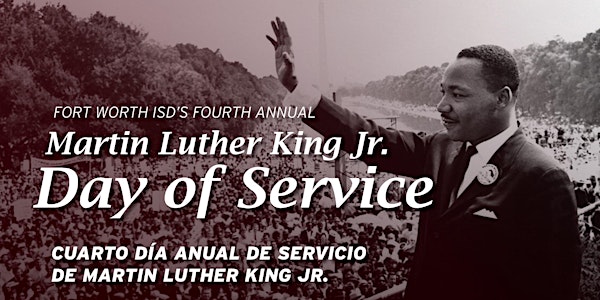 Fort Worth Independent School District - M.L.K. Day of Service (2022)
Location
When We Love
1100 East Lancaster
Fort Worth, TX 76102
In observance of MLK Day and a spirit of service, all FWISD staff are invited to participate in a day of service and community outreach.
About this event
MLK Day of Service is a federal holiday observed as a national day of service. It calls for Americans to work together to provide solutions to the issues our community faces every day.
On Monday, January 17th, FWISD employees will assemble care packages consisting of hats, gloves, blankets, toiletries, and non-perishable foods at the FWISD Administration Building located at 100 N. University Drive beginning at 7:00 a.m. Immediately after, employees will commence distributing care packages and meals from 10:00 a.m. until all meals and resources are exhausted at When We Love located at 1100 E. Lancaster Avenue.
In the spirit of service, all District staff are invited to join FWISD Central Office Leadership, FWISD Board of Trustees and Fort Worth Community Leaders for a day of service and community outreach.