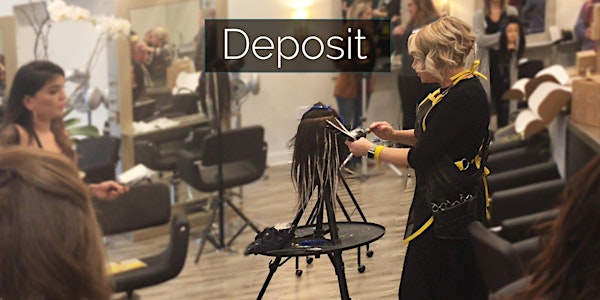 Fort Wayne Private Balayage and Hair Painting lesson with Lacie Wehrle 2/4/...
Event Information
Location
Lacie's Exclusive Hair Design
2857 East Dupont Rd
Fort Wayne, IN 46825
Description
Do you learn better one on one? Whether you're a beginner or an advanced painter, this is the class for you! Learn to paint seamless and beautiful balayage with National Sunlights Balayage Educator, Lacie Wehrle. In this 6+ hour private hands on lesson, Lacie will be using her favorite balayage lightener, Sunlights Balayage by Candy Shaw to teach basic AND advanced balayage application, balayage hilighting and lowlighting, achieving maximum lift, balayage with grey coverage, Lacie's favorite ridging technique, perfect placement for seemless blend, how to transition foil clients to balayage, and tons of Lacie's favorite troubleshooting tips and tricks to take back to your salon and have you painting with confidence and potentially more than doubling your color service income. Once you have purchased your ticket, Lacie will contact you to tailor your lesson to your specific challenges and strengths.
* We will start our day together by going over the fundamentals of Lacie's favorite ways to achieve the perfect Balayage. We will paint together on Mannequins to demonstrate and practice these techniques. Next we will have a light lunch delivered and we can chat about what you feel are your strengths and weaknesses so we can continue to perfect your technique after we eat. Finally, you will use the techniques you learned to paint a live model with Lacie's guidance and your new skills. Although class is scheduled to end at approximately 4:00, sometimes we finish early, sometimes we run over, so plan accordingly for travel, you won't want to miss anything, this is your day to grow and ask Lacie just about anything you'd like. You will be provided with one mannequin and the use of everything needed to paint with Lacie for class. After Lacie has contacted you to discuss your wants for class, she will choose and provide a live model for you to paint in the second half of class. The only thing you need to bring is a positive attitude, a color apron to protect your clothing, and a second human hair mannequin if you would like to paint on more than the one that Lacie will provide.
*Tickets for class are $1200/stylist and are non-refundable. If you would like to register for class with a friend or open up another spot for another stylist, you will receive a discount of $200 each if you register together for a total of $1000 each. If you are interested in this option, purchase this ticket to hold the date and then contact Lacie at lswhair@gmail.com to add the second stylist
Date and time
Location
Lacie's Exclusive Hair Design
2857 East Dupont Rd
Fort Wayne, IN 46825
Refund policy