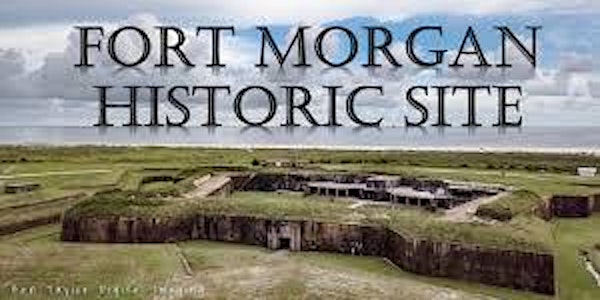 Fort Morgan Ghost Investigation with Second Sight Paranormal Investigation
Location
110 AL-180
110 Alabama 180
Gulf Shores, AL 36542
Join Second Sight Paranormal at Fort Morgan, one of Alabama's most haunted places .
About this event
Join the members of Second Sight Paranormal TV for a fully equipped GhOsT and Paranormal Investigation at Fort Morgan, one of Alabama's most haunted places .
May 16 at 7:30 PM to 11 PM
We will provide ghost hunting equipment, but feel free to bring your own! Audio equipment & digital cameras are allowed.
850 941 4321
Our TV Show:
Calling all Paranormal Enthusiasts, Ghostbusters, and Horror Fans!! Watch "Second Sight Paranormal TV" Sundays 6:30 Pm WJTC 44 featuring Second Sight Paranormal and Forensic Services and International Psychic Medium Ericka Boussarhane!#SupportSecondSight
Website: http://www.secondsightparanormal.com
For tickets visit:
All Sales Final ~ No refunds!
https://www.eventbrite.com/e/fort-morgan-ghost-investigation-with-second-sight-paranormal-investigation-tickets-87713263733
Facebook Page: https://www.facebook.com/Second-Sight-Paranormal-Investigations-and-Forensic-Services-2193984727577367
Face Book Event:
https://www.facebook.com/events/726671597738713
Haunted History:
There are many haunted places located throughout Alabama, including historic homes, cemeteries, restaurants, hospitals and more. One of the state's most haunted places is Fort Morgan—a historic masonry star fort that's located along the Gulf Coast at the mouth of Mobile Bay, Alabama.
The construction of Fort Morgan began in 1819 and was completed in 1834. Its unique star shape made it much easier to defend. When Fort Morgan was built, it was considered the "finest example of military architecture in the New World."
During the Civil War, Fort Morgan experienced heavy fire. While the Battle of Mobile Bay took place, the Union set the fort on fire. This historic battle resulted in many deaths.
Fort Morgan has definitely seen its fair share of ghosts. One of the most haunted areas of Fort Morgan is the old barracks. In 1917, a prisoner committed suicide by hanging himself in the barracks of the fort. Since then, many people have reported hearing him cry during the late night hours.
Also, during the Civil War, a bomb went off in a room of the fort, killing many men. These men can still be heard screaming at night.
The ghost that many people are most familiar with is the one that belongs to a young woman. This woman was attacked sometime during the 19th century, and according to local lore, she still roams Fort Morgan looking for her attacker. All she wants is justice.
Fort Morgan is one of Alabama's true hidden gems. If you've never visited this historic battle site, make plans to do so. You won't be disappointed.
A Pensacola Comic Convention and Second Sight TV Partnership
All Sales Final ~ No refunds!