Sales Have Ended
Ticket sales have ended
We at Fort Mason Center for Arts and Culture (FMCAC), appreciate your support for the Arts! We look forward to seeing you soon. Jun FMCAC Patron Services / Box Office Manager
Sales Have Ended
Ticket sales have ended
We at Fort Mason Center for Arts and Culture (FMCAC), appreciate your support for the Arts! We look forward to seeing you soon. Jun FMCAC Patron Services / Box Office Manager
FORT MASON FLIX present: The Road Warrior
About this event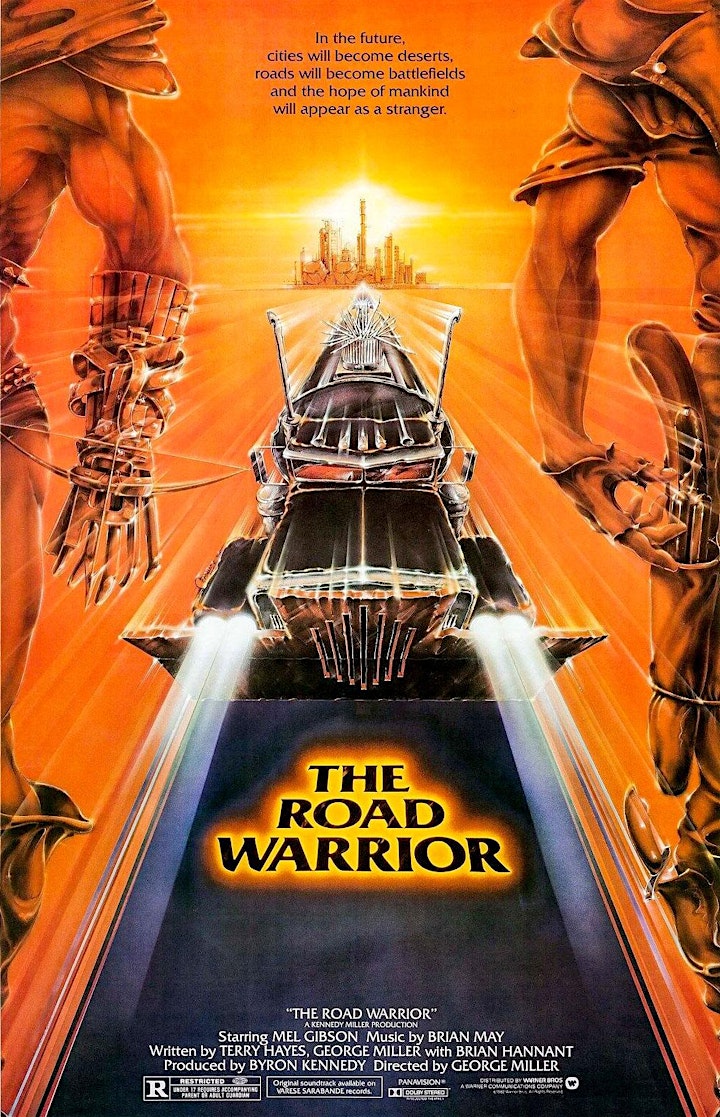 The Road Warrior
"The last of the V8 Interceptors ... a piece of history! Would've been a shame to blow it up."
DIRECTOR: George Miller RELEASE YEAR: 1981
RATING: R
RUNTIME: 94 min.
With Mel Gibson, Bruce Spence, Vernon Wells, Mike Preston, Kjell Nilsson, and Max Phipps
After avenging the death of his wife and young son at the hands of a vicious gang leader, Max (Mel Gibson) drives the post-apocalyptic highways of the Australian outback, fending off attacks from nomadic tribes that prey on outsiders. Falling into an encampment led by the relatively peaceful Pappagallo (Mike Preston), Max at first schemes to steal their oil, but soon becomes the group's reluctant defender against the hulking Humungus (Kjell Nilsson) and his ruthless marauders. (Rotten Tomatoes)
Drive-In Rules
All Parking is General Admission
Tickets are general admission, there is no assigned parking. Staff will do their best to accommodate all vehicles.
For sightline reasons, taller vehicles such as SUVs will be parked towards the rear of the venue so as not to block the views of smaller cars.
Hatchback Viewing
First come first served, for consideration of other patron's viewing you will be placed in the back of the lot.
(Pro-Tip: Come early, it fills up fast.)
Late Arrivals
In order to ensure all patrons have an enjoyable experience please arrive early. Any late arrivals, 20 minutes after the showing has begun, will not be permitted into the event. Tickets are non-refundable or exchangeable.
Restroom Use
When patrons exit their vehicles to use the restroom facilities, they must wear a mask at all times and adhere to protocols laid out by restroom docents, e.g., one person at a time in the restroom, 6' apart in lines, etc.
Occupancy for Vehicle
Each vehicle may only be occupied by members of the same household who have already been in close contact with each other.
Headlights
Car headlights must be turned off during the film. Prior to arrival, please locate how to manually turn car headlights off.
There will be ZERO tolerance for those not complying with the above. Guests who cannot or will not comply will be asked to leave the premises and no refunds will be given.
Health & Safety Guidelines
Masks will be required by all attendees over the age of 2 when outside of the vehicle. Mask with exhalation valve are not allowed.
Parking spaces are distanced by 6 feet to promote and maintain social distancing.
Attendees are asked to remain in their vehicles when not using the restroom facilities.
Restroom facilities will be regularly cleaned and sanitized.
Please follow socially distance requirements at all times. Attendees who fail to follow safe distancing at the request of staff will cause the attendee to be subject to ejection of the event. No refunds given.
Please stay home if in the past 24 hours, including today, have you had one or more of these symptoms that is new or not explained by another condition.·
Fever (100.4oF/38.0C or greater), chills, repeated shaking/shivering · Cough · Sore throat · Shortness of breath, difficulty breathing · Feeling unusually weak or fatigued* · Loss of taste or smell · Muscle or body aches* · Headache · Runny or congested nose* · Diarrhea ·Nausea or vomiting
FAQ
Concessions?
FORT MASON FLIX is currently not offering concessions. We encourage you bring food, and please remain in your vehicle if actively eating or drinking.
Film Audio?
Audio will be broadcasted through FM stereo sound that is tuned directly through your car's FM stereo. Turn your key to accessory mode to keep your stereo on. If you don't have an FM stereo, please bring a portable radio--there are limited numbers available for use at the event. In the rare instance that your battery dies, we will have jumper cables to get you on your way.
Mask?
You will need your mask at all times when you are not in your vehicle. This accounts for restroom use, concession purchasing, or leaving the footprint of your vehicle for any reason.
Tickets at the door?
For safety reasons, we are limiting ticket sales to online only.
Rain?
In the event of light to moderate rain, FORT MASON FLIX will remain open. In cases of heavy and sustained rain, FORT MASON FLIX may close at the sole discretion of Fort Mason Center for Arts & Culture management. Ticket holders for any screening cancelled pursuant to this policy shall receive a credit to the future show of their choice.
Entry for parking?
FMCAC will allow cars to enter starting 60 minutes prior to the screening time.
Bathrooms?
Bathrooms are located in Building D (the long building flanking the right-side of the parking area).
Sitting in the back of our car with the trunk open?
We will try to accommodate these requests. Please inform our parking staff on arrival if you would like to do so. You must remain within the footprint of your vehicle at all times.
Can I bring chairs and sit outside of my car?
No, you must stay within your car footprint at all times.
Not Feeling Well?
Please stay home if in the past 24 hours, including today, have you had one or more of these symptoms that is new or not explained by another condition.·
Fever (100.4oF/38.0C or greater), chills, repeated shaking/shivering · Cough · Sore throat · Shortness of breath, difficulty breathing · Feeling unusually weak or fatigued* · Loss of taste or smell · Muscle or body aches* · Headache · Runny or congested nose* · Diarrhea ·Nausea or vomiting