Sales Have Ended
Ticket sales have ended
We at Fort Mason Center for Arts and Culture (FMCAC), appreciate your support for the Arts! We look forward to seeing you soon. Jun FMCAC Patron Services / Box Office Manager
Sales Have Ended
Ticket sales have ended
We at Fort Mason Center for Arts and Culture (FMCAC), appreciate your support for the Arts! We look forward to seeing you soon. Jun FMCAC Patron Services / Box Office Manager
FORT MASON FLIX Present: The Night of the Hunter
About this event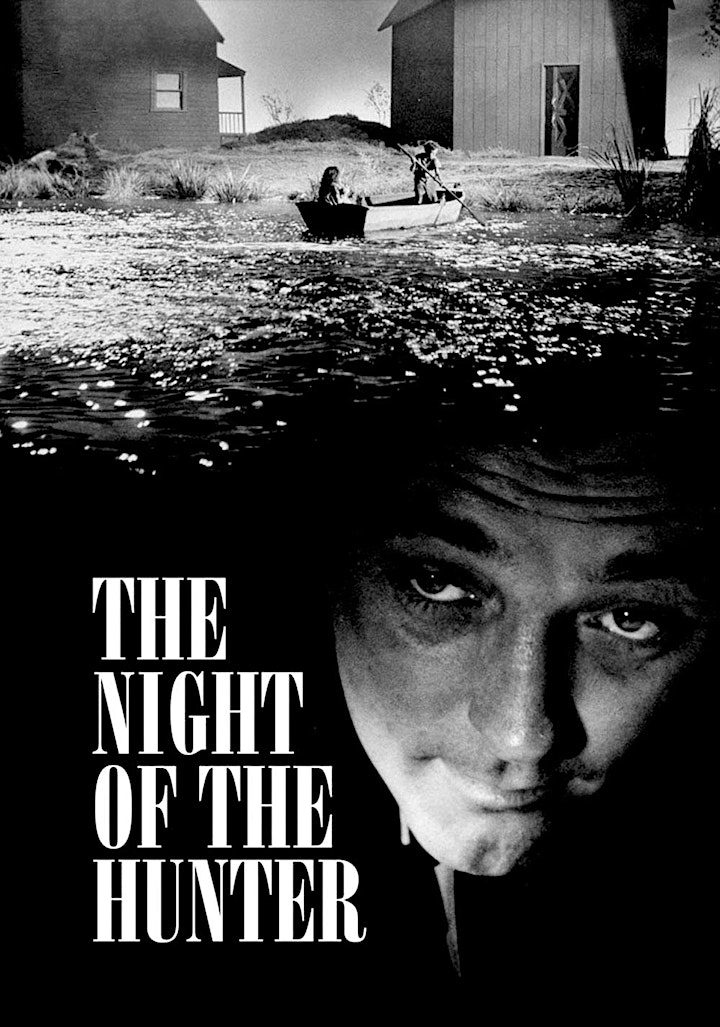 The Night Of The Hunter
"Would you like me to tell you the little story of right hand, left hand? The story of good and evil? H-A-T-E. It was with this left hand that old brother Cain struck the blow that laid his brother low. L-O-V-E. You see these fingers, dear hearts? These fingers has veins that run straight to the soul of man -- the right hand, friends, the hand of love."
FLIX PIX Staff Selection: One of the greatest films of all time directed by Charles Laughton in 1955. Robert Mitchum is pure evil as a religious fanatic who is also a serial killer. Shelley Winters is brilliant as the naive widow and Lillian Gish as the light to Mitchum's dark. The child actors are also brilliant in this film. - Julie
DIRECTOR: Charles Laughton RELEASE YEAR: 1955
RATING: NR
RUNTIME: 93 min.
CAST: With Robert Mitchum, Shelley Winters, Lillian Gish, James Gleason, Evelyn Varden, Peter Graves, Don Beddoe, Billy Chapin, Sally Jane Bruce, and Gloria Castillo
DESCRIPTION: A horror movie with qualities of a Grimm fairy tale, The Night Of The Hunter stars a sublimely sinister Robert Mitchum as a traveling preacher named Harry Powell (he of the tattooed knuckles), whose nefarious motives for marrying a fragile widow, played by Shelley Winters, are uncovered by her terrified young children. Graced by images of eerie beauty and a sneaky sense of humor, this ethereal, expressionistic American classic -- also featuring the contributions of actress Lillian Gish and writer James Agee -- is cinema's most eccentric rendering of the battle between good and evil. (The Criterion Collection)
Drive-In Rules
Mask
Mask required inside Fort Mason Landmark Buildings (i.e. when using the bathroom)
All Parking is General Admission
Tickets are general admission, there is no assigned parking. Staff will do their best to accommodate all vehicles.
For sightline reasons, taller vehicles such as SUVs will be parked towards the rear of the venue so as not to block the views of smaller cars.
Hatchback Viewing
First come first served, for consideration of other patron's viewing you will be placed in the back of the lot.
(Pro-Tip: Come early, it fills up fast.)
Late Arrivals
In order to ensure all patrons have an enjoyable experience please arrive early. Any late arrivals, 20 minutes after the showing has begun, will not be permitted into the event. Tickets are non-refundable or exchangeable.
Headlights
Car headlights must be turned off during the film. Prior to arrival, please locate how to manually turn car headlights off.
FAQ
Concessions?
FORT MASON FLIX is currently not offering concessions. We encourage you bring food!
Film Audio?
Audio will be broadcasted through FM stereo sound that is tuned directly through your car's FM stereo. Turn your key to accessory mode to keep your stereo on. If you don't have an FM stereo, please bring a portable radio--there are limited numbers available for use at the event. In the rare instance that your battery dies, we will have jumper cables to get you on your way.
Tickets at the door?
We're limiting ticket sales to online only.
Rain?
In the event of light to moderate rain, FORT MASON FLIX will remain open. In cases of heavy and sustained rain, FORT MASON FLIX may close at the sole discretion of Fort Mason Center for Arts & Culture management. Ticket holders for any screening cancelled pursuant to this policy shall receive a credit for a future show.
Entry for parking?
FMCAC will allow cars to enter starting 60 minutes prior to the screening time.
Bathrooms?
Bathrooms are located in Building D (the long building flanking the right-side of the parking area). Mask Required!
Sitting in the back of our car with the trunk open?
We will try to accommodate these requests. Please inform our parking staff on arrival if you would like to do so.
Can I bring chairs and sit outside of my car?
Yes, you can bring a chair(s) and set up outside of your car footprint.
Organizer of FORT MASON FLIX: The Night of the Hunter