Sales Have Ended
Ticket sales have ended
We at Fort Mason Center for Arts and Culture (FMCAC), appreciate your support for the Arts! We look forward to seeing you soon. Jun FMCAC Patron Services / Box Office Manager
Sales Have Ended
Ticket sales have ended
We at Fort Mason Center for Arts and Culture (FMCAC), appreciate your support for the Arts! We look forward to seeing you soon. Jun FMCAC Patron Services / Box Office Manager
FORT MASON FLIX Presents: Do the Right Thing
About this event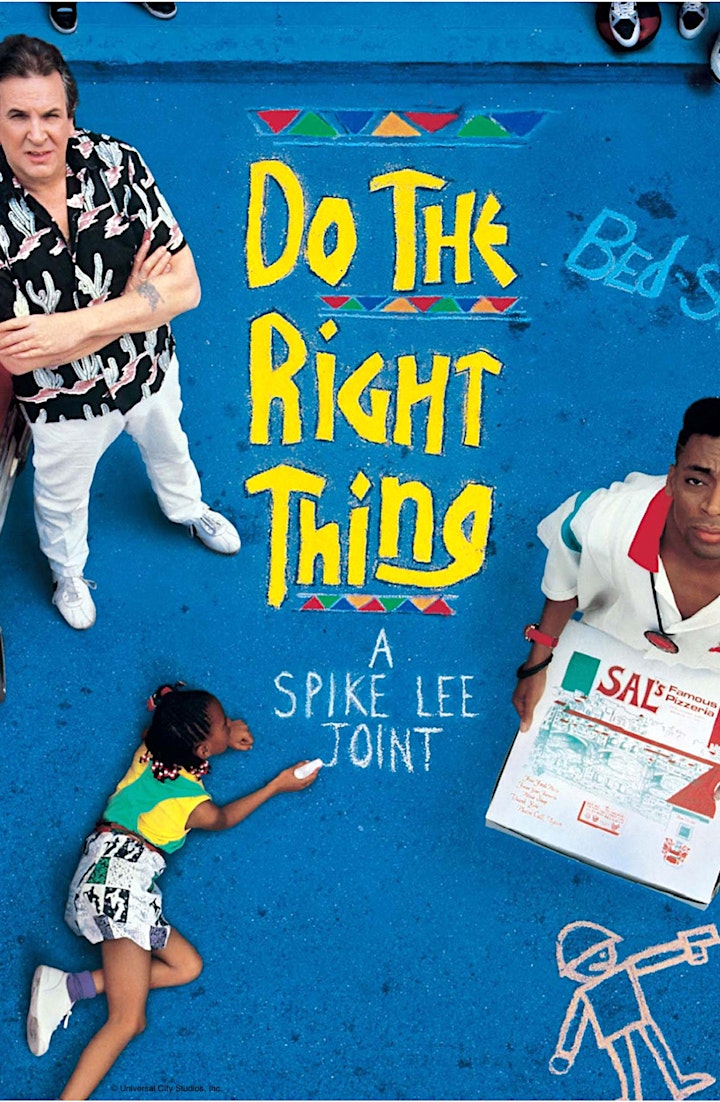 Do The Right Thing
"Don't stare at me. The Evil Eye doesn't work on me."
FLIX PIX Staff Selection: "Violence as a way of achieving racial justice is both impractical and immoral." -- Martin Luther King, Jr.
"I don't even call it violence when it's self- defense, I call it intelligence." -- Malcom X.
Unfortunately, this exploration of racial tension and police killings is all too relevant 30 years on. -- Christine
DIRECTOR: Spike Lee RELEASE YEAR: 1989
RATING: R
RUNTIME: 120 min.
CAST: With Spike Lee, Danny Aiello, John Turturro, Ossie Davis, Ruby Dee, Giancarlo Esposito, John Savage, Martin Lawrence, Miguel Sandoval, Samuel L. Jackson, Rosie Perez, and Richard Edson
Unanimous critical acclaim embraces this inventive and extraordinary film from Spike Lee. This powerful visual feast combines humor and drama with memorable characters while tracing the course of a single day on a block in the Bedford-Stuyvesant area of Brooklyn. It's the hottest day of the year, a scorching 24-hour period that will change the lives of its residents forever. Danny Aiello co-stars in this absorbing tale of inner-city life that heats up with vivid images and unforgettable performances. (Universal Pictures)
Drive-In Rules
Mask
Mask required inside Fort Mason Landmark Buildings (i.e. when using the bathroom)
All Parking is General Admission
Tickets are general admission, there is no assigned parking. Staff will do their best to accommodate all vehicles.
For sightline reasons, taller vehicles such as SUVs will be parked towards the rear of the venue so as not to block the views of smaller cars.
Hatchback Viewing
First come first served, for consideration of other patron's viewing you will be placed in the back of the lot.
(Pro-Tip: Come early, it fills up fast.)
Late Arrivals
In order to ensure all patrons have an enjoyable experience please arrive early. Any late arrivals, 20 minutes after the showing has begun, will not be permitted into the event. Tickets are non-refundable or exchangeable.
Headlights
Car headlights must be turned off during the film. Prior to arrival, please locate how to manually turn car headlights off.
FAQ
Concessions?
FORT MASON FLIX is currently not offering concessions. We encourage you bring food!
Film Audio?
Audio will be broadcasted through FM stereo sound that is tuned directly through your car's FM stereo. Turn your key to accessory mode to keep your stereo on. If you don't have an FM stereo, please bring a portable radio--there are limited numbers available for use at the event. In the rare instance that your battery dies, we will have jumper cables to get you on your way.
Tickets at the door?
We're limiting ticket sales to online only.
Rain?
In the event of light to moderate rain, FORT MASON FLIX will remain open. In cases of heavy and sustained rain, FORT MASON FLIX may close at the sole discretion of Fort Mason Center for Arts & Culture management. Ticket holders for any screening cancelled pursuant to this policy shall receive a credit for a future show.
Entry for parking?
FMCAC will allow cars to enter starting 60 minutes prior to the screening time.
Bathrooms?
Bathrooms are located in Building D (the long building flanking the right-side of the parking area). Mask Required!
Sitting in the back of our car with the trunk open?
We will try to accommodate these requests. Please inform our parking staff on arrival if you would like to do so.
Can I bring chairs and sit outside of my car?
Yes, you can bring a chair(s) and set up outside of your car footprint.