Sales Have Ended
Ticket sales have ended
We at Fort Mason Center for Arts and Culture (FMCAC), appreciate your support for the Arts! We look forward to seeing you soon. Jun FMCAC Patron Services / Box Office Manager
Sales Have Ended
Ticket sales have ended
We at Fort Mason Center for Arts and Culture (FMCAC), appreciate your support for the Arts! We look forward to seeing you soon. Jun FMCAC Patron Services / Box Office Manager
FORT MASON FLIX Present: Arthur Christmas "There is a Child without a present!"
About this event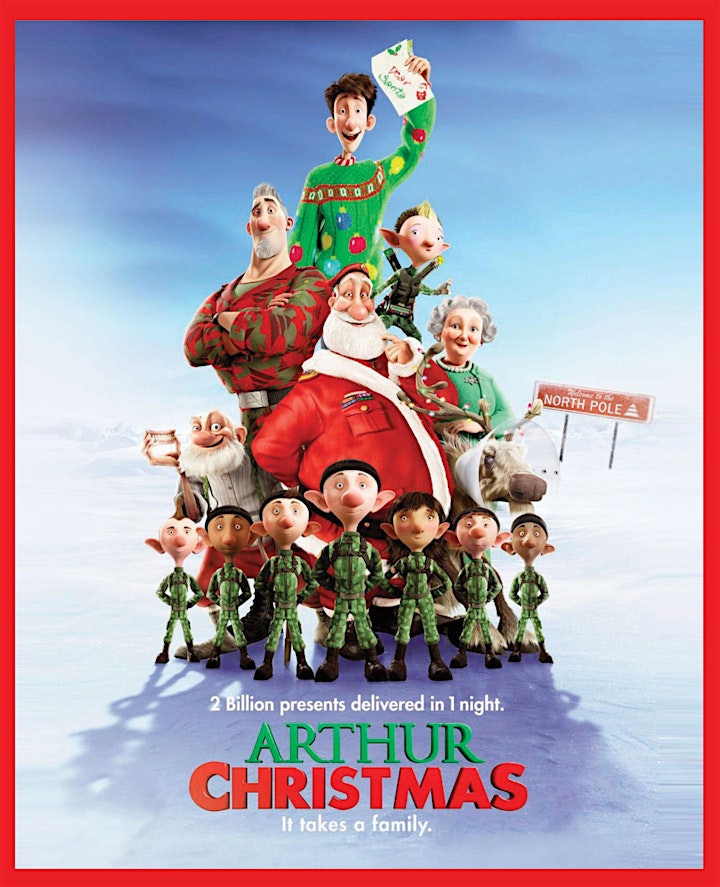 Arthur Christmas
Dir: Sarah Smith & Barry Cook, 2011
PG
97 min.
With James McAvoy, Hugh Laurie, Bill Nighy, Jim Broadbent, Imelda Staunton, and Ashley Jensen
"There is a Child without a present!"
Claus family head Malcolm (Broadbent) handles his Santa duties from an upgraded and very high-tech S-1 craft, while his son Steve (Laurie) oversees the Christmas operations from a command center under the North Pole. When a gift fails to reach its intended recipient, younger son Arthur (McAvoy) joins his grandfather (Nighy) -- in a very old-fashioned sleigh -- on a mission to save one child's Christmas. Steve and the main elves-in-charge have other plans in mind. Will there be one glitch, or a big save, this Christmas?
Drive-In Rules
Parking is General Admission and Hatchback Viewing
Tickets are general admission or hatchback viewing, there is no assigned parking. Staff will do their best to accommodate all vehicles.
For sightline reasons, taller vehicles such as SUVs will be parked towards the rear of the venue so as not to block the views of smaller cars.
Hatchback Viewing
First come first served, for consideration of other patron's viewing you will be placed in the back of the lot.
(Pro-Tip: Come early, it fills up fast.)
Late Arrivals
In order to ensure all patrons have an enjoyable experience please arrive early. Any late arrivals, 20 minutes after the showing has begun, will not be permitted into the event. Tickets are non-refundable or exchangeable.
Restroom Use
When patrons exit their vehicles to use the restroom facilities, they must wear a mask while inside the building.
Headlights
Car headlights must be turned off during the film. Prior to arrival, please locate how to manually turn car headlights off.
There will be ZERO tolerance for those not complying with the above. Guests who cannot or will not comply will be asked to leave the premises and no refunds will be given.
FAQ
Tickets at the door?
We are accommodating door sales, but do not accept cash payment.
Mask?
You will need your mask at all times when inside any buiding at Fort Mason Center.
Film Audio?
Audio will be broadcasted through FM stereo sound that is tuned directly through your car's FM stereo. Turn your key to accessory mode to keep your stereo on. If you don't have an FM stereo, please bring a portable radio--there are limited numbers available for use at the event. In the rare instance that your battery dies, we will have jumper cables to get you on your way.
Rain?
In the event of light to moderate rain, FORT MASON FLIX will remain open. In cases of heavy and sustained rain, FORT MASON FLIX may close at the sole discretion of Fort Mason Center for Arts & Culture management. Ticket holders for any screening cancelled pursuant to this policy shall receive a credit to the future show of their choice.
Entry for parking?
FMCAC will allow cars to enter starting 60 minutes prior to the screening time.
Bathrooms?
Bathrooms are located in Building C & D (the long buildings flanking the left and right side of the parking area).
Concessions?
Are available onsite at Goody's Cafe, and we have a limited concessions pre-order menu during checkout. Please visit Goody's cafe for an extended concessions menu.
Sitting in the back of our car with the trunk open?
Please purchase hatchback ticket for this accomdation. We cannot allow hatchback viewing out of our hatchback viewing area.
Can I bring chairs and sit outside of my car?
Yes, please bring your chairs! :)