About this Event
Join us for weekly trail runs at Cheyenne Mountain State Park this summer!
Fort Carson Trail Run Club
Recurring Saturday mornings
8 weeks - beginning 11 July 2020 and ending 29 August 2020
Where?
Cheyenne Mountain State Park, 410 JL Ranch Heights Rd, Colorado Springs, CO 80926
When?
Start Time: 6am
Runs will last 45 - 90 minutes
*Please note - must sign in at every attendance
Perks!!
Free Cheyenne Mountain State Park entrance with trail run club attendance!
Free trail run club t-shirt after attending 5 out of 8 runs!
* Trail Run Club T-shirt preview below
POC:
Contact Kelly Devlin with any questions or concerns regarding Fort Carson Trail Run Club
Office - (719) 526-5120
Work E-mail - kelly.f.devlin.naf@mail.mil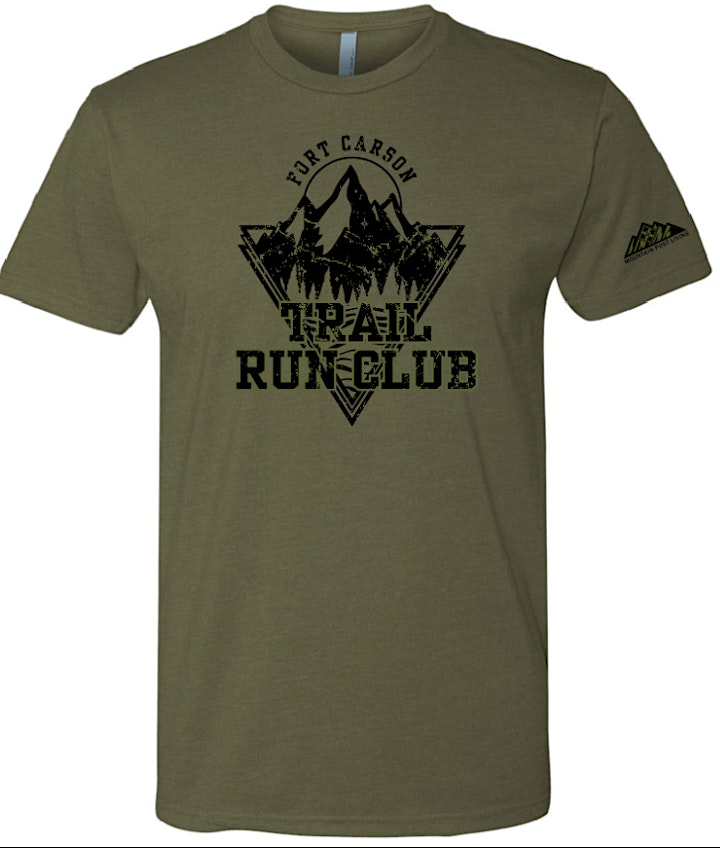 Run Route:
Specific trail routes will be determined on a weekly basis
May run/walk at own pace after beginning with the group
Must first check-in by 6am
*Cheyenne Mountain State Park trail map below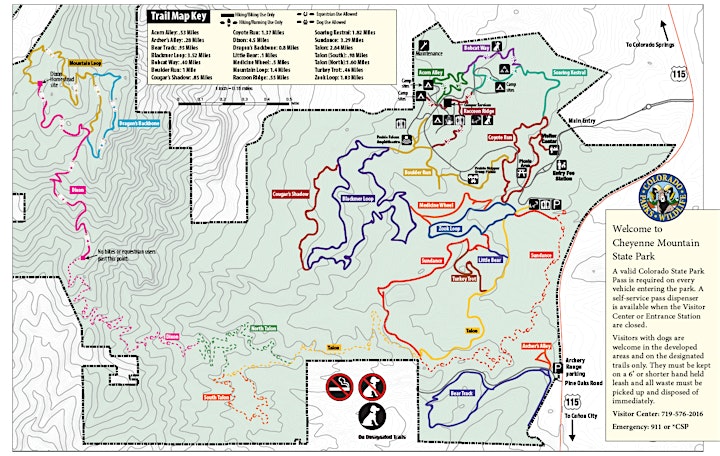 FAQ
Trail run club will take place rain or shine!
Pets are NOT welcome - State Park trail restrictions
Open to public
Children must be accompanied by parent/guardian at all times
*All information subject to change.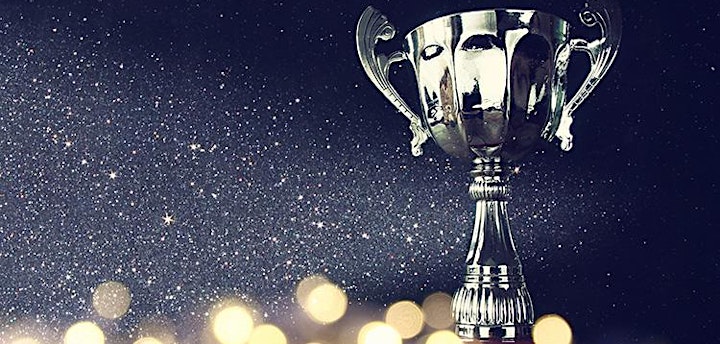 Commander's Cup Qualifier:
Receive team points for Commander's Cup at Fort Carson Trail Run Club!
Please make sure that all qualified participants include their company name when registering for Trail Run Club to receive Commander's Cup points for your team.
MOI:
In individual sporting events and/or special events (i.e. fun runs), one participation point will be given for each individual who actually participates for his/her unit.
These points will be added to the actual event points to determine the final order of finish.
Contact Lorraine with any questions regarding the Commander's Cup at (719) 526-3972
PARKS AND OUTDOOR RECREATION LANDS
Regulations
Smoking is not allowed on the trails, archery ranges or in the backcountry.
Pets are allowed in the developed areas (i.e. parking lots and picnic sites) and on designated trails. All pets must be kept on a 6' or shorter hand held leash and waste must be picked up immediately.
No climbing or rappelling on rock formations.
Vehicles must remain on designated roads and parking areas.
Tree cutting or wood gathering is not permitted.
Place trash and litter in proper receptacles, recycling receptacles are available throughout the park.
No hunting is allowed in the park.
Park is open from 5am to 10pm unless camping in a purchased designated campsite.
Trail Information
The park has 18 diverse trails that total over 23 miles. They are rated easy to moderate in difficulty and take hikers and bikers on a nature adventure throughout the 2701-acre park. Visitors can wander through grasslands filled with prairie dogs or explore the pines and try to catch a glimpse of mule deer. For your safety, take notice of the markers along every trail. GPS coordinates are on all trail signage and will help park staff locate hikers and bikers in case of emergencies on the trail. Smoking is strictly prohibited on the trail system and in the backcountry.
Passes
All visitors entering the park are required to display a current Colorado State Parks Pass on their vehicle. A daily vehicle pass is valid from the day purchased until noon the following day. An annual vehicle pass is good at any Colorado State Park. Annual vehicle pass holders with additional vehicles may purchase multiple passes at a reduced fee.Daily vehicle passes are sold at the Visitor Center, and park entrance. A Self-service pass dispenser is available at the archery range parking lot, Camper Services building and the main park entrance when the visitor center or entrance station are closed. Colorado disabled veterans displaying Colorado Disabled Veteran (DV) license plates are admitted free without a pass. Colorado residents aged 64 years or older qualify for the Aspen Leaf annual and multiple passes available at a discounted rate.
It shall be prohibited:
1. To enter, use or occupy Parks and Outdoor Recreation Lands when same are posted against such entry, use or occupancy. (Access to Parks and Outdoor Recreation lands and waters is generally allowed between 5:00 a.m. and 10:00 p.m. daily. Restricted access generally will be allowed during other hours for camping and fishing.)
2. To remove, destroy, mutilate, modify or deface any structure, water control device, poster, notice, sign or marker, tree, shrub or other plant or vegetation, including dead timber and forest litter, or any object of archaeological, geological, historical, zoological or natural/environmental value or interest on Parks and Outdoor Recreation Lands. (This regulation does not include removal of firewood from designated firewood areas, noxious weeds as defined by statute, or recreational gold mining within the Arkansas Headwaters Recreation Area, except where prohibited as indicated by posted signs.)
3. To remove, destroy or harass any wildlife or livestock on Parks and Outdoor Recreation Lands. (Hunting will be allowed in areas designated by the Division during hunting seasons