Location
Iron Horse Park
6151 Elwell Street
Fort Carson, CO 80913
Want to stay in shape without the expense? Join Fort Carson's run club to meet new people and receive a free t-shirt after participation!
About this event
Join us for weekly social runs at Iron Horse Park this summer!
Fort Carson Run Club
Recurring Thursday evenings
Beginning 07 May 2020 and ending 17 September 2020
Where?
Iron Horse Park, 6151 Elwell St., Fort Carson, CO 80913
When?
4:30pm - 6pm
*Check in anytime before 6:00pm
*Please note - must sign in at every attendance
Perks!!
Free run club t-shirt after attending 10 out of 16 runs!
*Run Club T-shirt preview below
POC:
Contact Kelly Devlin with any questions or concerns regarding Fort Carson Run Club
Office - (719) 526-5120
Work E-mail - kelly.f.devlin.naf@mail.mil
Virtual Option!
Run 3.1 miles on your own each week and send a picture of your gps mileage and/or time to:
kelly.f.devlin.naf@mail.mil
Will still receive weekly attendance points towards receiving a FREE run club t-shirt!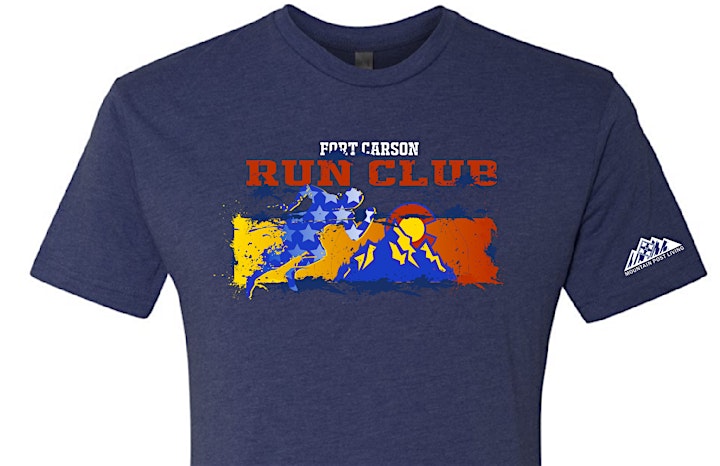 Run Route:
5k loop around Iron Horse Park
May run/walk the route anytime between 4:30pm and 7pm
Must first check-in by 6:30pm
*Run route map below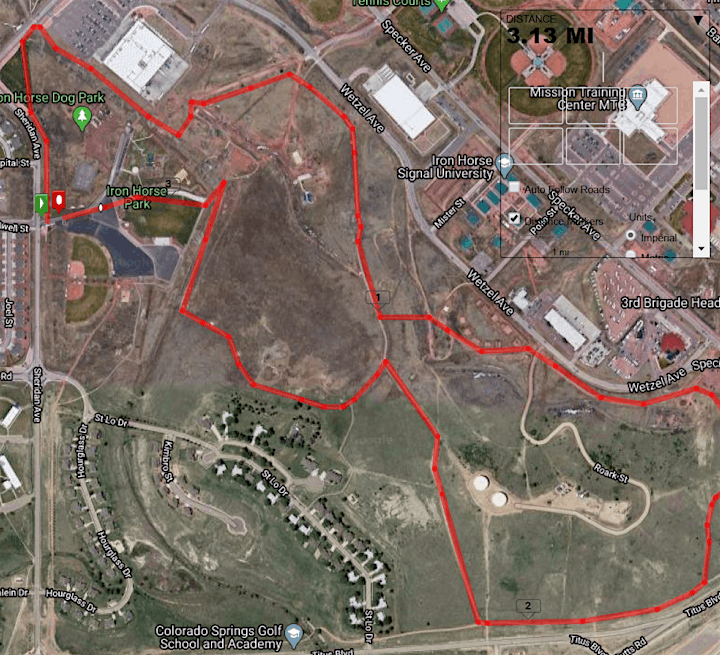 FAQ
Run club will take place rain or shine, only canceled if post is closed
Well-behaved pets are welcome!
Open to public - must be able to enter on base
Normal gate procedures apply
ID holders, guests, and non-ID holders are welcome
Children must be accompanied by parent/guardian at all times
*All information subject to change.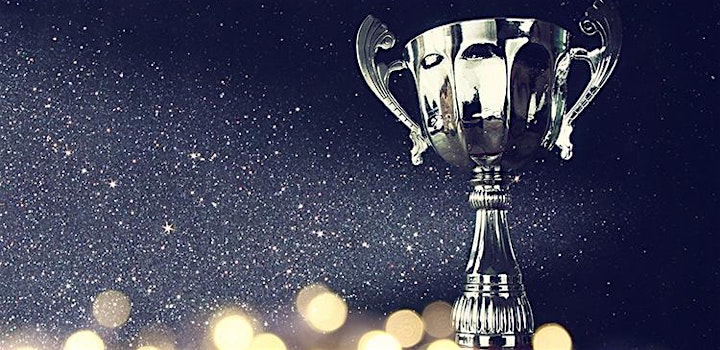 Commander's Cup Qualifier:
Receive team points for Commander's Cup at Fort Carson Run Club!
Please make sure that all qualified participants include their company name when registering for Run Club to receive Commander's Cup points for your team.
MOI:
In individual sporting events and/or special events (i.e. fun runs), one participation point will be given for each individual who actually participates for his/her unit.
These points will be added to the actual event points to determine the final order of finish.
Contact Lorraine with any questions regarding the Commander's Cup at (719) 526-3972
Terms and Conditions:
All information contained on carson.armymwr.com is subject to change.
All personnel entering Fort Carson must be in possession of a valid state or federally issued photo ID from a REAL ID Act compliant state. Current states not in compliance are: Alaska, Kentucky, Oklahoma, Oregon, Pennsylvania, South Carolina, Virginia & Washington. (Update to the REAL ID Act effective June 1, 2017)
If using an ID from a state or territory that is not REAL ID Act compliant, then an approved secondary form of ID is required. More information on the REAL ID Act can be found at https://www.dhs.gov/real-id
No federal endorsement is implied for any paid advertising.
Fort Carson MWR reserves the right to film, record or photograph event activities for post event purposes. Guests are advised that this may result in the incidental inclusion of guests within any recording or photographs.
Guests assume all risks associated with participation in this event including but not limited to traffic and/or weather variations.
Weather:
Event goes on regardless of weather, unless Fort Carson is closed due to inclement weather.
Those attending the run club assume the risk of injury as a result of inclement weather
In the event of lighting, a warning is issued and guest are asked to clear the area and/or return to their cars until an "all clear" announcement is issued
Parking:
No parking in residential/base housing/neighborhoods on Fort Carson.
Parking is free, space is available on a first come, first served basis.
All personnel must park in designated parking areas.
Parking in prohibited areas will result in a citation and the vehicle being towed.
Please follow the signs for designated parking areas.
Physical Security/Other:
FULL LIST OF PROHIBITED ITEMS AND BAG POLICY APPLIES
100% random personal property inspection in effect.
No firearms and/or weapons allowed.
Privately owned drones/UAV's are not allowed.
No bikes/scooters/hover boards/skateboards/rollerblades allowed
Traffic:
Please observe posted speed limits.