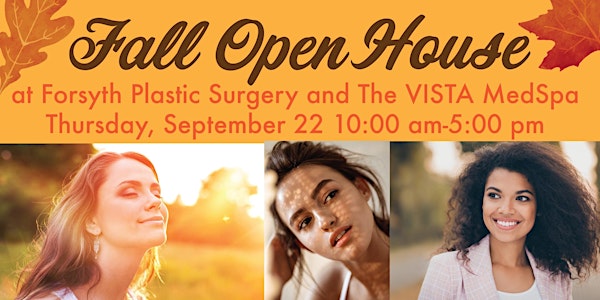 Forsyth Plastic Surgery Fall Open House
Please join us for our Fall Open House on Thursday, September 22 for 6 mini beauty sessions and an Obagi Lunch and Learn!
When and where
Location
The VISTA at Forsyth Plastic Surgery 2901 Maplewood Avenue Winston-Salem, NC 27103
About this event
We are so excited about our Fall Open House and we hope you'll make plans to join us on Thursday, September 22! This is going to be fun! You can drop in anytime from 10:00 am-5:00 pm. We have an Obagi Lunch & Learn at noon as well (lunch is on us!).
Make your reservation now for our Fall Open House. It's $25 to register and then on event day, the event is FREE and you can use your $25 towards skincare products at 20% off! Once you register, Danielle, our Cosmetic Concierge, will call to collect your $25 registration fee.
SCHEDULE OF EVENTS - COME FOR ONE OR ALL OF OUR 15-MINUTE TED-TALK STYLE SESSIONS
10:00 am: SkinBetter event with Kerstin Ducatte. Come shop and discover SkinBetter's award-winning line of skincare products.
Noon: Obagi Lunch & Learn with Jennifer Mier(1 hour)
2:00 pm: "Beauty in your 30s, 40s and 50s" - FPS Plastic Surgeons (15 minutes)
2:30 pm: "Two facial treatments we think you'll love" - Aestheticians Gina Racca and Kinsley Nix (15 minutes)
3:00 pm: "Facial rejuvenation after 50" - FPS Plastic Surgeons (15 minutes)
3:30 pm: "Financing surgical procedures" - Quinta Beckwith, Cosmetic Coordinator (15 minutes)
4:00 pm: "3 key ingredients for beauty" - Gina Racca and Kinsley Nix (15 minutes)