Formula 1 for Business Book Launch, Networking and Evening with Alan Jones

Tuesday, April 30, 2013 from 6:00 PM to 8:00 PM
Event Details

Get ready to attend the highly anticipated launch of the Formula 1 for Business book with special guest and keynote speaker, Alan Jones, Australian F1 World Champion (1980).

International authors and leading business consultants Simon Frayne and Daniel O'Connor share the science, wisdom and closely guarded high performance tips and strategies in this book. If you have ever dreamed of a better business to provide a bigger life, Formula 1 for Business will show you how to achieve the profitability, value and ultimately business success you desire.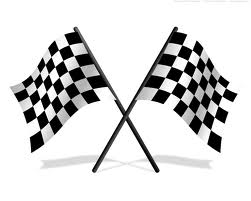 Discover how to get the most out of your business against a fast changing landscape!
"In reality, very few ever go on to realise that dream. Following the advice and principles in this book, will go a long way towards achieving that goal. I would recommend any aspiring entrepreneur to read this book"
Peter Thorpe, Author - Small Business Street Smarts and former Editor – Australian
Small Business Review
EVENT TICKET INCLUDES: 1 copy of the Formula 1 for Business book, networking with F1 fans, entrepreneurs, professionals and business owners, finger foods, opportunity to get the book signed by the authors and an evening with Alan Jones!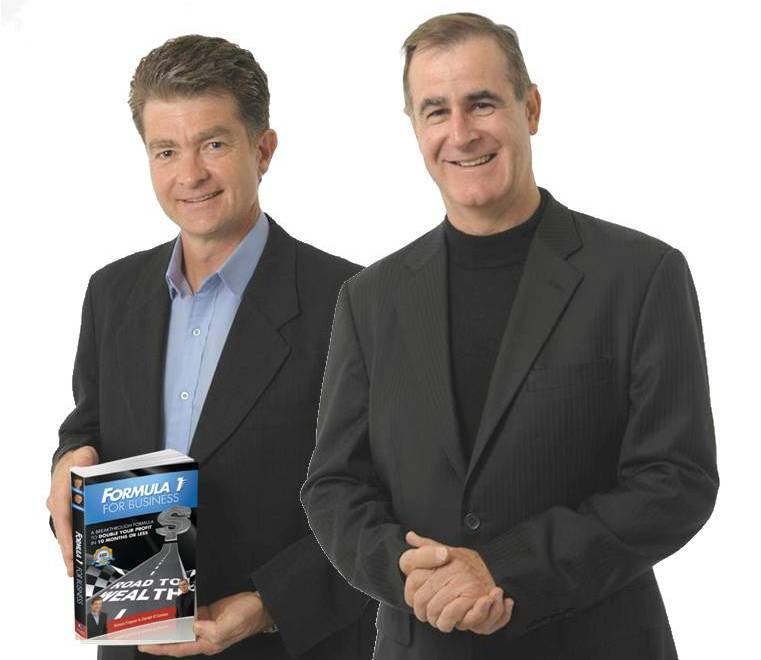 "This is the most insightful, impacting & important book on building profit and value in your business you will ever read. It is a formula for success and is full of ideas, wisdom and strategies that can change your business forever."
 Darren J. Stephens, International Business Consultant and Bestselling Author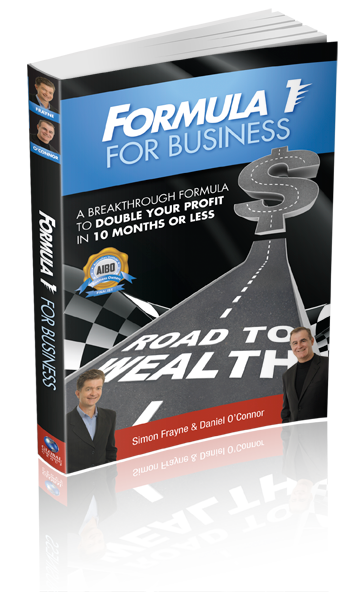 "Formula 1 for Business will give you the tools you need to get on the right track in your business and stay there. There aren't many authors who could assemble all the right information about laying the course and foundation for business success like Simon Frayne and Daniel O'Connor. They not only help you get you started on a path to progress they help you identify your finish line in reaching your business goals and outcomes. Powerfully strategic, yet elegantly simple executable steps covered in this book will show you exactly how to turn your business into a vehicle for immediate and future success.
It's a MUST read to turbocharge your business and accelerate your financial success. Get this book NOW- it's a game-changer."
Spike Humer, President of Spike Humer International LLC, Co-author of "The 10 Day Turnaround"
(Video: Simon Frayne introduction to F1 for Business at Steve Jobs tribute event)

You'll learn:
- Essential profit drivers every business owner needs to know
- How to attract and maximise the performance of key staff
- The secret of measurement and monitoring for incremental improvement
- The 15 critical strategies that will dramatically increase your business value
- Why it is better not to work in your business and how to manage your way out
- The secrets to the 6 different buyer profiles and why some pay much, much more
- How to massively expand your marketing channels to increase sales in the changing landscape
"Too often business leaders and entrepreneurs lack an objective framework so they can scale a successful business to the next level; this book provides helpful insights into just that and I particularly like the chapter on "Why it is better not to work in your business and how to manage your way out" as the paradox of good leadership is making yourself dispensable dramatically increases the value of the enterprise."
Andrew Banks, Chairman Talent2 Ltd
Attendee List
Sort by:

Date

|

First Name

|

Last Name
When & Where

Hyatt Hotel, Perth
99 Adelaide Terrace
East Perth, WA 6004
Australia

Tuesday, April 30, 2013 from 6:00 PM to 8:00 PM
Add to my calendar
Organizer
Simon Frayne

Simon has worked in management consulting for the past fifteen years specialising in performance improvement, growth and helping owners of small to larger medium companies derive value from their organisation. He holds a Bachelor of Commerce  (Finance and Marketing), and studied a Graduate Diploma of Finance as well as the CPA program (Certified Practicing Accountant) before turning his attention to 'forward looking' consulting interests of growth and value realisation rather than the 'historical reporting' perspective of accounting.  He ran his own consulting practice in Sydney for four years specialising in business growth and pre-list capital raising. 
Simon's interest in personal and team performance dynamics began in his sports career as a cricketer (he represented WA at a senior level) and his understanding and application of what makes people perform well as individuals and in teams plays a big role in helping clients succeed. His passion for performance also makes him an engaging speaker.
Simon has well developed expertise in strategic planning and implementation of management structures, growth programs and systems for SME's, growth organisations, and early commercial ventures together with larger medium sized companies.  He brings extensive experience in both strategic development and operational implementation by delivering measured business and project outcomes. Simon has carefully assembled a professional team of consultants across many disciplines, who can plan and implement the change you desire.
Daniel J. O'Connor B.Bus, MBA, FAICD (Dip), AAMI, MAIM, CPM
Daniel has spent more than 20 of his past 35 years in professional practice, with a specialisation in Intellectual Property Commercialisation. He has helped many companies achieve international trading with their concepts, through his structured process of planning, funding, and implementing the most appropriate strategic options for the projects, the directors and the shareholders.
Daniel has been the Consultant Principal and majority shareholder in his consulting practice since January 1997. He has planned and project-managed small to medium (public and private) companies over his career, with exceptional results. Daniel has developed, tested and implemented an arsenal of business tools whuich have created positive change in growth companies.
He has an enviable track record in making changes "stick" with principals and companies, by ensuring there is an equal focus on the business model, the principal, the markets, the team and the business implementation. Daniel has a focus on incremental changes that build up the momentum for massive increases in business volume and profitability – piece-by-piece. He ensures business owners and their teams get comfortable with the new pace and "own" the change completely.
Contact: admin@formula1forbusiness.com