There is nothing more rewarding that celebrating the talent of our youth! Join us for an elegant evening as we do just that!
About this event
This year the Grooming Greatness Foundation was proud to be a recipient of The United Way's Unite Charlotte grant. With this grant we were able to institute four inaugural programs who's tracts exposed our youth to both visual & performing arts.
You will have the pleasure of meeting the participants of these programs as they showcase their works and receive their awards of completion.
Why Black Tie?
With our focus on grooming and providing our youth with exposure experiences, we thought it would be appropriate for them to understand what a "Black Tie" Gala would feel like. So they will be dressed in gowns & tuxedos just like our guests.
Your ticket contribution will serve as a donation towards the foundation's ability to serve additional youth in 2022.
Your Mistress of Ceremonies will be Charlotte's "OHMazing" Ohavia Phillips.
Divine Apetit will be providing our cuisine for the evening.
We will have a cash bar available.
We will have live entertainment by vocalist Persona Bell
We look forward to your support!
*Please note parking is not owned by the venue so if you choose to park in any lots surrounding the building please pay the designated pay stations or parking apps.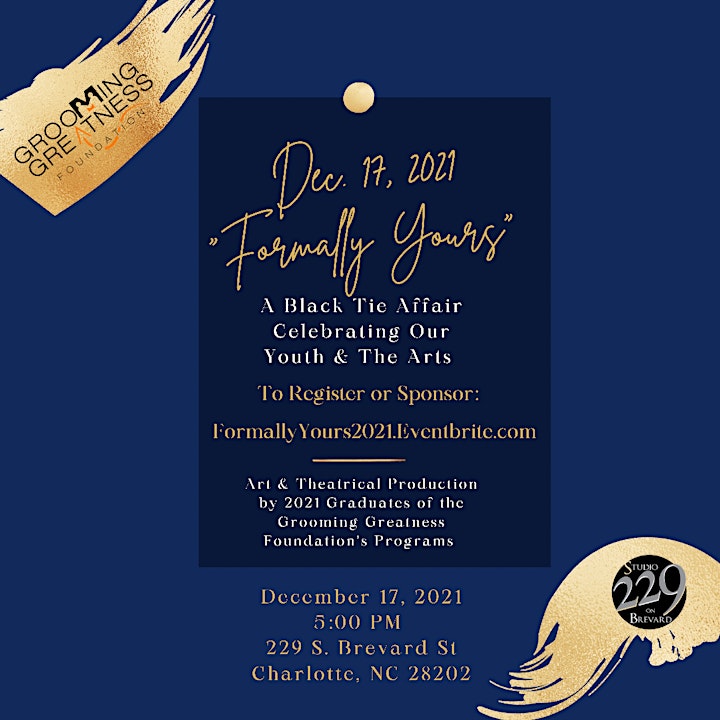 Organizer of Formally Yours Black Tie Youth Showcase & Fundraiser
The Grooming Greatness Foundation
Greatness is Within...Let Us Bring It Out!
We are committed to educating, enriching and exposing all in the community to the greatness that they have within. Through our signature programs we focus on strengthening the bond between guardian and child through the grooming process. In so doing, we build stronger family ties and in turn contribute to stronger communities. Our desire is that our program participants understand that "the sky is the limit, full of endless possibilities, if only we would explore them"!