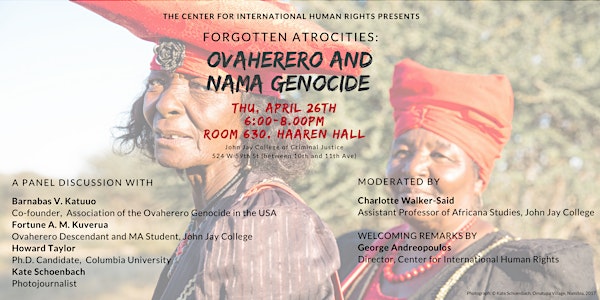 Forgotten Atrocities: The Ovaherero and Nama Genocide
When and where
Location
John Jay College of Criminal Justice 524 West 59th Street Room 630, Haaren Hall New York, NY 10019
Description
For the most part, the age of imperialism has come and gone; however, the catastrophic effects of colonialism remain all too evident in many former imperial subjects. Among the most deeply scarred societies is that of the Ovaherero and Nama people, current inhabitants of the Republic of Namibia. Claimed as a German colony in the early 1880s by Kaiser Wilhelm II, former South West Africa endured a long campaign of racial extermination in what is considered to be the first genocide of the 20th century. By the time German forces had left the region in 1908, it is estimated that 65,000-80,000 Ovaherero and 10,000 Nama lives had been lost.
In 2001, descendants of the Ovaherero victims brought a class-action lawsuit against the German government under the 1789 Alien Torts Statute, demanding financial reparations for the "incalculable damages" brought upon their people. In 2004, on the 100th anniversary of the beginning of the genocide, the then Minister for Development Heidemarie Wieczorek-Zeul officially recognized the genocide and issued an apology, but also ruled out the possibility of any reparations. While German representatives have since officially recognized the atrocities committed on Namibian soil, they have also ruled out the possibility of direct reparations. Although Ovaherero and Nama organizations continue to pursue legal action in the state of New York, their efforts have largely been ignored by German representatives, who cite Germany's "sovereign immunity" as grounds to reject the claims.
The Center for International Human Rights' panel discussion aims to explore the issues of present-day accountability and responsibility concerning the genocide. Scholars, students, and descendants of Ovaherero/Nama victims will critically discuss the history and circumstances of the German military campaign, the current legal case against Germany, and the German government's response.
This event is sponsored by the BA in International Criminal Justice, the Minor in Human Rights Studies, Students Without Borders, and the International Students Association.



Charlotte Walker-Said [Moderator]

John Jay College

Historian of Modern Africa and Assistant Professor of Africana Studies

Barnabas Veraa Katuuo

Association of the Ovaherero Genocide in the USA

Co-founder

Fortune A. Muningandu Kuverua

John Jay College

International Crime and Justice MA Student and Ovaherero descendant

George Andreopoulos [Welcoming Remarks]

Center for International Human Rights

Director

Kate Schoenbach

Photographer and Photojournalist

Howard Rechavia Taylor

Columbia University

Ph.D. Candidate