Description
Young Women in Business (YWiB), a volunteer run and volunteer-led nonprofit organization,

warmly invites you to an insightful evening with a diverse group of five female leaders.
Women—and their male allies— are invited to attend this Q&A panel discussion on what it takes to thrive and succeed in traditionally male-dominated fields, and be agents of change.


---
Who Should Attend?
This event pertains to women in all stages, whether you are an entrepreneur, employed, business owner, student, or self-employed. Male allies are welcome to attend.
The topics discussed speak to those who work or do business in male dominated industries such as construction, transportation, production, engineering, computers, tech, manufacturing, advertising, math, science, etc.


---
Why Should You Attend?
Knowledge. We'll discuss the strategies and tools that have helped women thrive and forge ahead in sectors where women leaders are underrepresented — such as STEM (Science, Technology, Engineering, Mathematics).
Real life applications. We'll discuss the tools and tactics that have helped women navigate the hidden, and not-so-hidden, obstacles they face as they enter and persevere in male-dominated industries.
Have your voice heard. When you register you get to include the questions you would like to ask the panel. Also, during the event itself there will be an open Q&A session where you can ask additional questions or provide comments.
Spotlight on your potential. Attendees will gain tools, strategies, skills and knowledge to become trailblazers in their roles or fields, and agents of change for future generations.
Resources. Attendees will supplementary resources and tools to continue to learn, and to dig deeper into the insights and knowledge discussed during the event.
Leadership skills. Attendees will expand their leadership skill set by applying the skills and tools shared by the leaders in their workplaces and businesses.
Supportive community. This event will connect attendees with role models and mentors, with the goal of nourishing relationships and fostering a supportive community.
Goodies and more! Snacks, goodies, and non-alcoholic beverages will be provided.


---
Details
When: Thursday, September 13th, 2018
Where: Telus Tower, 25 York Street, 5th Floor, Toronto M5J 2V5
Schedule
5:30 - 6:00 — Doors open + registration check-in + networking
6:00 - 6:30 — Welcome + intros
6:30 - 7:30 — Panel Discussion
7:30 - 7:45 — Break + Networking
7:45 - 8:45 — Panel Discussion + Q&A
8:45 - 9:00 — Acknowledgements + Doors close


---
Discounted Tickets
We recognize paid events can be prohibitive for some people so we provide generous discounts to those who wish to attend but are unable due to price barriers. If this applies to you, please send us an email at toronto@ywib.ca with subject "Discounted Tickets," and we will arrange a discount code for you.


---
Meet our Panel
MODERATOR: Ruth Fernandez, MAPC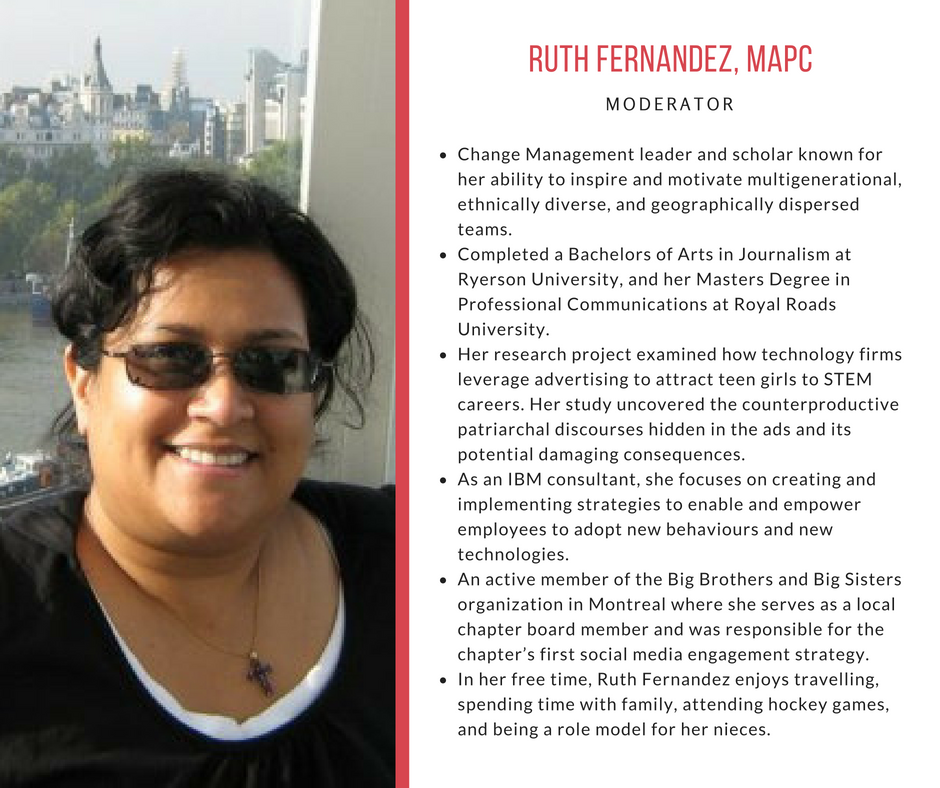 SCIENCE PANELIST: Dr. Ilana MacDonald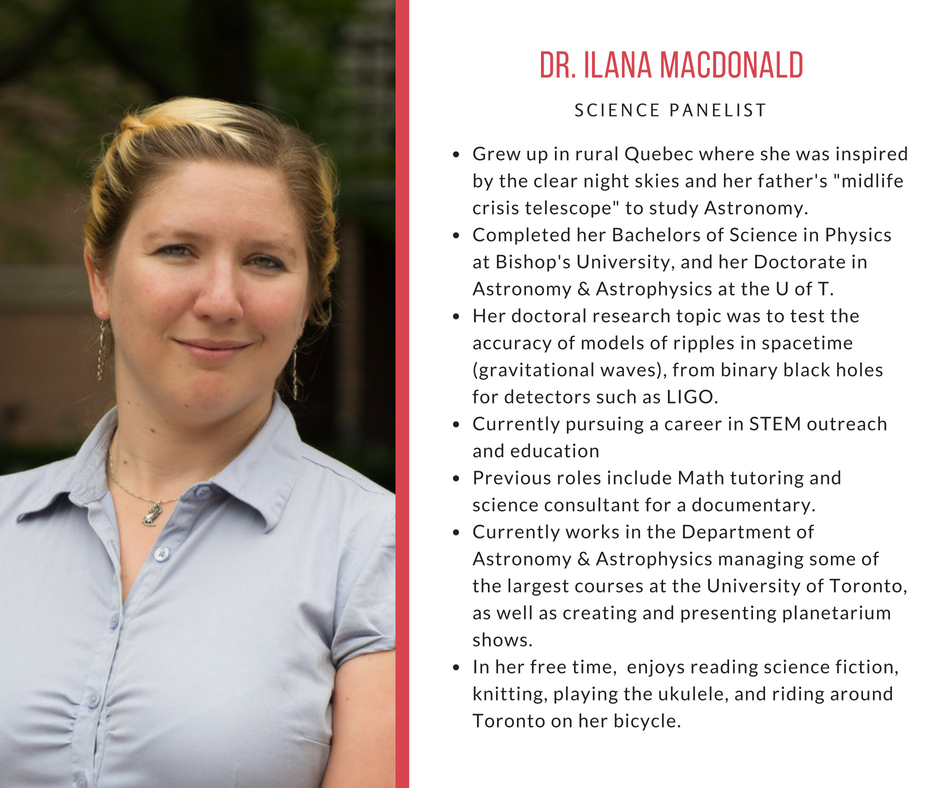 TECHNOLOGY PANELIST: Abhilasha Bhatia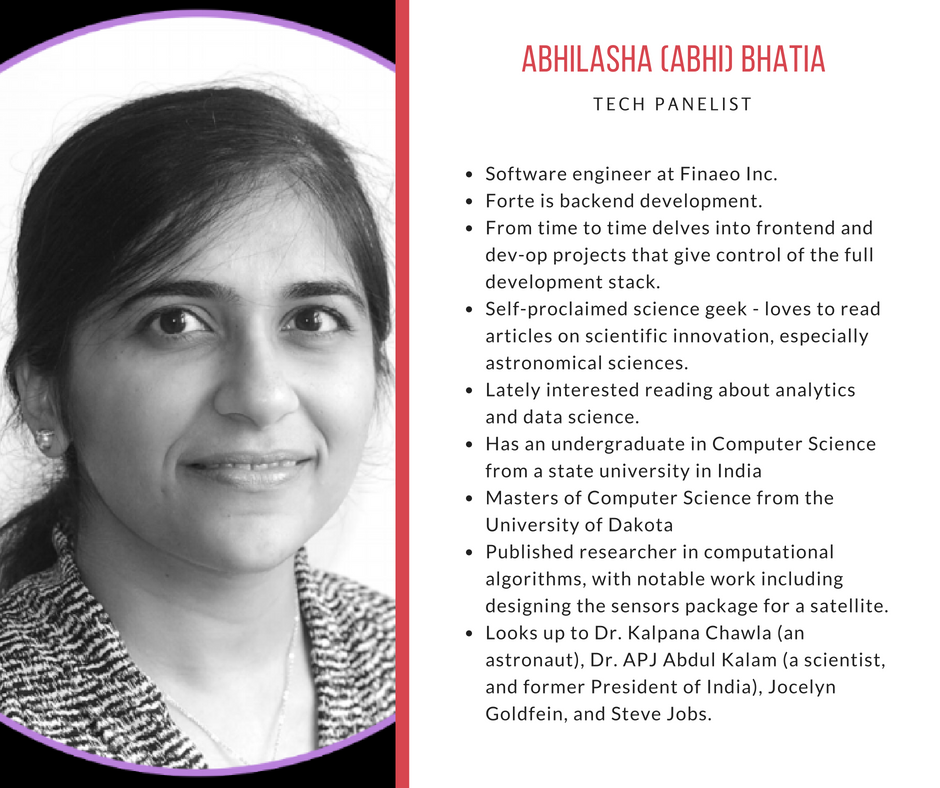 ENGINEERING PANELIST: Barbara Robinson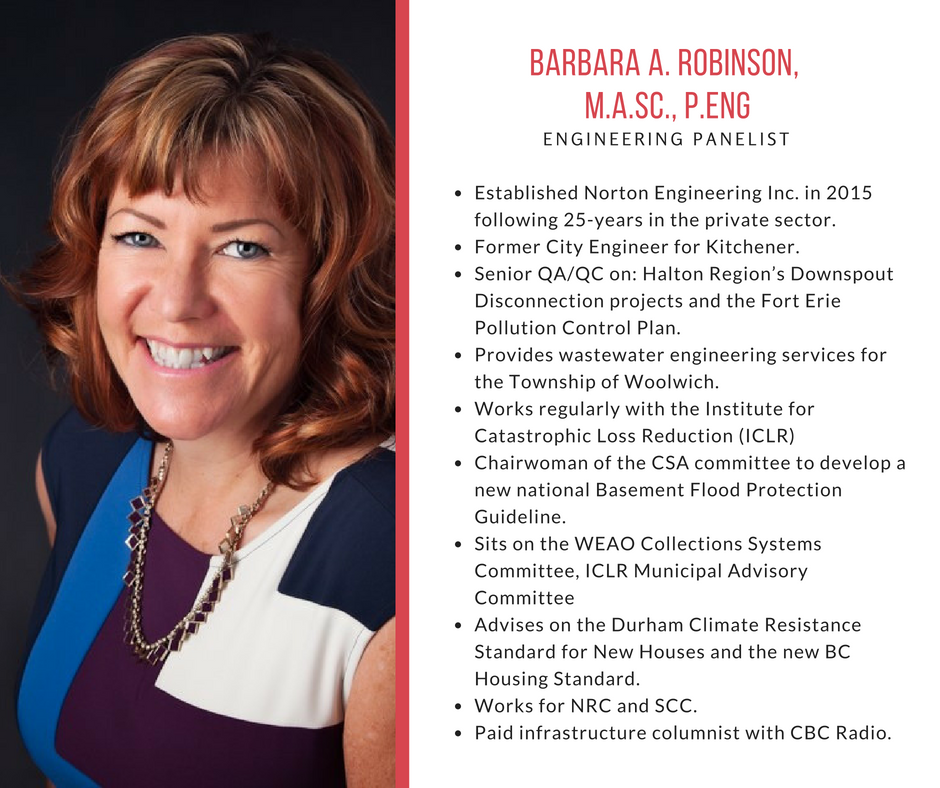 MATHEMATICS PANELIST: Dr. Sarah Mayes-Tang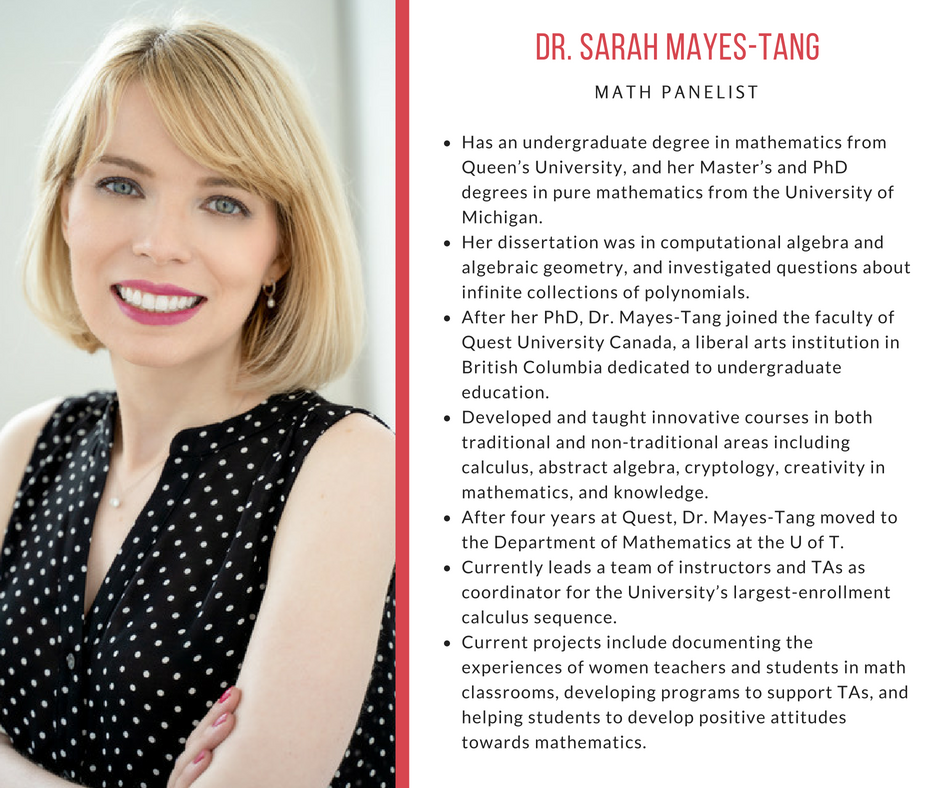 ---
Note: All ticket proceeds go towards the event and future initiatives by Young Women in Business.
---
Notice
By purchasing tickets to this event (the "Event") run by Canadian Young Women in Business Society ("YWiB") and in consideration for your participation in the Event, you agree to the following: You unconditionally and irrevocably grant to YWiB the right and license to use photographs, audio or video recordings, or other forms of recordings that capture your image, likeness, voice and/or performance during the Event (the "Recordings"), in any manner or media. You agree that the Recordings may be used for any commercial or non-commercial purpose at any time in the future, and may be used for other works, altered, or incorporated into other works. To the extent that you may have any intellectual property rights in the Recordings, you unconditionally and irrevocably assign to YWiB any right and title that you may hold in the Recordings and waive any more rights you may have in respect of the Recordings. You also relinquish any other rights you may have in the Recordings, including privacy, personality and publicity rights. You hereby release YWiB and its licensees, assigns, and agents from all present or future claims relating to the Recordings.