About this Event
This event is the perfect opportunity to figure out how to Invigorate your Health and Wellness through Lifestyle!
Dr Donovan Christie will give you tools on:
-Natural Nutrition -Exercise - Supplementation
Reserve your seat today!
678-822-9555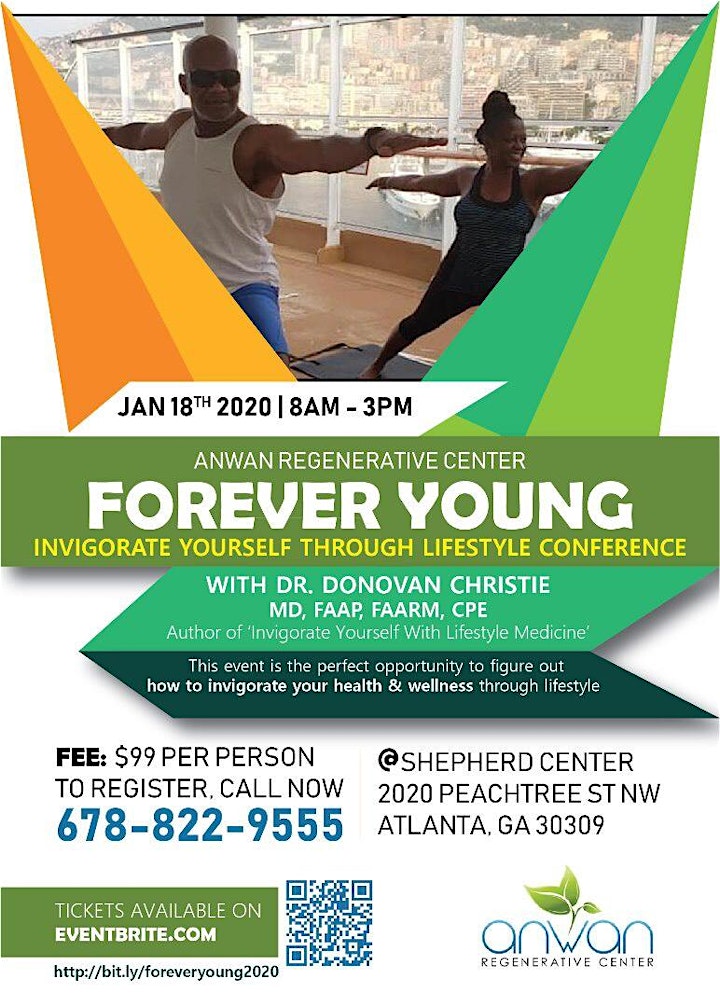 Agenda
Donovan Christie MD, FAAP, FAARFM, CPE
President, Founder, ANWAN Wellness Medical & Regenerative Centers
Integrative and Functional Medicine, Fellow, A4M
Board Certified Internal Medicine/Pediatrics/Preventive Medicine
Conference: Forever Young: Invigorate Yourself thru Lifestyle
@Shepherd Center/ 2020 Peachtreet St NW, Atlanta, GA 30309
January 18th, 2020
Registration: and Breakfast 7:00am-7:45am
Welcome: 8:00 am Moderator: Jacqueline Christie, FNP-c
Introduction of Speakers and Review of Agenda
Lifestyle Medicine 8:15am to 11::30pm
1. 8:15 am Natural Nutrition: Donovan Christie, MD What the "heck" should I eat?
a. Natural Carbohydrates, the benefits of fruits and vegetables
b. Genetically Modified Organisms: GMO, are they really bad?
c. Processed Carbohydrates, what is wrong with bread?
d. Meat in the diet, the good and the bad and how much
e. Beverages, sweetener
f. IV nutritional Therapy:
a. Vitamin C,
b. Glutathione and
c. Phosphatidylcholine
d. Chelation therapy for cardiovascular disease
2. 9:30 am Benefits of Exercise:
a. Strength training, benefits,
b. Aerobic cardiovascular training benefits
c. Cross Fit and Fast Twitch
d. Preventing Injuries, stretching,
e. Massage therapy benefit
f. Yoga, Pilates and Tai Chi
Break 10:30 am
3. 10:45 am "Chronic Stress and Adrenal and Thyroid Dysfunction", Donovan Christie, MD
a. Stress Hormones: Cortisol and Adrenalin
b. Chronic Stressors and health
c. Adrenal Dysfunction
d. Saliva testing of hypothalamus pituitary adrenal Axis
e. Adrenal Adaptogen herbs and supplementation
f. Could it be my thyroid Hormone?
g. Thyroid Dysfunction and bioidentical replacement
h. Mindfulness, and Spirituality
i. Meditation and the autonomic nervous system
j. Prayer and Faith
k. Relaxation Techniques
l. Cognitive Behavioral Therapy
12:00 Lunch/ Exhibits
1. 1:00pm 12-week Wellness Program /Donovan Christie, MD
a. Detoxification/Core Restore
b. Meal preparation and frequency
c. Supplements
i. Omega 3 fatty acids
ii. Probiotics
iii. Co-Q10
iv. Olive Leaf Extract
v. Grape seed Extract
vi. Active Man/Woman Multivitamins
d. Alcohol: some or how much is healthy
e. Chiropractic
f. Massage therapy
g. Body Metrics: BP, waist, body fat measurement
2. 2:15 Book Signing: "invigorate yourself with lifestyle medicine" DC
Adjourned 2:30 pm/ Exhibits: till 3:00pm