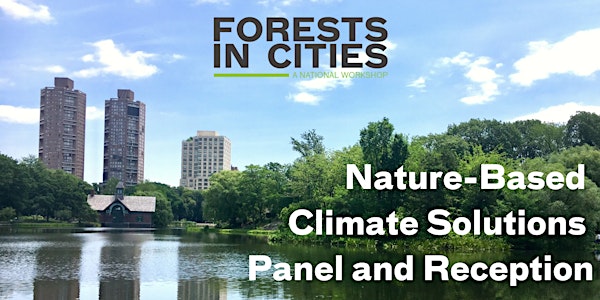 Forests in Cities: Nature Based Climate Solutions - Panel and Reception
A panel discussion on the topic of urban forested natural areas as a climate solution in cities followed by a cocktail reception.
When and where
Location
Project Farmhouse 76 East 13th Street New York, NY 10003
About this event
The role of urban natural areas in addressing climate change in cities is significant but has been traditionally undervalued. This panel will bring together national leaders from nonprofits, academia, and government for a discussion on the following topics:
• How are urban natural areas part of a local/global approach to combating climate change?
• What policies/efforts are underway that include natural areas? How can existing programs serve as a model for others?
• What opportunities exist for innovation?
• How can nature-based solutions also take biodiversity into account?
• How can nature-based solutions increase social and community resilience?
• Where do you see significant opportunity to scale?
A one-hour panel discussion will be followed by a cocktail reception. Drinks and hors d'oeuvres will be served.
Speakers:
Adrian Benepe - Senior Vice President and Director of National Programs, The Trust for Public Land
Sarah Charlop-Powers - Executive Director and Co-Founder, Natural Areas Conservancy
Ian Leahy - Vice President of Urban Forestry, American Forests
Eric Sanderson - Senior Conservation Ecologist, Wildlife Conservation Society
Moderator:
Mark Bradford - Professor, Yale School of Forestry and Environmental Studies
Background
In March 2019, the Natural Areas Conservancy, the Trust for Public Land, and Yale School of Forestry and Environmental Studies released "Untapped Common Ground: The Care of Forested Natural Areas in American Cities." This report is based on our survey of 125 organizations in 111 cities and how they manage their forests. 84% of parkland (1.7 million acres) in U.S. cities are natural areas. This type of parkland has been traditionally underutilized and under-resourced. However, with an unprecedented 4 out of 5 Americans living in cities, natural areas and the benefits they yield can no longer be marginalized as they can positively impact the lives of so many people.
In October 2019, the Natural Areas Conservancy will host Forests In Cities: A National Workshop. This four day event will convene teams from 12 U.S. cities, and a select group of leaders in the field of urban forestry and urban parks to focus on (1) elevating national awareness of forested natural areas, (2) improving their management, (3) strengthening a community of practice.
Funding for this program has been provided by The JPB Foundation, The J.M. Kaplan Fund, the Ittleson Foundation, and the Durst Organization.