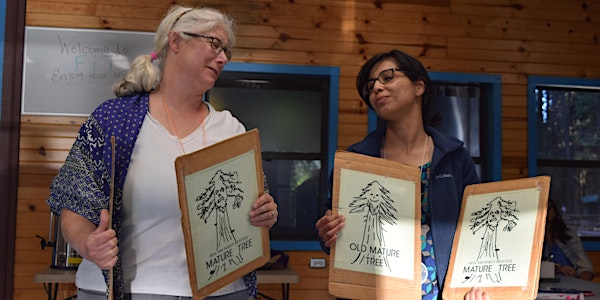 Forestry Institute for Teachers 2023
Forestry Institute for Teachers (FIT) is a week-long Professional Development Program providing cross-curricular training in NGSS Curricula.
By California Society of American Foresters
Location
Various (Camp McCumber, Sierra Outdoor School, Humboldt State University, Blodgett Forest Research Station) 35440 Deer Flat Road Shingletown, CA 96088
About this event
7 days 18 hours

Mobile eTicket
The California Society of American Foresters invites you to participate in the 30th year of the Forestry Institute for Teachers (forestryinstitute.org). At FIT, natural resource professionals and our credentialed education team will bring the forest into your classroom using NGSS-aligned curricula.
PLEASE NOTE: Sessions are limited to ensure a high quality experience for participants. We do our best to accommodate everyone's first choice of location, but please know that we assign space on a first come first serve basis. If you plan to attend with other educators from your school or district, please let us know in your application.
Frequently asked questions
How much does it cost to attend FIT?
Why is there a no refund policy?
Is FIT just for California teachers?
About the organizer
www.californiasaf.org
The Society of American Foresters (SAF) is the national scientific and educational organization representing the forestry profession in the United States. Founded in 1900 by Gifford Pinchot, it is the largest professional society for foresters in the world. The mission of the Society of American Foresters is to advance the science, education, technology, and practice of forestry; to enhance the competency of its members; to establish professional excellence; and, to use the knowledge, skills, and conservation ethic of the profession to ensure the continued health and use of forest ecosystems and the present and future availability of forest resources to benefit society. SAF is a nonprofit organization meeting the requirements of 501 (c) (3). SAF members include natural resource professionals in public and private settings, researchers, CEOs, administrators, educators, and students.