Forest Park Community Garden 2012 Annual Seed Swap

Sunday, February 19, 2012 from 2:00 PM to 4:00 PM (CST)
Event Details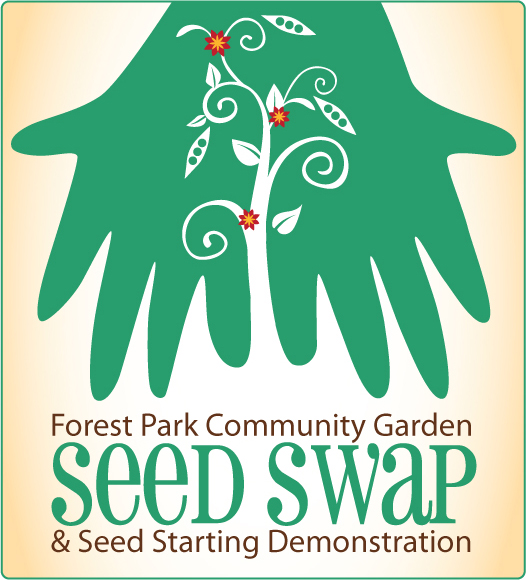 What is a seed swap?
A seed swap is when many people meet for the purpose of trading seeds they have too many of or don't need for seeds they're looking for or maybe never heard of. It's a great social time too where you can meet lots of other gardeners, see seeds of plants you didn't know existed, learn about seed starting indoors and start thinking green thoughts on these wintery days.
When?
Sunday, February 19, 2012
1:45 — 2:15 pm: Registration
2:15 — 3:00 pm: Seed Starting Demo
3:00 — 4:00 pm: Swap Time
Where?
St. John Lutheran Church
305 Circle Avenue
Forest Park, IL 60130
Cost?
Free to those who RSVP by Feb. 17th!
$2 at the door without an RSVP ticket.
Note: If you'd like to make a donation to help us cover the cost of this and other events and programs, click on the Donate button below.  Any help you can provide will be much appreciated.  Thank you! 
The Details:
Registration is from 1:45 to 2:15 pm.  At 2:15 we'll have a seed starting presentation.  At 3:00pm the swap will start.  
You can either bring in your own seeds or buy into the swap if you don't have any seeds to trade.  We will be swapping on a 1-to-1 basis, meaning if you bring 5 packs of seeds to swap, you can only take 5 packs of seeds when you leave.  If you don't have seeds to trade, you can buy trading tickets from us. These tickets will be available at the door for 50 cents each.  Each ticket is good for one packet of seeds from the swap tables.
You can bring as many or as few packets of seeds to trade as you like. By RSVPing by Feb. 17th, you'll receive two free packets of seeds when you arrive.  You can either keep these to use in your garden OR use them to swap for other seeds.
Seeds can be either ones you collected yourself or seeds you purchased this year or during the past 3 growing seasons (2009 — 2012). Older seeds are not permitted in this swap due to decreased germination rates.
Large seed packs are not necessary.  Few of us city-gardeners can actually use a whole packet of seeds.  Therefore, feel free to divide your seeds into smaller quantities.  In general, the bigger the plant will get, the fewer seeds each gardener will need.  Therefore, in the case of large plants like melons, tomatoes, peppers, squash, etc., each seed envelope you bring to swap must contain a minimum of 6 seeds. In the case of small plants like lettuce, kale, carrots, beets, onions, radishes, turnips, chard, etc., 20 seeds is the minimum for each pack.
If you're unsure about the quantity of seeds for your particular plant, email us at fpcommunitygarden@gmail.com for guidance.
Please prepare your packs before arrival because the swap will move quickly and you don't want to lose an opportunity to participate.
Labeling your seed packs: You can use paper or plastic envelops to package your seeds for swapping.  Since the seeds you bring may not be in their original packaging, you'll want to label your seed packs with information about the seed.  Each of your seed packets should contain as much of the following information as possible:
·         1)  Your name
·         2) Common name of the plant and variety. ie: Green Zebra Tomato, Rutgers Tomato, Cherry Belle Radish, etc.
·         3) Number of seeds in the envelope.
·         4) Whether the seed is an annual, biennial or, perennial.
·         5) Origin of the seed including date. Did you collect it yourself? Did you buy it from Burpee in 2010?
·         6) Hybrid vs Heirloom
When & Where

St. John Lutheran Church
305 Circle Ave.
Forest Park, IL 60130


Sunday, February 19, 2012 from 2:00 PM to 4:00 PM (CST)
Add to my calendar
Organizer
Forest Park Community Garden
Founded in 2009, Forest Park Community Garden is a local non-profit providing gardening and education opportunities for area residents while also strengthening our community and providing organic vegetables to charity.
Forest Park Community Garden 2012 Annual Seed Swap