Forest Park Community Garden 2011 Annual Seed Swap and Seed Starting Demonstration

Sunday, February 27, 2011 from 1:00 PM to 4:00 PM (CST)
Event Details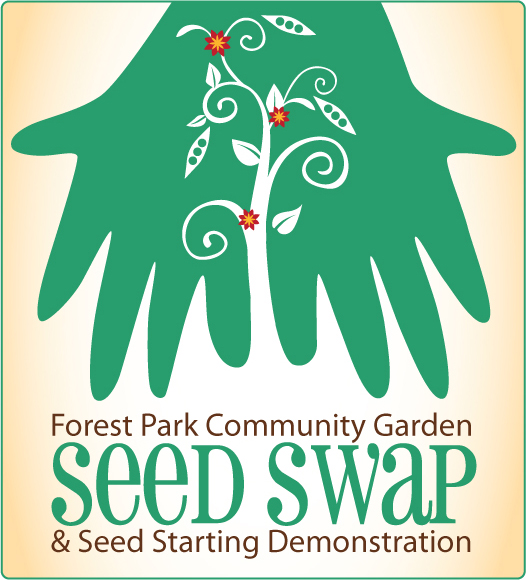 What is a seed swap?
A seed swap is when many people meet for the purpose of trading seeds they have too many of or don't need for seeds they're looking for or maybe never heard of. It's a great social time too where you can meet lots of other gardeners, see seeds of plants you didn't know existed, learn about seed starting indoors and start thinking green thoughts on these snowy wintery days.
When?
Sunday, February 27, 2011
1:00 — 1:45 pm: Registration, there will be a line so arrive early
2:00 — 4:00 pm: Swap Time

Where?
Park District of Forest Park
7501 Harrison Street
Forest Park, IL 6013
Cost?
Free to those who RSVP!
$2 at the door without an RSVP ticket.
Rules for participating in the seed swap:
 

Registration is from 1:00 to 1:45 pm and the swap starts promptly at 2:00 pm.





 

You can bring as many or as few packets of seeds

to trade as you like.


If you don't have seeds to swap and you'd still like to participate, we have created two options for you:



1st:

We'll have prepared a variety of swap-sized bags of seeds for sale at 50 cents each. Anyone can purchase these at the registration desk to use for swapping. (Swap bags will contain 6 or 20 seeds in accordance with the swap rules.)



2nd:

You may also purchase full-sized retail packages and divide them up into swap quantities. Local merchants should be starting to carry seeds soon or you can purchase seeds online from two of our favorite companies:

—Botanical Interests® Seeds who will also donate a portion of the sale to support the garden and our public events like the seed swap. Just click on this link or the banner below.

—And buying from Renee's Garden Seeds also results in a portion of the sale going to support the garden if you enter code FR335A upon checkout. Renee also has some nice mixed packs of seeds where, for example, you can try 3 types of a tomatoes without having to buy 3 separate full-sized packs.





 

Seeds can be either ones you collected yourself or seeds you purchased this year or during the past 2 growing seasons (2009 — 2011). Older seeds are not permitted in this swap due to decreased germination rates.



 

Large plant seed quantities:

In the case of large plants like melons, tomatoes, peppers, squash, etc., each seed envelope you bring to swap must contain a minimum of 6 seeds.



 

Small plant seed quantities:

In the case of small plants like lettuce, kale, carrots, beets, onions, radishes, turnips, chard, etc., 20 seeds is the minimum for each pack. If you're unsure about the quantity of seeds for your particular plant, email events@mondovox.com or call (708) 366-3678 for guidance.



 

Packets of seeds will be swapped at a 1-to-1 ratio.

If you bring 10 envelopes of seeds to swap, you are entitled to go home with 10 envelopes of seeds.



 

You must prepare your packs before arrival

because the swap will move quickly and you don't want to lose an opportunity.



 

Marking your seed packs:

You can download a PDF of labels that can be printed and affixed to your envelopes to ensure you have the required information written on each pack. We also have a PDF of seed envelopes that can be cut out and taped together for your seeds.

Be prepared with the following information:
*Your name
*

Common name of the plant and variety. ie: Green Zebra Tomato, Rutgers Tomato, Cherry Belle Radish, etc.

*

Number of seeds in the envelope.

*

Whether the seed is an annual, biennial or, perennial.

*

Origin of the seed including date. Did you collect it yourself? Did you buy it from Burpee in 2010?

*Hybrid vs Heirloom


Latin name if you have it.

Is the seed organic or conventional?

*

The first 6 items are required on all seed pack labels. The rest is optional.
How the event will work:
Registration: When you arrive, check in at the front desk to where you'll receive 1 ticket stub for each seed packet you are swapping. If you don't have seeds to swap, this is where you'll also buy seed packets to swap.

Swapping Process: Seed swapping will begin promptly at 2:00 pm. We will swap until we run out of seed packets or until 3:00 pm.

When & Where

Park District of Forest Park
7501 Harrison Street
Forest Park, IL 60130


Sunday, February 27, 2011 from 1:00 PM to 4:00 PM (CST)
Add to my calendar
Organizer
Founded in 2009, Forest Park Community Garden is a local non-profit providing gardening and education opportunities for area residents while also strengthening our community and providing organic vegetables to charity.