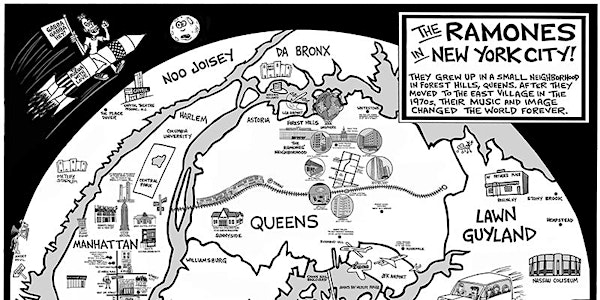 Forest Hills: Birthplace of Punk Bus Tour
When and where
Location
Queens Museum New York City Building Flushing Meadows Corona Park Queens, NY 11368
Description
"The Ramones all originate from Forest Hills and kids who grew up there either became musicians, degenerates or dentists. The Ramones are a little of each."
—Tommy Ramone, first press release
Join us for a tour exploring the land of musicians, degenerates and dentists, otherwise known as Forest Hills, Queens. See the birthplace of the Ramones and explore the neighborhood that started it all. Hear firsthand accounts of the group's upbringing from Forest Hills High School classmate and Tangerine Puppets bandmate, Richard Adler. The indomitable Levy's Unique New York will help guide the way.

The tour will culminate in a tribute event at the Thorneycroft Ramp, a "hotspot for misbehavior" and a second home for the teenaged future Ramones, with remarks by musician and author Mickey Leigh (Joey Ramone's brother) and others.
The day begins with a Hey! Ho! Let's Go!: Ramones and the Birth of Punk exhibition tour with co-curator Marc H. Miller.
Hey! Ho! Let's Go!: Ramones and the Birth of Punk exhibition tour, bus tour of Forest Hills, and Ramones tribute event:
2-3pm Hey! Ho! Let's Go!: Ramones and the Birth of Punk exhibition tour with co-curator Marc H. Miller at the Queens Museum (Free)
3:30-4:30pm Forest Hills: Birthplace of Punk bus tour. (Ticketed event, leaves from the Queens Museum)
4:30–5pm Ramones tribute event at the Thorneycroft Ramp
Image: John Holmstrom, "The Ramones in New York City" (Please note the map is not representative of the bus tour and locations depicted might not be visited)