Forest Friday Spiritual Hikes For The Soul - West Seattle Treasure Hunt!
Description
Join Marc Lainhart, The Intuitive Prospector and Maari Falsetto - Owner of Inner Alchemy in West Seattle for Forest Fridays!
CAMP LONG TREASURE HUNT & SPIRITUAL SWAG HIKE IN WEST SEATTLE! This will be a very easy hike and getting into nature while "prospecting" for hidden treasures, discounts and "Spiritual SWAG," along with a fun meditation!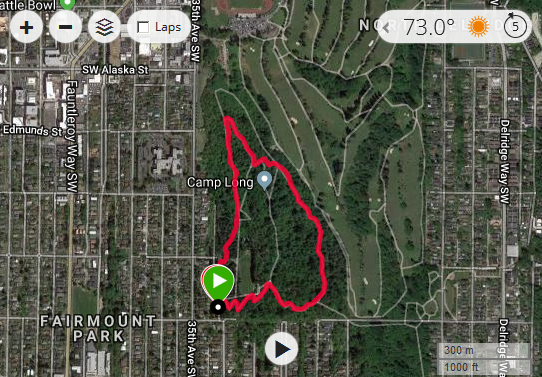 This is a community event ($10 donation) to get out together and enjoy the beautiful Pacific Northwest with a hike, meditation, and Qigong. We will meet at Inner Alchemy at 10 am and return around 12:30 pm.
YOUTUBE LIBRARY - SUBSCRIBE TODAY FOR MORE "SPIRITUAL AWESOMENESS & HIKES:"



*Carpooling Available from:
1. West Seattle (Inner Alchemy)
2. Meet at the trailhead
*Washington Trails Association (WTA) Hiking Guide & Qigong/Native American Exercises provided by Marc
*Guided Meditation will be provided by Marc or Maari
*Suggested Donation Per Person: $10
*Parking Pass/Entry Fee: Northwest Forest Pass or Discovery Pass
*A weather report is always sent out the day before the hike - Hike may be canceled due to weather
*There may be recordings of the hiking experience - By registering you agree to be in the video, audio, or any photography


LOCATION
Camp Long - West Seattle
LENGTH
1.6 miles, roundtrip


ELEVATION
Gain: 240 ft.
Highest Point: 350 ft.
Camp Long is a hidden gem, a 68-acre enclave on the crest of West Seattle featuring old growth forest, wildlife, a variety of hiking trails, rock climbing, ropes courses, camping, and environmental education.
Camp Long's genesis came about during the Great Depression, conceived as a youth refuge and center for teaching scouting and camping skills. The park was founded in 1937 by Seattle Park Board member Archie Phelps, Judge William Long, Ben Evans of the Seattle Park Department, and Scout leader Clark Schurman, who was an expert mountaineer and wilderness camp developer. The park and its well-known centerpiece, Schurman Rock, were built by the Works Progress Administration from 1937 to 1941.
Camp Long contains old growth forest, including alder, birch, maple, Douglas fir, Sitka spruce, and cedar. Several trails crisscross this forest, including the Animal Tracks Nature Trail (0.34 miles), the Ridge Trail (0.11 miles), the Middle Loop Trail (0.45 miles), and the Lower Loop Trail (0.53 miles). There is a 0.1-mile spur trail, leading to Longfellow Creek, that exits the main area of the park at the northeast corner. Maximum elevation change, from the parking lot to Longfellow Creek, is about 240 feet.
In addition to hiking, the park offers birdwatching, rock climbing, camping, orienteering, and an environmental learning center. Wildflowers bloom during the summer, and the foliage is spectacular during the fall.
From Seattle, take the exit from I-5 to the West Seattle Bridge, staying on Fauntleroy Avenue. At the first light, turn left on 35th Avenue SW. Go 0.8 mile to Dawson Street, turn left, and enter the park.
Note that the park is closed Mondays.
Parking Pass/Entry FeeNone


TEN ESSENTIAL "SYSTEMS" FOR EVERY HIKE:
Navigation (map and compass)
Sun protection (sunglasses and sunscreen)
Insulation (extra clothing)
Illumination (headlamp/flashlight)
First-aid supplies
Fire (waterproof matches/lighter/candles)
Repair kit and tools
Nutrition (extra food)
Hydration (extra water)
Emergency shelter
"Take the time to disconnect so that you may have the time to reconnect." ~The Intuitive Prospector