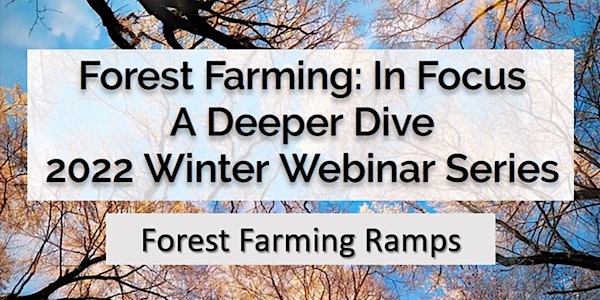 Forest Farming in Focus-Forest Farming Ramps
"Forest Farming in Focus" is a series of webinars providing a deeper dive into forest farming. This webinar will cover Ramps
Date and time
Thursday, February 24, 2022 · 3 - 4:30pm PST
About this event
The Appalachian Beginning Forest Farmer Coalition (ABFFC) and partners have joined forces to put together this special webinar series for intermediate and experienced forest farmers* who want to learn more about common non-timber forest products (NTFPs) and expand their understanding of forest farming practices.
Each webinar in this series will bring together our best experts in the field, experienced forest farmers, and learning resources. Together we will explore common NTFP species and topics in-depth, as well as engage in discussions with experienced forest farmers with years of specialized expertise.
The second webinar in the series is:
"Digging deeper into ramp forest farming"
In this webinar, Dr. Burkhart will provide the latest research updates on ramp forest farming site selection, nutritional/medicinal properties, and sustainable husbandry and harvest methods.
He will also be joined for the second half of the webinar by forest farmer Steve Schwartz (Delaware Valley Ramps, Equinunk PA) for a lively discussion.
Hosted on Zoom, the webinar will take place live at 6:00 PM EST on February 24, 2022.
*While these webinars are more in-depth than most of our beginner level website resources, we invite beginner forest farmers, and those who are less familiar with these species to review our NTFP modules to learn about the basics prior to our webinars. Each module will include videos or playlists, publications and articles that would be helpful in bringing a beginner up-to-speed for these in-depth discussions. These modules are on our ABFFC website at https://www.appalachianforestfarmers.org/forestfocus
Questions? Contact Jeanine_Davis@ncsu.edu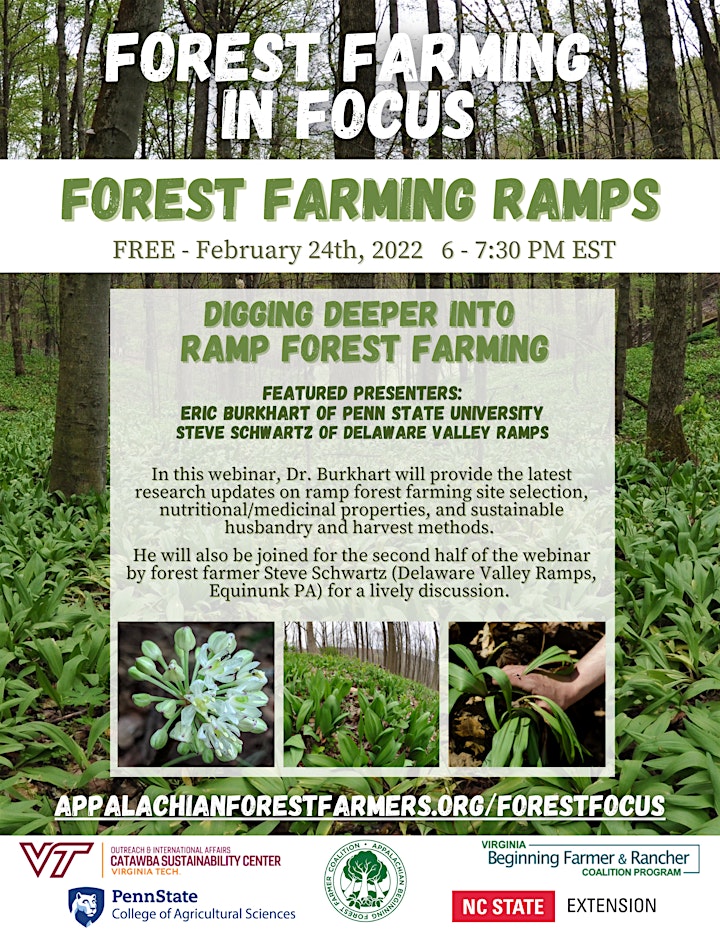 About the organizer
---
NC State University and N.C. A&T State University work in tandem, along with federal, state and local governments, to form a strategic partnership called N.C. Cooperative Extension, which staffs local offices in all 100 counties and with the Eastern Band of Cherokee Indians.
Read our Privacy Statement
N.C. Cooperative Extension prohibits discrimination and harassment on the basis of race, color, national origin, age, sex (including pregnancy), disability, religion, sexual orientation, gender identity, and veteran status.
Individuals with disabilities are invited to request reasonable accommodations to participate in Extension sponsored programs and events. Please contact the county Extension office offering the program at least 14 days prior to the event to make arrangements.