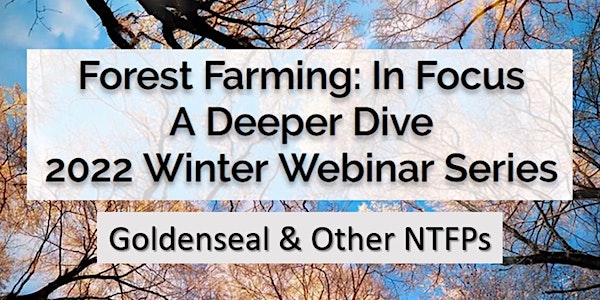 Forest Farming in Focus-Forest Farming Goldenseal & Other NTFPs
"Forest Farming in Focus" is a series of webinars providing a deeper dive into forest farming. This webinar is on Goldenseal & Other NTFPs.
About this event
The Appalachian Beginning Forest Farmer Coalition (ABFFC) and partners have joined forces to put together this special webinar series for intermediate and experienced forest farmers* who want to learn more about common non-timber forest products (NTFPs) and expand their understanding of forest farming practices.
Each webinar in this series will bring together our best experts in the field, experienced forest farmers, and learning resources. Together we will explore common NTFP species and topics in-depth, as well as engage in discussions with experienced forest farmers with years of specialized expertise.
This fifth and final webinar in the series will cover Forest Farming Goldenseal and Other NTFPs with a focus on the economic reality of growing these plants for a business.
Joe, a forest farmer from "Up the Creek in the High Country of Western North Carolina"
Hosted on Zoom, the webinar will take place live at 6:00 PM EST on April 14, 2022.
*While these webinars are more in-depth than most of our beginner level website resources, we invite beginner forest farmers, and those who are less familiar with these species to review our NTFP modules to learn about the basics prior to our webinars. Each module will include videos or playlists, publications and articles that would be helpful in bringing a beginner up-to-speed for these in-depth discussions. These modules are on our ABFFC website at https://www.appalachianforestfarmers.org/forestfocus
If you have questions, email Jeanine_Davis@ncsu.edu