Event Information
Refund policy
Contact the organizer to request a refund.
Eventbrite's fee is nonrefundable.
A live online facilitated nature therapy session. Connect with others and the natural world from a green space near you.
About this event
During this time when many of us are experiencing heightened stress, disorientation, and a sense of isolation, this forest bathing walk (conducted virtually via the free video conferencing platform Zoom) offers opportunities to connect to others, to yourself, and to the grace of the natural world. It is guided by a certified forest therapy guide based in Honolulu, Hawaiʻi, and you are welcome to join from wherever you are.
Unlike Forest Bathing Hawaiʻi's regular offerings in which you'd meet your guide in person in a designated forested location (see Forest Bathing in a Rain Forest), these online meetings invite you to join from a safe and familiar outdoor space near you (it can even be your backyard) or from inside your home. Your guide will be on a trail or at a green space on the island of Oʻahu and you'll be able to experience Hawaiʻi's natural and healing beauty through your screen. She will be inviting you to tune into your senses, to slow down, and to give your attention to the more-than-human world around you.
To find the start time for the walk in your timezone (0800 Hawaii Standard Time), click here to access World Time Buddy.
You can join using phone or internet connection, but prior to the session, you'll need to download and familiarize yourself with the Zoom app on whatever equipment you'll be using on the walk: your smartphone, mobile device, or computer.
IMPORTANT: The meeting link and password will be sent to your email 1 HOUR IN ADVANCE. You will need these to join the walk.
Further details about what to expect and how to prepare for the walk will be sent immediately after purchase in a confirmation email. Please read carefully.
"Forest Bathing" (translated from "shinrin-yoku," an established public health practice in Japan) is a growing global wellness movement backed by 30 years of scientific research on the physical and psychological benefits of immersing yourself in nature. See more, including recent national media coverage on forest bathing at www.forestbathinghi.com.
Ticket sales end 12 hours before the walk.
Virtual walks require a minimum of 2 paid participants. The walk will be cancelled and you will be contacted and fully refunded if fewer than 2 people have purchased tickets by 12 hours in advance.
Private virtual walks can be arranged by emailing forestbathinghi@gmail.com.
* * * * * * * * * *
Complimentary walks for FIRST RESPONDERS, HEALTHCARE AND ESSENTIAL WORKERS. For the promo code, please email forestbathinghi@gmail.com. Include in your request:
your position, the institution/company you work for, city/state
what you are seeking from a virtual walk
confirmation that you would be willing to write up your experience after the walk and are willing to have your testimonial shared publicly and with those who have paid-it-forward and/or donated to help sponsor complimentary walks.
* * * * * * * * * *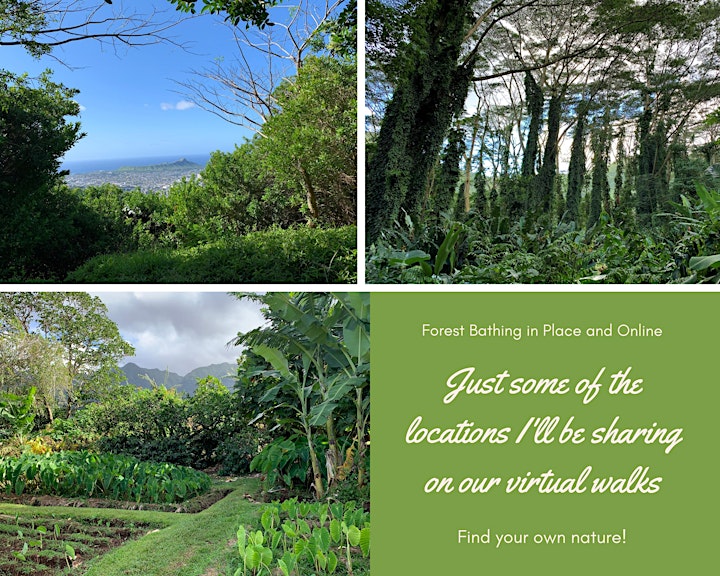 REVIEWS
I was eager to explore the natural world of Hawaii since I haven't been there yet. Most importantly, I was looking forward to experience some much-needed Forest Bathing. It was also fun to meet people on this virtual walk who were from Australia, California, Texas, and New York! Phyllis' soothing voice expertly guided us through a series of invitations that were crafted around the theme of water. I found myself with a little smile on my face hours later, and sent thoughts of gratitude to Phyllis. -- Connie, Iowa
I am a pharmacist at a hospital in Brooklyn, NY. This past month has been stressful emotionally and physically. The virtual walk helped me unwind, take a break from the craziness and meet others. Phyllis was a great guide, she did an amazing job explaining and showing the beauty of Hawaii ! -- Natalie, New York
Thank you again for the beautiful walk on Earth Day. I so loved being able to immerse in the nature and beauty of Hawaii through your virtual forest bathing experience. I experienced your guided walk from inside my home on a rainy day in Oregon. It was wonderful to step into another world briefly and be immersed in the land there through your nature "invitations" and your intuitive and professional guidance. I so loved how you ended the walk with a community tea ceremony, making an offer of gratitude to The Earth, and pouring some tea for each of the participants. I love forest bathing in a group of people onsite and I loved how through your guidance you were able to connect us all to nature and one another from all around the world. -- Sari, Oregon
I am a primary care doctor and an integrative physician and have heard about shinrin yoku and seen some of the studies. I was curious at first how it would work to be on a forest walk over Zoom. I'm so delighted I had the chance to participate. The birds were chirping and Phyllis was so kind and encouraging of everyone in the group. My favorite was using my own apartment as my forest to explore, reflect on the natural sources of everything around me (wood table, glass from sand, etc). It is a forest walk inside with the loving guidance from an expert in her field. Highly recommend to try this out. Come without expectations and be open to the potential for magic. Feeling relaxed and rejuvenated. -- Justin, California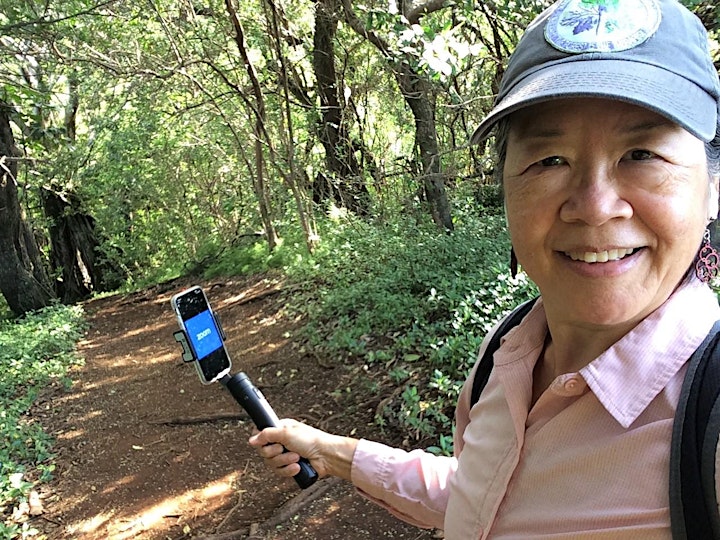 Location
Refund policy
Contact the organizer to request a refund.
Eventbrite's fee is nonrefundable.
Organizer of Forest Bathing in Place and Online
Forest Bathing Hawai'i is owned and operated by Phyllis Look, Hawai'i's first certified forest therapy guide trained by the Association of Nature and Forest Therapy Guides and Programs (ANFT). She is also certified in Wilderness First Aid and a certified forest therapy trail consultant. Phyllis has guided more than 250 forest bathing walks.
Forest Bathing Hawaiʻi's walks have been recommended by The New York Times, recognized by Treehugger as one of 2021's best green travel experiences, and listed as one of the top five travel experiences in the world by Forbes. See other five-star reviews at facebook.com/forestbathinghi and more media coverage at forestbathinghi.com.
Ask about private walks for special occasions or corporate wellness/team-building events, and how to give the gift of a forest bathing walk at bit.ly/fbhigift.