Sales Have Ended
Registrations are closed
Registration is now closed for this event. Don't worry, there will be other Forest Bathing sessions! Please see our calendar of events at www.kenaqgardens.org and join us for a future event! Or better yet, sign up for our e-newsletter to be the first one to find out about upcoming events or opportunities. Sign up here: https://kenaqgardens.org/get-involved/subscribe/ Hope to see you at the Kenilworth Aquatic Gardens soon! Zerline Hughes Spruill Communications & Community Engagement zerline@fokag.org | 202-876-2992
Sales Have Ended
Registrations are closed
Registration is now closed for this event. Don't worry, there will be other Forest Bathing sessions! Please see our calendar of events at www.kenaqgardens.org and join us for a future event! Or better yet, sign up for our e-newsletter to be the first one to find out about upcoming events or opportunities. Sign up here: https://kenaqgardens.org/get-involved/subscribe/ Hope to see you at the Kenilworth Aquatic Gardens soon! Zerline Hughes Spruill Communications & Community Engagement zerline@fokag.org | 202-876-2992
Join the Friends of Kenilworth Aquatic Gardens for a Forest Bathing session as part of "WELLderness: An Outdoor Wellness Series"
About this event
Friends of Kenilworth Aquatic Gardens in collaboration with Raindancer Healing Arts are hosting a FREE Guided Forest Bathing walk through the Kenilworth Aquatic Gardens in Ward 7.
Forest bathing , also known as shinrin-yoku, in Japanese, means "bathing in the essence of the forest" and is scientifically proven therapeutic modality to aid in one's physical, mental, and emotional well-being.
Who: Priority registration is for residents East of the River (Wards 7 & 8)
What you will be doing:
Participate in a 90-minute Forest Bathing saunter led by certified Nature and Forest Therapy instructor J. Sage Raindancer. You will be guided through the Kenilworth Aquatic Garden's paths and ponds providing a backdrop to prime your senses and observe nature differently. Explore and interact with the ponds with childlike curiosity and awe while taking the time to experience the therapeutic benefits of nature through forest bathing.
Participants are encouraged to dress appropriately for the weather and to bring bug spray, sun protection, a bottle of water, a seat pad or small lightweight camp stool/chair, and anything else one may carry on an easy day hike.
When: Saturday, October 2, 2021 from 10:00am - 11:30am. Check-in opens at 9:45am.
Where: Kenilworth Aquatic Gardens, 1550 Anacostia Ave Northeast, Washington, DC 20019. Participants will meet by the entrance trail at the parking lot.
Getting There: By car, there is a large visitors parking lot at the park entrance along Anacostia Ave and abundant street parking surrounding the park. By Metro, the park entrance is a 1.0 mile walk from the Deanwood Metro Station and 1.3 miles from the Minnesota Ave Station, both on the Orange Line. By foot or bike, utilize the parking lot entrance or the Anacostia River Trail.
**Masks are optional for all participating. However, space remains limited to allow for social distancing among attendees and other park visitors.**
About your guide:
Since 2018, Sage has led forest bathing walks in Washington D.C., Maryland, Virginia, & West Virginia. He has collaborated with companies such as Arc'teryx and REI. He has also guided walks for non-profits such as Corazon Latino, Parks RX, Nature Worx, and Friends of the National Arboretum. He has also led in-person and virtual walks for George Washington University's Office of Integrative Medicine and Health, Georgetown University's School of Medicine, the Anacostia Community Museum-Smithsonian Institute, and the Perry Point Veterans Affairs Medical Center. https://www.raindancerhealingarts.com/
Contact: For questions or concerns reach out to Zerline Hughes Spruill at zerline@fokag.org or 202-876-2992.
Learn about Friends of Kenilworth Aquatic Gardens: Follow us on Instagram, Facebook and Twitter (@kenaqgardens)and visit us at www.kenaqgardens.org.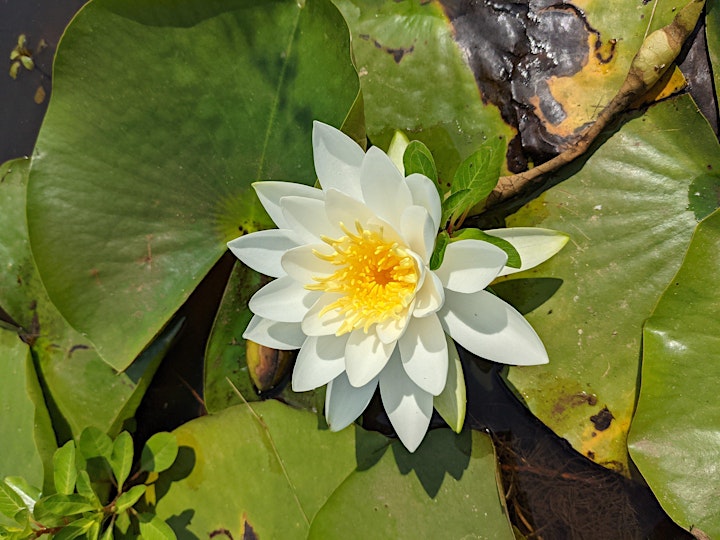 Organizer of Forest Bathing at Kenilworth Aquatic Gardens
Friends of Kenilworth Aquatic Gardens is dedicated to working with the National Park Service to ensure that the Gardens are well-maintained, well-enjoyed, and welcoming for neighbors and visitors. We do this by connecting people to the Gardens through stewardship, public engagement and education programs.
Come join us!