Description
To commemorate the 80th Anniversary of the fascist aerial bombing of Guernica, we will have a film screening & discussion of the international dimension of the Spanish Civil War, and how it mirrored the ideological fault lines of Europe at the time. New Haven resident and European art, history and politics connoisseur Jacinto Lirola will guide the post-screening discussion.
Five Cartridges
(
Fünf Patronenhülsen)
East Germany, 1960, 85 min, B&W, In German; English subtitles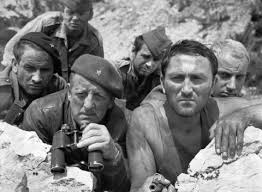 During the Spanish Civil War (1936-1939), five International Brigade soldiers of different nationalities are given a crucial assignment as their commander lies dying: they are to smuggle top-secret information across enemy lines.
The plot is based on scriptwriter Walter Gorrish's own experience in the International Brigades. Ernst Busch, a famous singer and actor (Kuhle Wampe, 1932), who also joined the International Brigades, sings the "Song of the Lincoln Battalion," which became the anthem for veterans of the Battle of Jarama in 1937, particularly those from the Lincoln Battalion, founded by American volunteers.
Shot mainly in Bulgaria and starring Academy nominee Armin Mueller-Stahl (The Flight, Shine, Jacob the Liar) and Manfred Krug (Trace of Stones), this film was the young Frank Beyer's stylistic tour de force.

Co-sponsored with DEFA Film Library at UMass Amherst
https://ecommerce.umass.edu/defa/