Description
The Neurobiology of Sexual Assault and Trauma as presented Russell Strand.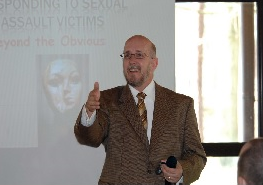 Russell W. Strand is currently the Chief of the U.S. Army Military Police School Family Advocacy Law Enforcement Training Division. Mr. Strand is a retired U.S. Army CID Federal Special Agent with an excess of 35 year's law enforcement and investigative, and consultation experience. Mr. Strand has specialized expertise, experience and training in the area of domestic violence intervention, critical incident peer support, and sexual assault, trafficking in persons and child abuse investigations.

This session examines what trauma victims undergo a process many professionals and victims do not commonly understand. Most of us inside and outside law enforcement have been trained to believe when an individual experiences an event, to include a trauma event, the cognitive brain usually records the vast majority of the event including the who, what where, why, when and how and peripheral information. Trauma victims do not experience trauma in the in the same way most of us experience a non-traumatic event. Most of our interview techniques have been developed to interview the cognitive brain and obtain cognitive information such as the color of shirt, description of the suspect, time frame, and other important information. Most trauma victims however are not only unable to accurately provide this type of information, but when asked to do so often inadvertently provide inaccurate information, Since the vast majority of our training and experience has caused us to focus on the cognitive brain and research clearly shows the cognitive is not generally involved in experiencing or recording the experience we must develop and implement proven methods to properly interview the brainstem. This presentation will explore innovative and revolutionary ways to interview the brainstem in a manner that not only reduces the inaccuracy of the information provided but will greatly enhance understanding of the experience, thereby increasing the likelihood of a better understanding of the event. The Forensic Experiential Trauma Interview has already been proven to be a game changer in the investigation and prosecution of many forms of violence including child abuse and adult sexual abuse.