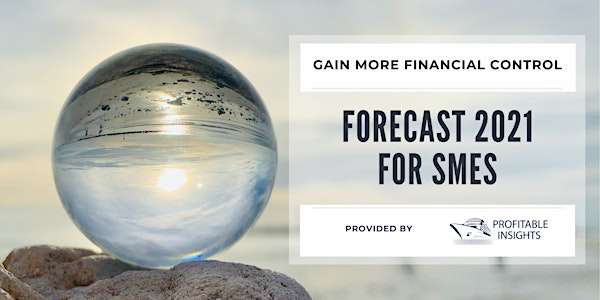 FORECAST 2021 FOR SMEs
Learn tried and tested forecast methods for your company to enjoy a stable 2021.
About this event
FORECAST 2021 FOR SMEs – online workshop with Q&A
This is the sixth webinar from our famous practical series that targets specific non-essential small businesses which should right now be able to forecast for 2021 to ensure survival and stability.
We are hosting a free online 45 - 60 min workshop with Q&A on 9 December 10.00-11.00 am GMT.
We will share our tried and tested methods, sources of data and possible scenarios on how to forecast cautiously to minimise uncertainty and ensure stability in 2021.
Places are limited to 15 participants to make the most of the interactive part of the session and to allow personalised responses to questions.
SESSION CONTENT:
We will help you find answers to the following questions:
📌How to be ready for a slow recovery where you are?
📌Which likely scenarios you can use to pattern your revenue in 2021?
📌What sources of data do you need to master to make better educated guesses?
Additionally, each participant will be offered a business control assessment to identify areas where they are more or less able to increase their business stability now and in the future.
"Adina untangled my numbers. She was able to break down and interrogate all my costs and income. This resulted in an accurate cash forecast and pipeline and meant we could find efficiencies which have saved me money. Her input has been invaluable. I have transparency and financial control now." Louise Turley, FT Architects