| | |
| --- | --- |
| FORBIDDEN PLEASURES IN PARADISE-2TC | |
Event Details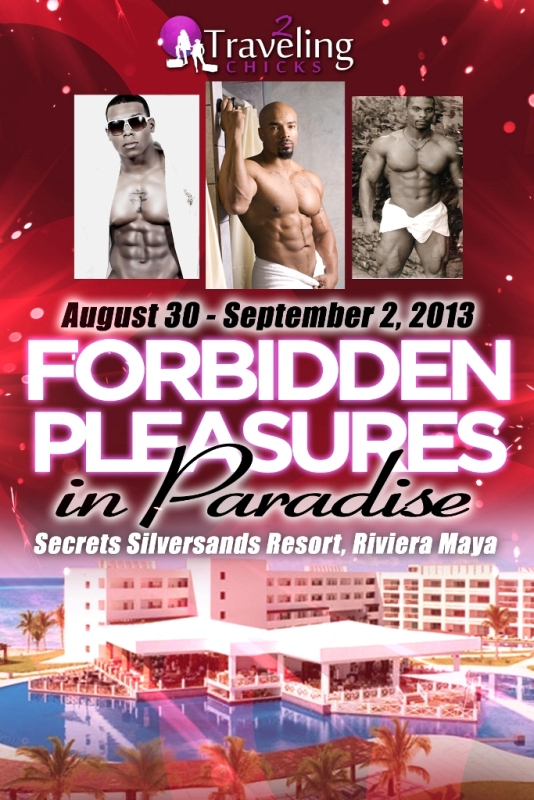 FORBIDDEN PLEASURES
IN PARADISE
Riviera Maya (Cancun), Mexico
Click here to view brochure for this ALL-INCLUSIVE resort:
http://www.amresorts.com/brochures/sesrc/
:::::::::::::::LABOR DAY WEEKEND::::::::::::::::
August 30 – Sept 2, 2013
UNLIMITED LUXURY, ADULT ONLY, ALL-INCLUSIVE RESORT
2 Traveling Chicks is the only travel agency that can bring you an INTERNATIONAL Male Revue featuring Luscious and BOLO!
These are 2 of Atlanta's sexiest hard-bodied men who have packed huge venues and pleased thousands of screaming women throughout the United States.
These titillating gentlemen have mastered the art of taking women to the edge and pushing them over!
Join us at the All-Inclusive, All-Adult, Unlimited Luxury Secret Silversands Resort in Riviera Maya and enjoy the show…..
WHERE FANTASY MEETS REALITY!
Package Includes
4 Days/ 3 Nights Accommodations at Secrets Silversands Riviera
Roundtrip Transfers (Airport/Resort/Airport)
All meals & drinks (including premium liquors)
All taxes & gratuities
24 Hour Room Service
Forbidden Pleasures All Male Revue featuring:
Luscious
Bolo
Forbidden Pleasures Meet & Greet Mixer
Forbidden Pleasures Pool & Beach Party
Forbidden Pleasures Sexy and Sultry Stiletto Party
Forbidden Pleasures Linen Dinner Party
Forbidden Pleasures T-Shirt
 
Itinerary of Events
Friday, August 30
8pm - Meet & Greet @ Desires Music Bar & Lounge

Saturday, August 31
Day of Leisure
6pm - Linen Dinner Party @ Seaside Grill Restaurant

Sunday, September 1
12pm - Pool Party
7pm - Sexy & Sultry Stiletto Party
8pm - International Male Revue
*Location of Stiletto Party & Male Revue will be announced at Pool Party*

Monday, September 2
Depart Cancun
We hope you enjoyed your vacation! Safe Travels!


Policies
-All payments are NON-REFUNDABLE & NON-TRANSFERABLE.

-This is an ADULT ONLY, ALL-INCLUSIVE RESORT.

-A passport is required for this event.

-Each individual is responsible for their own airfare to Cancun.

-Flight itineraries are due to your agent 30 days prior to departure.

-If flight itineraries are not received 30 days prior to departure, you will be responsible for obtaining your own roundtrip transportation.

-Please have your flight arrive at Cancun International Airport (CUN) no later than 5pm on August 30. Our first activity will begin at 8pm.

-Travel Insurance is available for an additional cost of $79 per person.

-A 2TC Travel Agent will meet & greet you at the resort.

-It is best to pay your initial deposit as soon as possible to guarantee you are locked in at the above rates. Rates are subject to increase after January 2012.

-If you fail to make monthly payments, your reservations are subject to cancellation and all monies paid will be forfeited.

-It is imperative to make sure your roommate's payments are made in a timely manner. If your roommate does not make timely payments or decides not to attend, you will be required to pay a higher Occupancy Rate.

-Please register in the name shown on your passport.

-All correspondence regarding this trip is sent via email. Please provide an email address that is checked frequently.

-A $50 late fee will be added to all payments received after the final due date of July 10, no exceptions. 
Contact
2 Traveling Chicks
Via Phone: (888) 669-1194
Via Email: trips@twotravelingchicks.com
Via Web: www.twotravelingchicks.com
Via Facebook: www.facebook.com/2travelingchicksllc



Organizer
2 Traveling Chicks & Luscious Promotions
2 Traveling Chicks, LLC's staff embodies extensive knowledge and experience in the travel industry. With our travel expertise, we will be offering extraordinary experiences in predefined and requested vacation/travel packages for our valued customers.
We provide personal, group, corporate, destination wedding, and honeymoon travel proposals. We are licensed, bonded, and insured and are looking forward to serving your travel needs.
For more information, contact us at (888)669-1194 or trips@twotravelingchicks.com
OR
Luscious Promotions at
(404)349-6434 or lusciouspromo@gmail.com
FORBIDDEN PLEASURES IN PARADISE-2TC