Forbes Productions US In association with W.E.T. PR Beverly Hills And The Los Angeles Homeless Authority Present The Stained Red Carpet
About this event
A Hilarious Night of Comedy Featuring Stars of The Big Screen. Portion of the Proceeds Go to Feeding the Homeless
Brooke Forbes
Brooke, hailing from a small town in Sault Ste Marie, Ontario Canada is excited to debut her Comedy Shows at LA's new hotspot, The Comedy Chateau.
Brooke has performed as a professional dancer/singer/actress/host/comedian in off Broadway Theatre Shows in NYC and globally.
She has produced and performed in her original off Broadway Theatre Show in NYC and has produced/performed world-wide in most notably musicals for King Hassan in Morocco, Prince Albert in Monaco, The President of the USA and Japan and Bosnia, for the USO and the Canadian Armed Forces in her own "Ray of Light" Show, a tribute to Madonna.
In addition, Brooke is the creator of Forbes Productions US, a production company currently producing/hosting and performing a slate of TV Series, Feature Films, Musicals and live Comedy Shows with celebrity talent. Brooke is a multiple Award Winning Writer, Producer, Creator, Actress and Stand-Up Comedian. Her latest Feature Film entitled "Natasha Mail order Bride Escape to America" currently slated for pre-production, is the recipient of Winner and Official Selection of 7 festivals world-wide.
Matt Rife
Matt is Stand-up comedian featured on season seven of MTV2's Wild 'N Out who became the youngest cast member on the show. He also became the youngest person ever featured on the BET series ComicView. Matt began performing stand-up when he was fifteen years old. He began performing regularly at the Laugh Factory in Los Angeles, CA. Matt was born in Columbus, Ohio and was raised in a small town in the midwest state. Matt has opened for acts such as DL Hughley, Ralphie May, Tommy Davidson, Dane Cook and many more. Matt is excited to perform at The Comedy Chateau and can't wait to start production onthe Feature Film, Natasha Mail Order Bride Escape to America.
Jimmy Shin
Jimmy has been Mixing his musical and comedic talents all of his life. After graduating from California Western School of Law, Jimmy decided to take a more humorous path.
While in Seattle, Jimmy won the honor of "Rookie Comedian of the Year" in the Seattle International Comedy Competition in 2005 and was advised by Ron Reid (The Producer of the competition) to move to Los Angeles. Although urged by his parents to become a lawyer, Jimmy decided to take a leap of faith and pursue his dreams of becoming a comic in LA.
After moving to Los Angeles, Jimmy has been performing all around the country and producing shows at The World Famous Comedy Store. He has performed regularly at the Improv, Laugh Factory and The Comedy Store. His break came when he performed three times on The Tonight Show.
His parents finally acknowledged that he was a real Comedian when they saw him perform on The Tonight Show and began supporting his decision to pursue a career in Entertainment. He has also appeared on the HBO Series "LUCK", The Carson Daly New Year's Special 2015 and most recently on Jimmy Kimmel Live.
Adam Richmond
Adam Richmond is an international, comedic sensation from Canada, whose jokes you're sure to be quoting the next day. Featured on 'Last Comic Standing', this comedian is a fireball on stage, and spent nearly two decades rocking shows across America and around the globe. He's headlined hundreds of comedy clubs, and was featured on NBC's 'Last Call with Carson Daly' and Byron Allen's 'Who wants to date a comedian?' You'll recognize Adam's distinct voice in TV shows and movies including; Disney's 'Tron,' 'Fast and Furious 8' and Call of Duty 'Infinite Warfare.' He's also appeared on Nickelodeon, and does regular audience warm-up. Adam produces a show called 'Comedy from the Corps,' in support of the US military, performs for the troops around the world and hosts charity events annually.
----------------------
Headliners : Matt Rife (Wild'N'Out - MTV2, Comic View - BET) Jimmy Shin (The Tonight Show - NBC, Jimmy Kimmel Live - ABC), Adam Richmond (Last Call with Carson Daly - NBC).
Featuring: Eugenia Kuzmina, Mark Selzer, Mira Wilder, Kelly Lee Williams, Christine Peak, Irina Voronina and special guests!
Red Carpet 8:00-9:00PM, show 9:00-11:00PM at our heated the outdoor patio.
2 drink minimum. Street parking, Garage parking.
-----------------------
Follow us on Instagram:
https://www.instagram.com/bbforbes/
https://www.instagram.com/natashailoveamerica/?hl=en
Friend us on Facebook
https://www.facebook.com/brooke.forbes1
Like and Subscribe to us on Youtube
https://www.youtube.com/channel/UCznEU_gpiqdF3I7sPMS9MIQ
-------------------------
The Comedy Chateau is a high-end comedy club located on the border of North Hollywood and Toluca Lake. We pride ourselves on being a one-stop destination for a night out on the town with our gourmet American Bistro cuisine, craft cocktails and outstanding comedy. Comedy shows take place at the shaded/heated outdoor patio. Dinner menu is available on our website: https://www.thecomedychateau.com/dinner.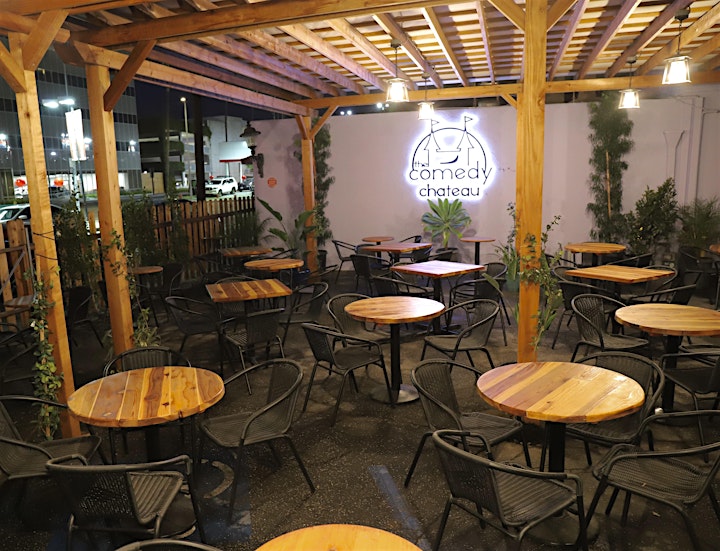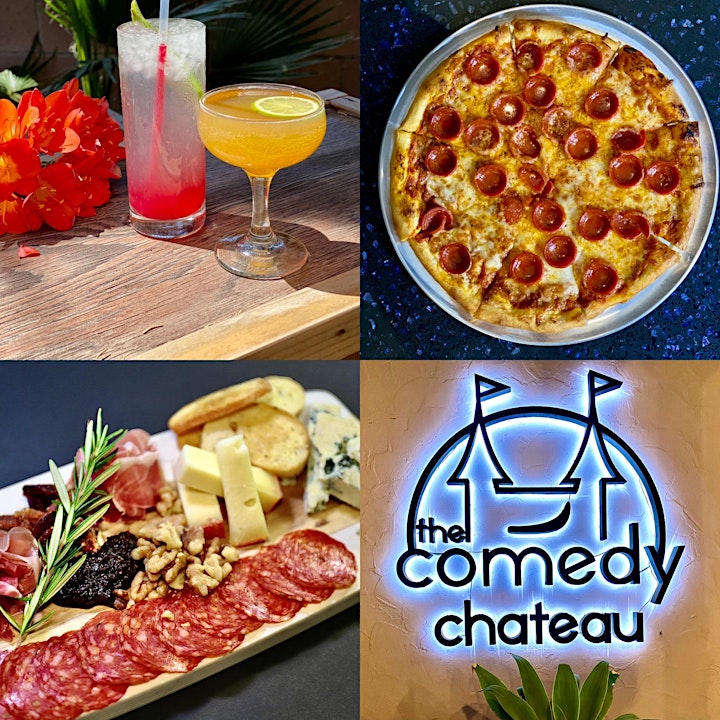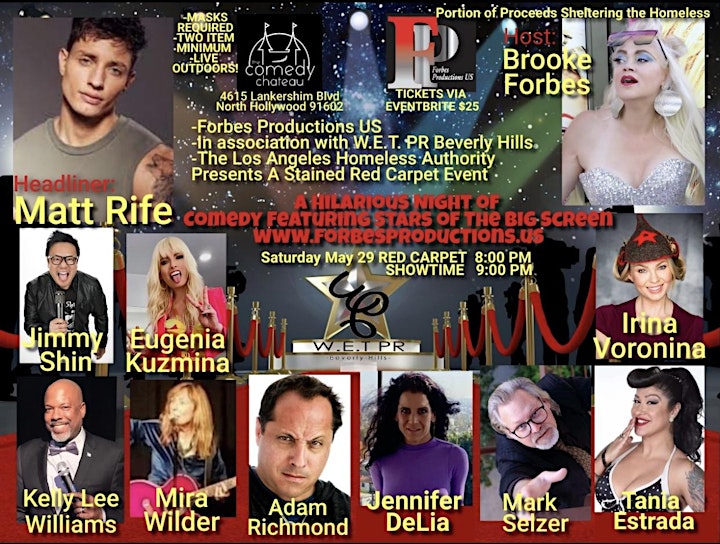 Organizer of Forbes Productions and W. E. T. PR present: The Stained Red Carpet