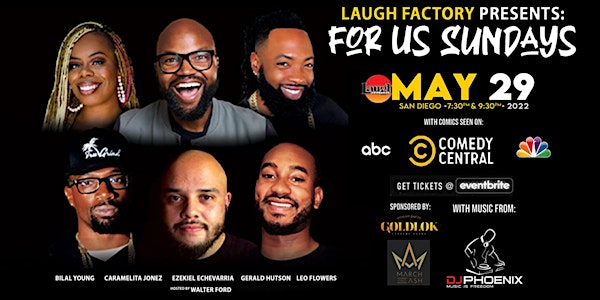 Performers
Leo Flowers, Walter Ford, Bilal Young, Caramelita Jonez, Ezekiel Echevarria, Gerald Huston
Location
Laugh Factory
432 F street
San Diego, CA 92101
Laugh Factory Presents: For Us Sundays!
About this event
Leo Flowers appeared on Comics Unleashed with Byron Allen, was a runner-up in the San Francisco International Comedy Competition, and was a finalist in the 2011 Stand Up for Diversity competition. He has toured on the Shaved and Depraved Comedy Tour, and hosted both MTV's "Sports Blender" and Starz "Staan' 'Dup," and was featured on "Last Call from Carson Daly," on NBC!! Most recently he's appeared on Comedy Central's "This Week At the Cellar." His delivery has been described as "smooth and deliberate." No two shows are ever alike, as he's always attacking the issues of the day and revealing personal anecdotes. Infusing stand up with storytelling, Flowers captivates audiences of all demographics.
YouTube, Instagram, and Facebook sensation Gerald Huston is a standup comedian & actor from Kansas City, MO. More than 500 million views have been generated from his videos, accumulating over 3 million followers. He began his career as an upstart stand-up comedian in the Midwest opening for comedians such as DL Hughes, Lil Duvall, Haha Davis & many more.
With his witty in-your-face observational comedy, Ezekiel Echevarria is one of comedy fastest growing up-and-coming comedians on the west coast. Bringing the funny for years now with his unadulterated honesty, Ezekiel Echevarria is sure to have the entire family splitting their sides. Born in Rancho Cucamonga, Ezekiel Echevarria has performed at most major clubs and venues all over the country & has opened for National Headliners at clubs such as The Laugh Factory & More!
A breath of fresh air from the Midwest, Caramelita Jonez is a comic from the Heartland that will leave you breathless from laughter. She started comedy in Chicago, relocated to Los Angeles and has been been leaving trails of laughter all over California. One of the best things to come out of Chicago since their pizza, this funny girl will leave your comedy appetite satisfied like a slice of deep dish 🍕.
Walter Ford is an American Comedian, Actor, Podcaster, and Producer. He's most notably been seen on The Steve TV show on NBC & The Celebrity Dating Game on ABC. He's performed nationally as well as at major clubs such as The American Comedy Co, The Laugh Factory, and the Comedy Store La Jolla.
The Creator of The Weston Young Experience, Bilal Young is an accomplished comedian, host, and producer. His high-octane, hilariously honest comedy has been keeping audiences on the edges of their seats for almost a decade.
18 and over
2 drink minimum
All sales final
Must follow all county guidelines