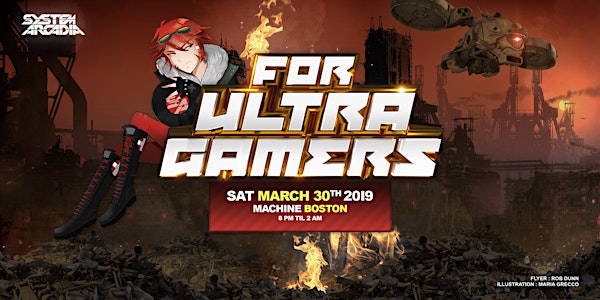 For UltraGamers
When and where
Location
Machine 1254 Boylston St Downstairs Boston, MA 02215
Refund Policy
Contact the organizer to request a refund.
Description
Hello everyone! Welcome to System Arcadia's newest show, For UltraGamers! As we enter our fifth year in running shows, we are aiming to make 2019 by far the strongest year System Arcadia has had to date. This year, we are throwing our first ever event during PAX East weekend in Boston! This is a new show idea we've come up with for one purpose: Create a show that highlights the best in United States born talent that have appeared on Asian rhythm games, and throw them into a club environment for an absolutely bumping show. For UItraGamers is a hardcore-themed event with the goal of mixing these producers with performers out in the rave and club scenes in the Northeast. So without further ado, let's get to the lineup.
Full Artist Lineup
AkiraComplex — S2TB Recordings: https://soundcloud.com/akira-complex
Akira Complex has had a meteoric rise to prominence in the J-Core scene. His first releases on Kors K's S2TB label include numerous remixes (As One, Are You Ready, On The Beat, Icarus), some of his signature songs (Rift.exe, Oddysey), and his first full album, The Synthesis Collective.
He followed that up with a remix on a major label album (Because of You (Akira Complex Remix)), a collaboration track with Noizenecio (Deviant Mechanics) featured in Hardcore Syndrome X, and two incredible collaboration albums with Hommarju (We Are Connected) and Camellia (Reality Distortion).
Over the past year, along with new tracks for Bizarre Nation (Consequence of Nature) and Bass Avengers 2 (Stinger Missile), his music has been featured in many rhythm games, including Zyon (Vector Cannon), Arcaea (Relentless), and beatmaniaIIDX 25 (Break Stasis), of which an EP will be released soon featured around this song in collaboration with Hommarju.
He's played numerous shows, both in Japan (the S2TB Gathering and S2TBTANO*C series) and stateside (PARTY2012 IRL, Anime Expo).
When he steps up, you know something magical is gonna happen. His sound, though it's changed over the years, has always had something unique about it; you can hear the emotion and passion in every track he makes.
DMAshura — Andamiro USA: https://soundcloud.com/dmashura
Math teacher by day and musician by night, Bill Shillito, better known as DM Ashura, has been producing electronic music since 2002. Starting off by making fan remixes of Dance Dance Revolution songs, he has honed his musical skills over the years, and his energetic sound has helped him build an audience worldwide through an ever-growing number of venues. While many of his tracks have been various flavors of trance or rave, often with an orchestral flair, he has more recently branched out to include other genres such as freeform hardcore and even funkot.

DM Ashura got his first big breaks producing for e-Games Global's PC game O2Jam and then winning Konami's music competition on www.broadjam.com to produce tracks for Dance Dance Revolution Ultramix 4 (GO! Mahalo Mix, Celebrate Nite Like it's '99 Remix). Since then his music has been featured in the newest versions of Dance Dance Revolution (aftershock!, Your Angel, ΔMAX), as well as in other Konami games such as beatmania IIDX (neogenesis), Reflec Beat, and Road Fighters. Since 2010 he has been one of the mainstay composers for both the American and Korean Andamiro's Pump It Up, with hits such as Rave Until the Night is Over, Ignis Fatuus, the Allegro series, Annihilator Method, Move That Body!, and Kimchi Fingers. Over the years, he has also collaborated with a number of artists including kors k, Veronica Almqvist (from Smile.dk), J-Mi, Hanna Stockzell, Sanxion7, and Kimsynth (as Garlic Squad).

DM Ashura released his first album Digital Maestro through Bemanistyle. His music has also been featured on compilations such as AVSS's "Intersect Fractional Vol. 4" (Z the new legend), S2TB Recording's "J-Rave Nation" (π・ρ・maniac), and Electro Freaks' "More Electro Than Electro" (Ethereality). His "hyper techno" rave tracks such as X-RaVE and Move That Body! have gained a following in the TechPara dance scene in Japan and worldwide, and he even revamped the soundtracks of Platine Dispositif's hit bullet-hell games GundeadliGne and Gundemonium Re:collection for their Steam re-release by Rockin Android. Continuing the bullet hell trend, he recently contributed music to the Steam game NOISZ by Noiszmakers.

DM Ashura has previously played at numerous conventions including Anime Central, San Japan, Animation & Gaming Ohio, Anime St. Louis, Anime USA, MomoCon, and Anime Weekend Atlanta; this event will be his first live event in years, since 2013. He always brings his passion for rhythm games and love for the rhythm game community with every high-powered set he plays. Don't miss it --- get ready to move that body to infinity!
IDPH: https://soundcloud.com/mattjessico
Race car kid turned DJ. IDPH is a local up and comer based out of NH. He has been in the underground scene since 2013 going to his first party Wonderland at Rise in Boston and has been hooked ever since. Working with many of the big local event hosts such as Rabbit Revolution and Tight crew IDPH has made his name as a solid promoter and decided to try his hand at DJing. Starting in mid 2016 IDPH picked up his first CDJs and started learning. Now he is starting to make a name for himself as a phenomenal Hard Dance/UK Hardcore DJ.
Speedycake: https://soundcloud.com/dj-speedycake
Speedycake is a North American DJ that blends all forms of hardcore from UK to Japan. Rising to fame in 2005 from the eponymous remix of Swedish pop song Caramelldansen, Speedycake has been exposing American audiences to Otaku music culture ever since.
Sawtooth — System Arcadia: https://soundcloud.com/sawtooth
New England-area industrial beats that will corrupt your children's minds, from a genderqueer DJ whose face is either draped in shadows or lavishly bedazzled. Sawtooth is an electronic music producer/DJ who has been spinning industrial, dark-dance, and video game remix music for clubs and parties since 2013, bringing foot-stomping mechanical beats and rhythms to the underground scene.
As a DJ, Sawtooth has cut a swath of hard-hitting tunes all across New England, headlining events in Massachusetts, New Hampshire, Rhode Island, and Maine, as well as opening events for touring DJs and artists like Panic Lift, Interface, The Gothsicles, Jay Aston's Gene Loves Jezebel, Metamorph, Kors K, Remo-Con, DJ Venom, Mitomoro, End: The DJ, Technorch, and various others.
As a producer, Sawtooth is an in-house DJ for the New England-based events collective System Arcadia, and has produced official remixes for international artists like Massive Ego, Dear Strange, Metroland, MOЯIS BLAK, Flesh Eating Foundation, Big Time Kill, Snowbeasts, Transdusk, Microwaved, and many more. Sawtooth's original music is inspired by a combination of classic EBM and electro-industrial, frequently peppered with subtle references to video games, science fiction, and other forms of geekdom.
DJ BadAxe — System Arcadia: https://soundcloud.com/djbadaxe
Another regular in the System Arcadia crew, Glenn Martin aka DJ BadAxe has been performing and producing tracks since he was a teenager. He has an amazing trance album out called 'Out of Focus' which highlights his best work over the years, and the theme song includes original vocals by his truly.
A long time fan of the Bemani and ITG series, DJ BadAxe has strong community ties reaching back to the golden days of Fun World in New Hampshire. His style is heavily influenced by the music produced in dance games and promises to always bring something unique each time he opens a show for System Arcadia.