For The Love Of Music & Fashion Extravanganza 2020
About this Event
For The Love Of Music & Fashion Extravanganza is the Hottest Night Full of some of the Bay Area Best Music & Fashion Artists you don't want to miss out on this one.
The who's who in the Bay Area industry will be there from designers, models, influencers, buyers, fashion bloggers, brands, media and, press.
(A MASK IS REQUIRED TO GET IN THIS EVENT)
Door's Open at: 5:00 PM
Mix & Mingle at: 5:30PM - 6:00PM
The Music & Fashion Extravanganza Starts at: 6:00 PM
Admission: $25
DISCLAIMER: In order to receive you Drink you must be 21+ with a valid photo ID upon check-in. Upon entering our events, you are allowing our photographers and videographers to include you in video footage and photography. We reserve the right to use, reproduce and distribute any video and photography produced at our events. Solicitors are not allowed on the premises. Passing out flyers and/or promoting other events at or during our events is strictly prohibited and is grounds for removal. Ticket sales are final, NO REFUNDS. Talent is subject to change at any time.
All sales are final; no refunds or exchanges. Prices are subject to change while supplies last.
Music Artist & Fashion Designer Line-Up Comming Soon
Get your Ticket Now before they sell-out!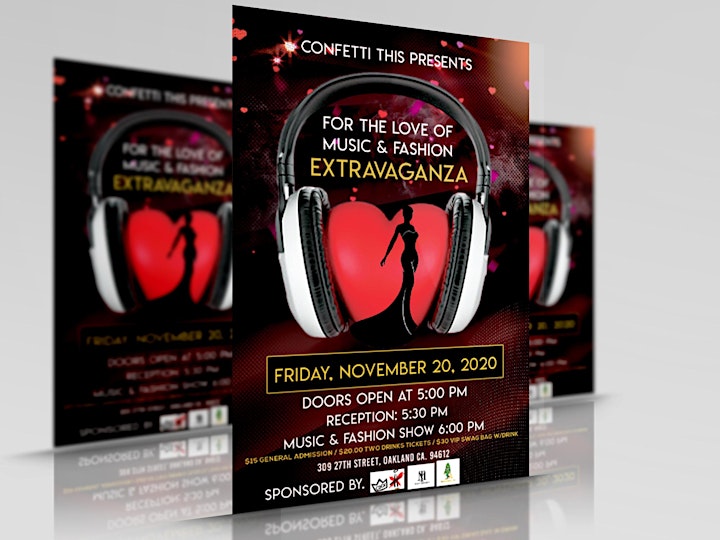 GRAB YOUR FRIENDS AND FAMILY AND COME OUT AND ENJOY THE EVENING SAFELY!!!