Description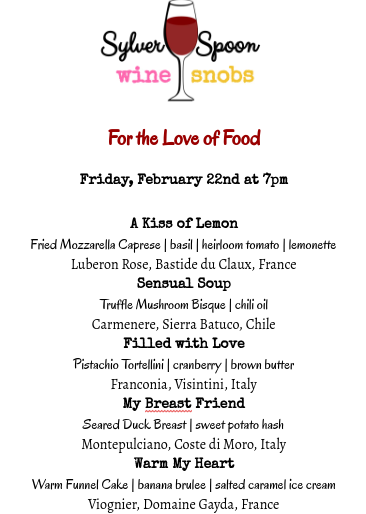 Our sommelier will guide you through a tipsy tour of five elegant New World wines, perfectly paired with five courses of playful global cuisine! At our communal table, you'll have the opportunity to mingle, laugh, and drink with other wine-and-food-lovers! Executive Chef, Madison Monaco, will seduce your tastebuds with the sexiest cuisine in town! These monthly events fill up quickly, so reserve your seat now! You will have the opportunity to watch our professional theatrical performance after dinner, free of charge!
Childcare available on site, $8/hr per family. Please let us know how many kids you'll be checking into childcare.
BONUS: Attend 3 wine dinners, and become a SYLVER SPOON SNOBS VIP! Present your VIP card any time you dine at Sylver Spoon to receive FREE WINE PAIRINGS with purchase of tasting menu, and FREE THEATER TICKETS FOR LIFE!
BY RESERVATION ONLY!!!! MAKE A RESERVATION NOW!