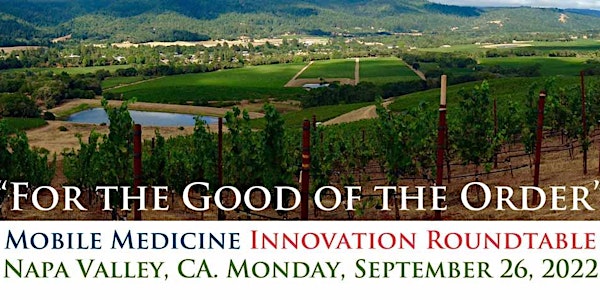 "FOR THE GOOD OF THE ORDER": Mobile Medicine Innovation Roundtable, Napa CA
Location
Farmstead at Long Meadow Ranch
738 Main Street
St. Helena, CA 94574
Refund policy
Contact the organizer to request a refund.
Eventbrite's fee is nonrefundable.
An "unconference" like you've never attended before. Swap insights with colleagues from across the profession. Free flowing ideas AND wine.
About this event
What makes an "unconference" special is that there is no set agenda.
The content is YOU. What do YOU care about? What insights do YOU have to share?
"FOR THE GOOD OF THE ORDER" is a forum where the smartest minds in our profession can come together to ask these questions of one another, charting a path that benefits all. ALL ATTENDEES will be requested to prepare 3-5 SLIDES on a subject about which they are passionate and expert, and to include contact information so the discussion can carry on after the event. ALL ATTENDEES will the receive a copy of the aggregated slides. ALL who want to present LIVE at the conference will be invited to do so. In mid-August, we will send out a survey inviting attendees to categorize their presentation, so our "unconference" has a semblance of user-generated structure.
Below are some examples of the sorts of conversations that we look forward to discussing. But these are nothing more than prompts to get your ideas flowing. What's important in your part of the country, or the world? We all know Mobile Medicine is changing. Should we be planning for more than 15 minutes at a time?
What keeps you up at night?
BETTER: What helps you sleep at night? (We could all benefit!)
How can we follow the money, if the future is transport-light?
Who can you hire when no one is living in your area anymore?
Fires are getting scarcer...but larger. How does that affect hiring, budgeting, and the connected emergency healthcare ecosystem?
People were migrating to cities...before the pandemic. Do we have to expand into the suburbs next?
How do the Silver Tsunami, Black Lives Matter, and the autism rights and death with dignity movements affect Mobile Medicine?
How do you pay for change without more public funding?
How do you manage to balance work, life, love, stress, and sanity? How can we help each other, and keep one another both physically and mentally safe?
What strategies are the most successful agencies using to adapt people management, processes, payments...and politics?
How are things changing differently in California, Colorado, and Connecticut? Oklahoma to Ohio and Virginia to Vermont? Some suggest looking to the U.K., Australia and Canada for models (Mobile Integrated Health, anyone?). Are they faring any better?
_____________________________________
REGISTER ONLINE THROUGH LABOR DAY. AFTER LABOR, PLEASE CONTACT US DIRECTLY TO ORDER A TICKET: JONATHON.FEIT@BEYONDLUCID.COM. We realize that things happen in our profession...don't we know it! But because we have to report a headcount to the venue, if you need to cancel, please do so by August 31st and we'll refund 50% of your ticket price. From September 1 onward, unfortunately we won't be able to process any refunds. (Here's hoping you won't need one -- we look forward to seeing you!) After you complete your registration, please do not hesitate to contact us with any questions about hotels or if you need suggestions of things to do and places to see around the area the weekend before. We will follow-up with details about parking the-day-of, as well as submission requirements for your slides. Thanks!
STAY SAFE & SEE YOU SOON