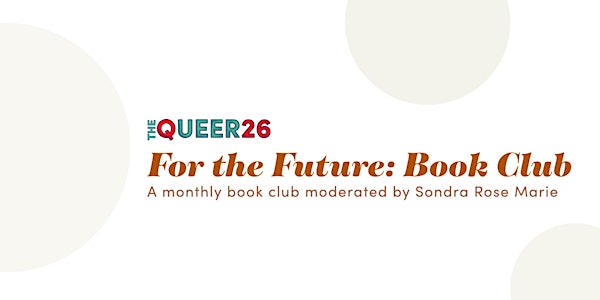 For The Future: Queer Book Club
For The Future Queer Book Club Presents: The Real Lives of Transgender and Nonbinary Humans (anthology)
Refund Policy
Contact the organizer to request a refund.
Eventbrite's fee is nonrefundable.
About this event
For The Future is a new monthly Queer Book Club provided through The Queer 26 and moderated by Sondra Rose Marie. Join Sondra and other participants in reading books themed QUEER: queer/queer friendly authors, queer characters, and or queer themes.
For the Future provides a place to learn more about queer literature, responsible representation, and what makes a book great. More importantly, this Club exists to help its participants get their reading in!
The club is hosted on bookclubs.com - once you sign up, you can maintain your membership though that platform. Once you buy a ticket here, we will send you a link to the email you provide to join the club. This month, we will also send a free copy of the book to the first 10 people who sign up!
August Book: The Real Lives of Transgender and Nonbinary Humans (Anthology)
We all struggle with our identities, how we show up as our authentic selves, and who we want to see when we look in the mirror.
This powerful collection of stories, told by transgender and nonbinary people of all ages and from all walks of life, is an inspiring tribute to the human spirit. They are our children, parents, siblings, neighbors, friends, and colleagues. Many have faced daunting challenges and have overcome the hardships of poverty, racism, transphobia, and alienation from their families. Some have become activists; some are entrepreneurs; others simply want to make a difference in one person's life. But wherever their journeys have taken them, they are so much more than their gender transitions. This book is a testament to the power of hope, determination, and the possibilities open to everyone when they learn to love and accept themselves for who they really are.
About Sondra Rose Marie
Sondra Rose Marie (she/her) lives for the written word: She copywrites for an agency by day, freelances most evenings, and blogs on weekends. Often covering mental health and LGBTQ+ interests, Sondra's experiences as an openly queer and neurodivergent Black woman inform much of her work. When she's not writing, she reads voraciously, consumes entirely too much true crime content, and serenades her fiancée with improvised love songs.
About Q26
The Queer 26 (Q26) is a 501(c)3 certified media arts non-profit supporting QTBIPOC creatives. Through our workshops, events, and media projects, we help our communities' thrive while pursuing their dreams. Q26 is based in Los Angeles but has worked with creatives from throughout the nation. www.thequeer26.org