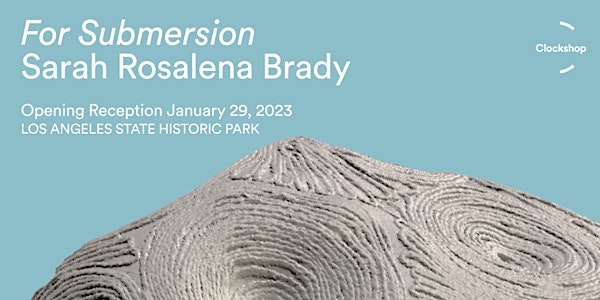 For Submersion Opening Reception
For Submersion uses digital technology and craft to reimagine earth underneath LA Historic State Park recalling the history of the LA River.
When and where
Location
Los Angeles State Historic Park 1245 North Spring Street Los Angeles, CA 90012
Refund Policy
Contact the organizer to request a refund.
Eventbrite's fee is nonrefundable.
About this event
The opening reception will now be held January 29 from 2:00 - 4:00 PM at LA State Historic Park.
Please join us for the opening of For Submersion, a new commission of public artwork by Sarah Rosalena that reimagines earth beneath LA Historic State Park, recalling the history of the Los Angeles River floodplain of the Tovaangar. Using digital technology and craft, a monumental 3D sculpture and textile will be shown with acknowledgment to the First Peoples of this land, and matriarchal knowledge.
Clockshop, in partnership with Los Angeles State Historic Park, announces a new artist commission from LA artist Sarah Rosalena, For Submersion. This temporary public artwork will be installed, and if rainfall permits, submerged, at the Los Angeles State Historic Park watershed from January 2023 – April 2, 2023.

Before settler colonization, LA State Historic Park was the floodplain of Paayme Paxaayt, the Los Angeles River, that supported Tongva people and wildlife. For Submersion recalls the LA River's importance by honoring its history as an ancestral pathway. The mediums used to create For Submersion highlight Rosalena's attention to Los Angeles river's evolution over time, honoring practices used in the past and present, she merges craft making and digital arts as a way to interpret and re-envision land.
For Submersion is both a physical work and digital artifact, which aims to re-narrativize, through yarn painting, the river's temporalities and historicity as a watershifter. Rosalena adorned a river rock from Paayme Paxaayt with Wixárika yarn painting, a method of image-making traditionally done with beeswax, pine sap, and handspun yarn that has been passed down in her family for generations. The yarn represents a throughline to mother earth and to the matrilineal bloodline of weavers in her family. The yarn painted rock was 3D scanned, then digitally fabricated into a physical sculpture that will collect and interact with rainwater. In addition, a large commissioned textile will be handwoven as a companion piece, and will use satellite imagery of the Los Angeles River as a weaving pattern.
"Sarah's practice honors traditional craft through its digital manipulation, re-casting how we position Indigenous knowledge within our present and future. Her work elicits Native futurity, and explores the relationship between land, culture, natural resources, and the digital worlds we must inhabit," says Clockshop Director Sue Bell Yank. "Her monumental river rock sculpture within LA State Historic Park is both a keystone for bridging multiple worlds, and a prayer for different, generative, and abundant modes of interacting with them."
Central to this commission is a partnership with Chapter House, an Indigenous-led organization that provides space for Indigenous Peoples and allies to appreciate art, convene and collaborate, celebrate individual and shared Indigenous cultures, and explore the complexities of the 21st Century Indigenous experience. Chapter House and Rosalena will lead hands-on workshops for Native youth, engaging them with the land at LASHP through craft and digital technology. Each workshop is designed to mirror the process for creating For Submersion, wherein technology functions as a means of digital preservation and archive for future generations.
SUPPORT
For Submersion was commissioned by Clockshop and supported through our long-standing partnership with California State Parks. The production of this work was generously supported by the California Arts Council, Mike Kelley Foundation for the Arts, and the Pasadena Art Alliance, with additional support from the City of Los Angeles Department of Cultural Affairs, Los Angeles County Department of Arts and Culture, and Clockshop's generous community of supporters. Special thanks to Arktura for their donation of services to fabricate this project.

ABOUT THE ARTIST
Sarah Rosalena Brady (Wixárika) is an interdisciplinary artist and researcher based in Los Angeles. Her work deconstructs technology with material interventions, creating new narratives for hybrid objects that function between human/nonhuman, ancient/future, and handmade/autonomous to override power structures rooted in colonialism. She is an Assistant Professor of Art at UC Santa Barbara in Computational Craft and Haptic Media. She has received awards from Creative Capital; the LACMA Art + Tech Lab; Carolyn Glasoe Bailey Foundation; the Steve Wilson Award from Leonardo; the International Society for Art, Sciences, and Technology; and the Craft Futures Grant from the Center for Craft. Rosalena recently showed her work at Frieze LA and Blum & Poe Gallery.
Join us on Instagram to learn more about For Submersion.
ABOUT CLOCKSHOP
Clockshop works with artists to deepen the connection between communities and public land, in order to build a shared vision of a future based in belonging and care. As a Los Angeles-based arts and culture nonprofit, Clockshop produces free public programming and commissions contemporary artist projects on public land to better connect Angelenos to the land we live on.
We address the climate crisis as a cultural problem that requires equitable cultural solutions. Through long-term collaborations with artists, like-minded partners, and local stakeholders, Clockshop promotes ecological stewardship and climate resilience among the communities we serve. Our projects center working-class communities of color in Los Angeles and aim to support the wellbeing and vitality of multiple communities. Whether Indigenous, African American, Latinx, Asian American, Pacific Islander, or immigrants living in LA, we shape the city's future together.
We bring this mission to our work at Los Angeles State Historic Park in Chinatown, and Rio de Los Angeles State Park ("The Bowtie") in Glassell Park, in collaboration with California State Parks.
Accessibility
Parking and Arrival
Los Angeles State Historic Park is located at 1245 N Spring St, Los Angeles, CA 90012, directly adjacent to Chinatown and the Metro Gold Line. The park is located just 1 mile away from Los Angeles Union Station, making it accessible from several Metro routes. We highly recommend using public transportation, rideshare, biking, or carpooling.
Parking options:
There is paid parking at 1501 N Spring Street, the main parking lot of the park, at $2/hour, up to $8 daily.
For Clockshop events, the park opens some sections of overflow parking on the exterior of the park in front of Spring Street that is free, first come-first served. We will post signs in the sections that are open for parking.
There is also free street parking around the park. Please avoid parking near residential homes on the east side of Main Street and give yourself plenty of time to park and walk over!
Restrooms There are several all-gender public restrooms and portapotties on site.