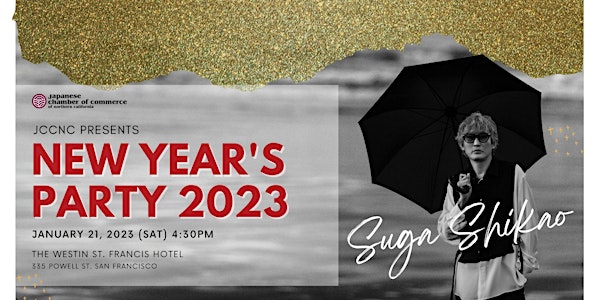 (For Public Registration) JCCNC 2023 New Year's Party
The Japanese Chamber of Commerce of Northern California (JCCNC) 68th Annual New Year's Party
When and where
Location
The Westin St. Francis San Francisco on Union Square 335 Powell Street San Francisco, CA 94102
About this event
(Japanese Follows)
We would like to express our sincere wishes to all of you for your continued health. The New Year's Party hosted by the Japanese Chamber of Commerce of Northern California (JCCNC) was held virtually in 2021 and 2022 due to the impact of COVID-19, but the 68th New Year's Party in 2023 will be held in-person at The Westin St. Francis Hotel.
JCCNC New Year's Party Committee is working to bring you one of the most important events of the year, which provides an opportunity for everyone in the JCCNC community to get together to celebrate the arrival of the New Year and enjoy in-person interaction for the first time in three years.
We are pleased to announce that the 2023 JCCNC Annual New Year's Party will feature SUGA SHIKAO, a male singer-songwriter from Japan. He is known for "Progress," the theme song of NHK "The Professionals," but we hope you will enjoy his live performance at the New Year's Party.
4:30pm: Registration Starts, Cocktails (No-Host), Networking
6:00pm: Doors open, Dinner & Raffle
8:00pm: Suga Shikao Performance
With the transmissibility of the Coronavirus and its variants, please participate at your own risk. JCCNC strongly recommends all attendees are fully vaccinated, or have a negative COVID-19 test 24 hours prior to the party.
Taiki Ozawa, President of JCCNC
Kazunobu Kono, Chair of New Year's Party Committee
皆様におかれましては、ますますご健勝のこととお慶び申し上げます。
北加日本商工会議所(JCCNC)主催新年会につきましては、新型コロナウイルスの影響により、2021年、2022年はヴァーチャルで開催しておりましたが、第68回新年会はThe Westin St. Francis ホテルでインパーソンで開催いたしま。
JCCNCとしましては、会員企業の方々をはじめとする地域コミュニティーの皆様が年の初めに一堂に会し、3年ぶりのインパーソンでの交流を心から楽しんで頂けるよう、新年会委員会メンバーが中心となって現在準備を進めております。
新年会の主役となるミュージシャンには、日本を代表するシンガーソングライターである、スガ シカオ さんをお迎えすることに決定しました。NHK『プロフェッショナル 仕事の流儀』の主題歌「Progress」は誰もが知る名曲ですが、是非新年会に足をお運び頂き、リアルなスガシカオさんのライブを楽しんで頂ければ幸いです。     
4:30pm: 受付開始・カクテル(No-Host) ・ネットワーキング
6:00pm: 開場、ディナー&ラッフル
8:00pm: 公演
JCCNCと致しましてはご出席者全員にワクチン3回接種、もしくはパーティー24時間前にCOVID検査で陰性であることをご確認頂くことを強く推奨しています。
  北加日本商工会議所 会頭 小沢 泰樹 
  新年会実行委員会 委員長 河野 和信