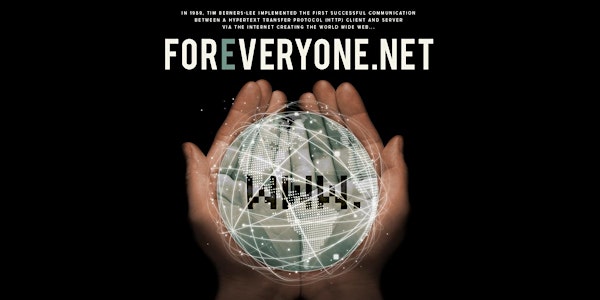 "For Everyone": Nonton Bareng dan Diskusi tentang World Wide Web
Event Information
Location
Ruang Serbaguna, Gedung Utama Kementerian Kominfo
Jl. Medan Merdeka Barat No.9
Gambir
Jakarta Pusat, Daerah Khusus Ibukota Jakarta 10110
Indonesia
Description
"For Everyone"
Nonton Bareng dan Diskusi tentang Sejarah dan Masa Depan World Wide Web
Seberapa banyak yang Anda tahu tentang World Wide Web? Tahukah Anda siapa penemunya? Kenapa Web itu gratis? Apa yang perlu kita lakukan untuk menjaganya agar tetap gratis? Apa saja isu dan tantangan yang saat ini kita hadapi di Web dan internet? Bagaimana solusinya menurut Anda?
Kami mengundang Anda untuk nonton bareng film "For Everyone" yang bercerita tentang sejarah dan masa depan Web, bersama dengan Kementerian Komunikasi dan Informatika, World Wide Web Foundation, #SiberKreasi, ICT Watch dan Indonesia Internet Governance Forum. President & CEO Web Foundation yang baru, Adrian Lovett, juga akan hadir.
Acara akan dilanjutkan dengan talk show dengan pembicara-pembicara ahli dibidangnya seperti:
- Adrian Lovett (President & CEO, World Wide Web Foundation)
- Semuel Abrijani Pangerapan (Dirjen Aptika, Kominfo)
- Shinto Nugroho (Head of Public Policy and Government Relations, Google Indonesia)
- Eko Septiaji (Ketua Masyarakat Anti Fitnah Indonesia)
- Sherly Haristya (ICT Watch) as Moderator

Membahas tentang tantangan-tantangan di dunia internet yang kita hadapi saat ini, seperti mudahnya menyebarkan informasi palsu, hoax, cyber-bullying, dan lemahnya perlindungan dan pengendalian terhadap data pribadi. Kita juga akan membahas peluang kerja bersama dan kolaborasi untuk memastikan bahwa Web sesuai dengan yang kita harapkan.
Kami mengundang semua pemangku kepentingan yang memiliki tanggung jawab dan kepedulian dalam isu-isu ini, diantaranya lembaga pemerintah, aktivis, pengusaha, dan pengguna internet keseluruhan; untuk datang ke acara ini.
Acara ini GRATIS dan TERBUKA untuk umum. Untuk info lebih lanjut, silakan hubungi Anazkia (0859 4544 7914).
#ForEveryone #WebWeWant
Co-hosted by: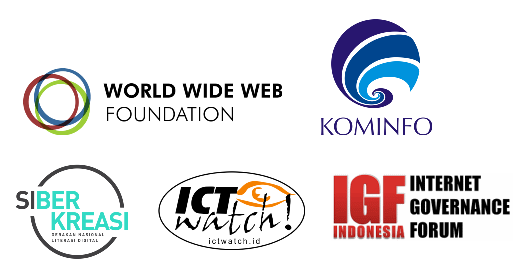 Supported by:

Date and time
Location
Ruang Serbaguna, Gedung Utama Kementerian Kominfo
Jl. Medan Merdeka Barat No.9
Gambir
Jakarta Pusat, Daerah Khusus Ibukota Jakarta 10110
Indonesia