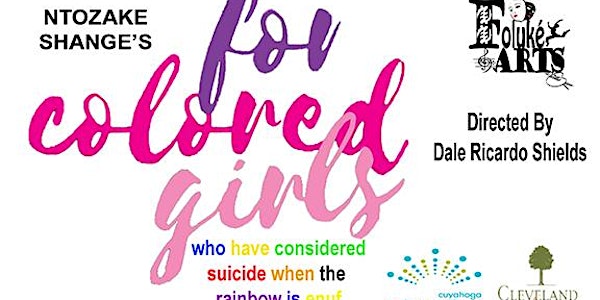 For Colored Girls Who Have Considered Suicide When the Rainbow is Enuf
Location
Tri-C Metro. Campus - Tommy LiPuma Center for Creative Arts
2809 Woodland Avenue - Black Box Theater
Cleveland, OH 44115
Description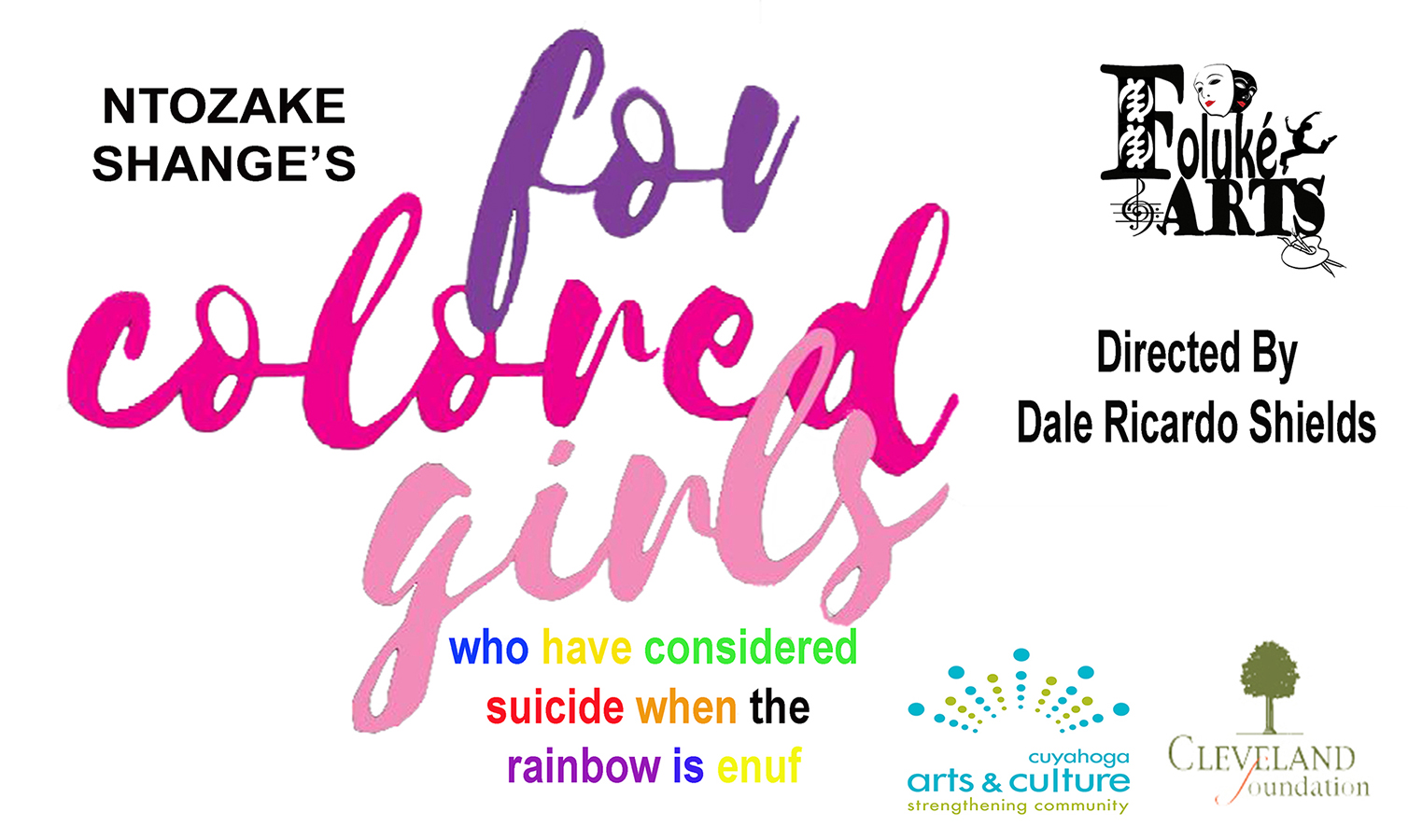 FOLUKE CULTURAL ARTS Presents
FOR COLOR GIRLS WHO HAVE CONSIDERED SUICIDE WHEN THE RAINBOW IS ENUF by NTOZAKE SHANGE
Directed by Dale Ricardo Shields
We welcome you to witness this wonderful display of talent, to laugh, and to cry, to agonize and to rejoice with Foluke Cultural Arts production of For Colored Girls Who Have Considered Suicide When the rainbow is Enuf by Ntozake Shange.
Evette France ~ The Lady in Green
Jeannine Gaskin ~ The Lady in Purple
Maya Jones ~ The Lady in Red
Sabrina McPherson ~ The Lady in Blue
Tamicka Scruggs ~ The Lady in Orange
Cristal Christian ~ The Lady in Brown
Siara Willis ~ The Lady in Yellow
Continuing a four-decade tradition of high art and transcendent theatre, Director Dale Ricardo Shields, while bringing a man's eye to a womynist genre, reaches across both race and gender to gently explore pain and to pleasantly experience liberation. His direction exposes the audience to itself and levels the ground of the long walk from birth to death. This story of Black women, in this directors hands, salutes the African presence Toni Morrison unearthed as it proclaims, for one and all, the power of honest reflection. Here, Shields, like Shange, takes down the mirror, holds it to the face, and asks, "What do you see?"
Come and witness this explosive moment of performance as Foluke Cultural Arts Center celebrates the joy of survival and the triumph of the human spirit over adversity.
NOVEMBER 23 Saturday (Matinee 2:30 pm - *Evening (Benefit Performance 7:30 pm)
NOVEMBER 24 Sunday Matinee 3:00 pm and Talkback
ADVANCE ONLINE TICKET SALES ONLY
NO TICKETS SOLD AT THE DOOR
GROUP RATE - 15 +
MATURE AUDIENCE ONLY

ALL SEATS $37.50