FootNight Long Beach "Naughty or Nice Year End" Foot Party - 12/19/2015

Saturday, December 19, 2015 at 8:00 PM
Event Details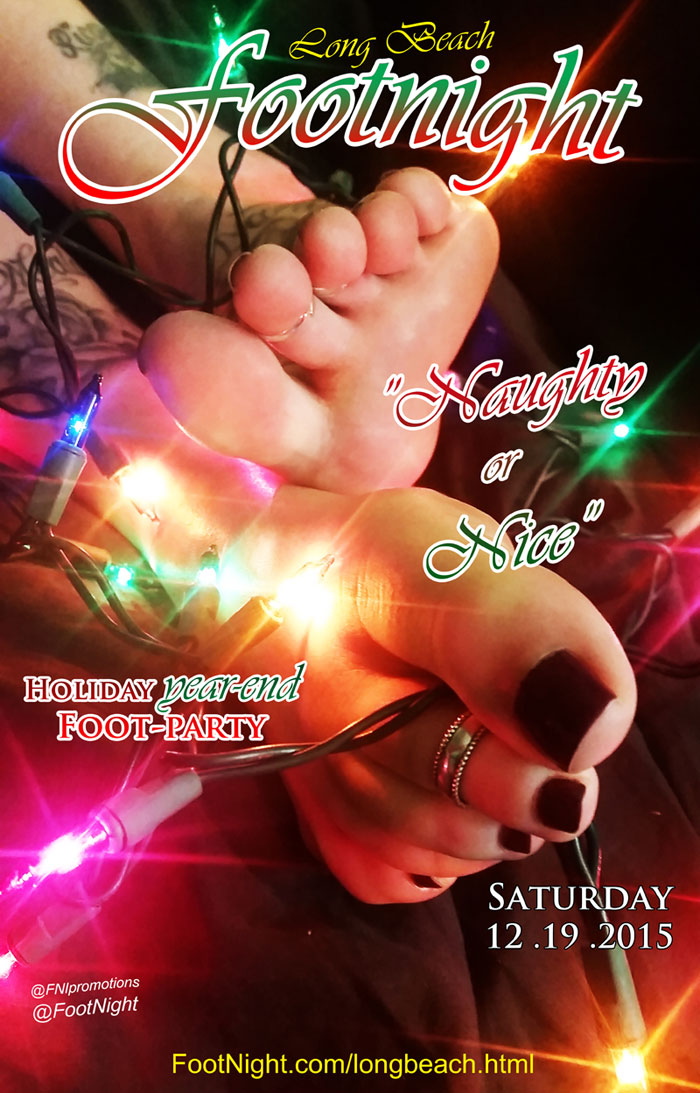 Footnight returns to Long Beach, CA

Saturday, December 19, 2015
8pm to 1am (7pm early bird)

Naughty But Nice Year-End Foot Party!

NOW ULTRA DEEP DISCOUNTED ADMISSION FOR ONLY *$25*! extended for 24hrs til (Sat. Nov. 22 at midnight)

On Sat, December 19th, 2015, Footnight Long Beach will be having our "Naughty or Nice" year end Holiday Foot-Fetish party the last Saturday before Xmas!

Take a much needed break from Holiday shopping and relax by getting your Holiday Foot-Fetish Fix at FootNight-Long Beach!!

Come hungry! There'll be plenty of complimentary food, snacks, & beverages (soda, water, & coffee) to keep your tummies full.

The Long Beach FootNight venue does have a cash bar; however, you may B.Y.O.B. anything you like to chill in the venues large refrigerator.

Join us at FootNight-Long Beach's "Naughty or Nice" Year End Holiday Foot Party on Saturday December 19, 2015! If you have any questions email us directly at: FootNightLB@outlook.com or visit our webpage at: www.footnight.com/longbeach.html

-Russell Peter | FootNight-Long Beach, ca Regional host
Follow us on twitter @FNIpromotions | @Footnight

- Street parking
- Private 1-on-1 play spaces
- Semi-Private play spaces
- Group play spaces
- Cash Bar
- Free snacks and soft drinks- BYOB
- Food, water, ice, & coffee are complimentary

$ave money, Get your ULTRAdeep discount tickets ASAP!
Make your limited-time reservation TODAY!

"Ultra Deep Discounted" Entrance - $25 until til Saturday Nov 21, 2015 at midnight. *EXTENDED FOR AN ADDITIONAL 24HOURS til Sat Nov. 22, 2015 at midnight. 

"Super Deep Discounted" Entrance - $35 through Black Friday / Cyber Monday Nov 30 at midnight

"Deep Discounted" Entrance - $45 til December 12 at midnight (1 week before the actual party date)

"Discounted" Entrance - $55 Dec 13-Dec 19 (the final week prior to the party)

FOOTNIGHT LONG BEACH NOW INTRODUCES OUR "5-4-2™" MINI FOOT-FIX SESSIONS"
IN ADDITION TO OUR CUSTOMARY $20/10MIN SESSIONS!

NOW YOU HAVE 2 SESSION OPTIONS!

1. Customary 20/10min session
$20 per 10 minutes of glorious foot indulgence!

2. "5-4-2™" Mini Foot-Fix Sessions"!
Short Of Money? Can't Afford To Enjoy Multiple Girl's Feet At $20/10mins?
Or do you just want a quick sample sniff, touch or trampling by several girls feet?
Footnight Now Introduces Our "5-4-2™" Mini Foot-Fix Sessions"!

Now *EVERYONE* Can Easily Afford To Come To Footnight and Experience Unforgettable Foot Dreams & Fantasies
At The Premiere #1 Foot Party Scene On The Globe!

Now *EVERYONE* Who Loves Feet Has The Opportunity To Experience FOOTNIGHT ..

NO REFUNDS for ANY reason unless we cancel the event or postpone it to another date.
Have questions about FootNight Long Beach "Naughty or Nice Year End" Foot Party - 12/19/2015?
Contact Russell Peter
When & Where

The Vault
Location details provided to registered guests
Long Beach, CA


Saturday, December 19, 2015 at 8:00 PM
Add to my calendar
Organizer
Russell Peter
FootNight International Promotions & Production Coordinator
Regional Host | FootNight -Long Beach, ca & -San Bernardino, ca
Making Dreams Come True - Two Feet at a Time.
Visit us at: www.footnight.com/longbeach.html
Email: FootNightLB@outlook.com
Follow us on twitter @FNIpromotions
FootNight Long Beach "Naughty or Nice Year End" Foot Party - 12/19/2015