Footnight Las Vegas Spring Soles 'n Toes Footparty - March 31, 2016

Thursday, March 31, 2016 at 8:00 PM (PDT)
Event Details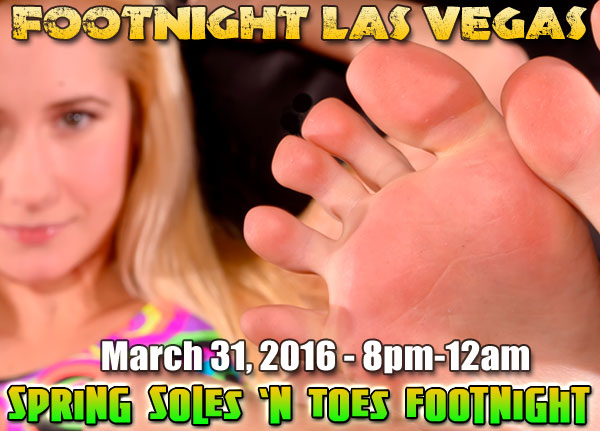 Join us at one of our most fun and loved Footnights of all at our hot, new Fantasy Estate just minutes from the Strip!


Footnight Las Vegas Spring Soles 'n Toes Foot Party

Thurs, March 31, 2016

Spring is finally here! The weather is spectacular and beautiful pedicured toes and shapely female feet are now once again in full site and ready for you to worship and indulge in!
Come delight in the glorious feet of beautiful Foot Girls!

Massage and pamper beautiful girls soles and toes as they lay back and delight in your touch..

Be trampled, smothered, used and abused by stunningly gorgeous Foot Goddesses!

Join us at the sensual, luxurious Risqué Vegas Estate for an unforgettable night of foot worship and indulgence. Your fantasy is your reality!

Footnight at Risqué Vegas is unique in Las Vegas. 
It is a special venue located on a private Las Vegas estate close to the famous Las Vegas Strip.

It provides a relaxed, erotic, and upscale foot fetish experience in a sensually chic environment with full furnished play areas, pool table and game room, year-round heated swimming pool and hot tub, private off-street parking, privacy walls to keep out any prying eyes, a warm amatory and friendly crowd, and the most erotic ambiance of any venue in Las Vegas
This is the night where all foot fetish fantasies will come true!

JUST YOU AND THE BEAUTIFUL GIRLS..
IN COZY COMFORT..
WITH THEIR GORGEOUS FEET!
Delicious Free Food & Snacks
On-site Free, Secure Parking


---
FOOTNIGHT LAS VEGAS NOW INTRODUCES OUR
"5-4-2™" MINI FOOT-FIX SESSIONS"
IN ADDITION TO OUR CUSTOMARY $20/10MIN SESSIONS!

NOW YOU HAVE 2 SESSION OPTIONS!

1. Customary 20/10min session
$20 per 10 minutes of glorious foot indulgence!

2. "5-4-2™" Mini Foot-Fix Sessions"!
Short Of Money? Can't Afford To Enjoy Multiple Girl's Feet At $20/10mins?
Or do you just want a quick sample sniff, touch or trampling by several girls feet?
Footnight Now Introduces Our "5-4-2™" ($5 for 2 minutes) Mini Foot-Fix Sessions"!

Now *EVERYONE* Can Easily Afford To Come To Footnight and Experience Unforgettable Foot Dreams & Fantasies At The Premiere #1 Foot Party Scene On The Globe!

Now *EVERYONE* Who Loves Feet Has The Opportunity To Experience FOOTNIGHT ..


Discounted Prepaid VIP Option

ONLY $50 FOR PREPAID ENTRANCE ($15 Discount!)
(Discounted admission ++PLUS++ 1 Hour Early Entrance Privilege)
7pm - midnight
"Footsmelling Happy Hour" for stinky feet lovers!
So if you enjoy smelly feet, come early.
*Don't worry, there will still be lots of beautiful girls with fresh feet that don't smell.


-OR-

Doorpay RSVP $65

(Doorpay RSVP - free registration, pay at the door)
8pm - midnight

*Although Foot Night ends at 12.00 midnight, the club stays open until 4.00am
and guests are welcome to stay on until it closes!
Footnight Las Vegas is the foot guys night out where you can enjoy your favorite foot fantasy and leave your shyness at the door. It's also the only place where you'll find 10 out of 10 stunning models that love having their awesome feet worship by foot lovers like us.

You'll get to meet and worship the feet of more than 20 local beauties and enjoy private sessions for just $20 in a comfortable, high-class environment, it's a dream come true!
MAKE YOUR PRIVATE, DISCREET RESERVATION 
It's Super Simple, Fast and Safe!
If you are having trouble registering for some reason, you may email us at footnight@gmail.com with your name and the names of any other guests that you will be bringing with you and we will add you to the private list and send you the party details.

All payments 100% secure, anonymous - discreetly billed as "PayPal/SEWEBSOL
* Please Note: No refunds or transfers unless event is cancelled."


---
When & Where

Risqué Las Vegas Estate
Private Event. Location provided only to registered guests
Eastern / Flamingo
Las Vegas, NV 89148


Thursday, March 31, 2016 at 8:00 PM (PDT)
Add to my calendar
Organizer
Footnight™ - Making Dreams Come True - Two Feet at a Time
Footnight Las Vegas Spring Soles 'n Toes Footparty - March 31, 2016