Footnight Las Vegas Pajama Foot Party - April 28, 2016

Thursday, April 28, 2016 at 8:00 PM (PDT)
Event Details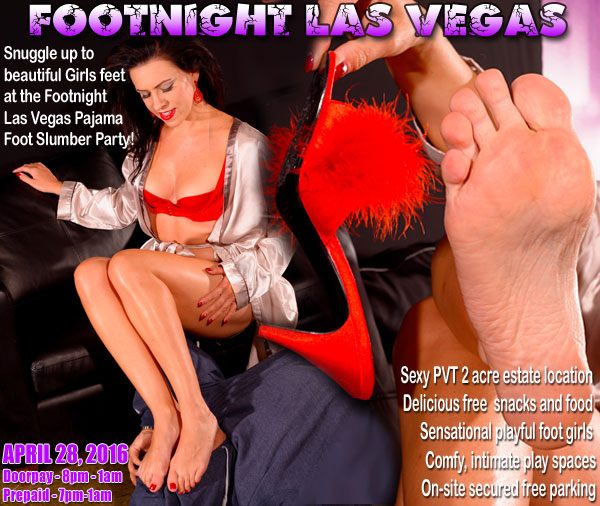 Join us at one of our most fun and loved Footnights of all at our hot, new Fantasy Estate just minutes from the Strip!

Footnight Las Vegas Pajama Slumber Foot Party

Thurs, April 28, 2016

**Sexy, Friendly, Intimate New Venue!**
Join us at the sensual, luxurious Risqué Vegas Estate for an unforgettable night of foot worship and indulgence. Your fantasy is your reality!
---

Join us for a dreamy night of playful, sexy girls in pajamas and lingerie at...
The Las Vegas PAJAMA SLUMBER FOOT PARTY!
The pjay party has always been one of our most fun parties of the year. Everyone is relaxed and the mood is casual, friendly.. just a really cool vibe.

Kiss and lick the feet of our FootNight models dressed in sexy pjays, lingerie and comfy sleepwear!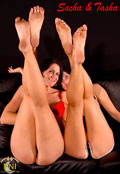 Join us for a night of "wall to wall" feet ... large feet.. small feet... ticklish feet... smelly feet... high-arched feet... dirty feet... wide feet... narrow feet... bare feet... feet in socks, hose, pantyhose, heels, strappy sandals, flip flip-flops, bare feet...
The hottest ladies in Sin City are all coming together for you to worship and enjoy their beautiful and sexy feet. This is the night where all foot fetish fantasies will come true!
Here is your chance to experience the unbelievably hot ladies that come to the Vegas Footnights.. Come and join us for a night of hot, intimate, fun and indulgence as you worship the soft, fresh and fragrant feet of our beautiful Sin City Models.


Enjoy intimate foot indulgence inside one of the Totally Private 1-on-1 play areas, Semi-private and Group play rooms ... From the cozy, intimate playrooms, to the comfy lounge areas... you will find sexy foot fun around every corner.

The ladies that attend the Las Vegas Foot Nights come from many backgrounds and lifestyles, making it possible for every person that attends a party to meet ladies that meet heir unique tastes and preferences... well known porn stars, celebrity models and actresses, professional classically trained dancers, athletes, exotic dancers, Internet models, professional dominatrixes, fetish girls, fantasy wrestlers... and even regular "girls next door" who love having their feet worshipped and adored... business women, secretaries, sales associates, students and more!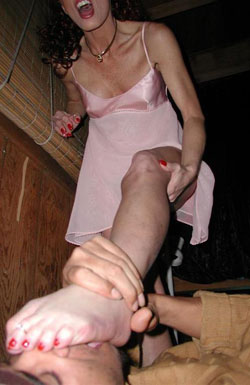 Each and every lady that attends the party truly enjoy foot fetish activities, understands the private needs and wants of the guests, and take pleasure in helping make dreams come true.
If you need your "foot fix" and are in or near Vegas, here's a great opportunity for a toetally private, intimate foot worship experience that you'll never forget!

Come delight in the glorious feet of beautiful Foot Girls!

Massage and pamper beautiful girls soles and toes as they lay back and delight in your touch..

Be trampled, smothered, used and abused by stunningly gorgeous Foot Goddesses!

Join us at the sensual, luxurious Risqué Vegas Estate for an unforgettable night of foot worship and indulgence. Your fantasy is your reality!


---
Footnight at Risqué Vegas is unique in Las Vegas.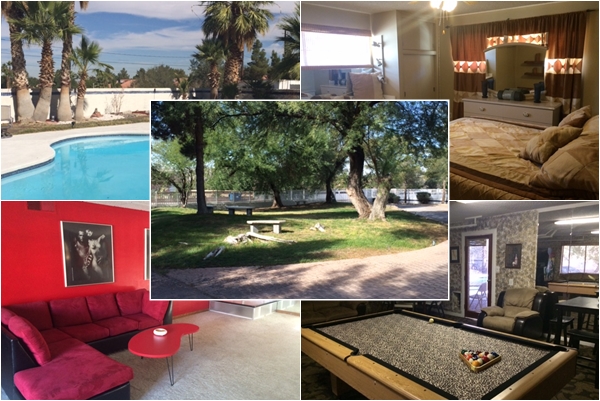 It is a special venue located on a private Las Vegas estate close to the famous Las Vegas Strip.

It provides a relaxed, erotic, and upscale foot fetish experience in a sensually chic environment with full furnished play areas, pool table and game room, year-round heated swimming pool and hot tub, private off-street parking, privacy walls to keep out any prying eyes, a warm amatory and friendly crowd, and the most erotic ambiance of any venue in Las Vegas

This is the night where all foot fetish fantasies will come true!

JUST YOU AND THE BEAUTIFUL GIRLS..
IN COZY COMFORT..
WITH THEIR GORGEOUS FEET!
Delicious Free Food & Snacks
On-site Free, Secure Parking


---
FOOTNIGHT LAS VEGAS NOW INTRODUCES OUR
"5-4-2™" MINI FOOT-FIX SESSIONS"
IN ADDITION TO OUR CUSTOMARY $20/10MIN SESSIONS!

NOW YOU HAVE 2 SESSION OPTIONS!

1. Customary 20/10min session
$20 per 10 minutes of glorious foot indulgence!

2. "5-4-2™" Mini Foot-Fix Sessions"!
Short Of Money? Can't Afford To Enjoy Multiple Girl's Feet At $20/10mins?
Or do you just want a quick sample sniff, touch or trampling by several girls feet?
Footnight Now Introduces Our "5-4-2™" ($5 for 2 minutes) Mini Foot-Fix Sessions"!

Now *EVERYONE* Can Easily Afford To Come To Footnight and Experience Unforgettable Foot Dreams & Fantasies At The Premiere #1 Foot Party Scene On The Globe!

Now *EVERYONE* Who Loves Feet Has The Opportunity To Experience FOOTNIGHT ..


Discounted Prepaid VIP Option

ONLY $50 FOR PREPAID ENTRANCE ($15 Discount!)
(Discounted admission ++PLUS++ 1 Hour Early Entrance Privilege)
7pm - 12.30am
"Footsmelling Happy Hour" for stinky feet lovers!
So if you enjoy smelly feet, come early.
*Don't worry, there will still be lots of beautiful girls with fresh feet that don't smell.


-OR-

Doorpay RSVP $65

(Doorpay RSVP - free registration, pay at the door)
8pm - 12.30am


Footnight Las Vegas is the foot guys night out where you can enjoy your favorite foot fantasy and leave your shyness at the door. It's also the only place where you'll find 10 out of 10 stunning models that love having their awesome feet worship by foot lovers like us.

You'll get to meet and worship the feet of more than 20 local beauties and enjoy private sessions for just $20 in a comfortable, high-class environment, it's a dream come true!
MAKE YOUR PRIVATE, DISCREET RESERVATION 
It's Super Simple, Fast and Safe!
If you are having trouble registering for some reason, you may email us at footnight@gmail.com with your name and the names of any other guests that you will be bringing with you and we will add you to the private list and send you the party details.

All payments 100% secure, anonymous - discreetly billed as "PayPal/SEWEBSOL
* Please Note: No refunds or transfers unless event is cancelled."


---
FAQs
Are there ID requirements or an age limit to enter the event?
21+ where there is alcohol provided and 18 + where no alcohol is provided. There is no alcohol provided at the Las Vegas Footnights, so guests may be 18 years of age or above.

What are my transport/parking options getting to the event?
The location is just a few miles east of the Las Vegas Strip, so it is very close and easy to get to by car, cab or other ride services like Uber or Lyft.

Free private, gated, secure parking is located on site at the back side of the property.
What can/can't I bring to the event?
Feel free to BYOB. You can also bring along any tickling "tools or toys", socks, nylons or shoes that you'd like the girls to wear, food or fruit to eat off the girls feet if you like, bdsm toys...
No weapons (guns, knives etc), no drugs or weed, no sexual/penetration devices or anything that can cause bodily harm or injury to models and/or other guests.

Where can I contact the organizer with any questions?
Email Steve Savage us at footnight@gmail.com.

Is my registration/ticket transferrable?
If you give us notice of 5 days or more that you will not be able to attend, we will transfer your ticket to the next Footnight Las Vegas event. Your ticket however will not be transferrable to Footnights in other regions.. only to the next Las Vegas Footnight.

Can I update my registration information?
Contact Steve at footnight@gmail.com if you would like to update your registration information.


Do I have to bring my printed ticket to the event?
It is not necessary to bring your ticket to the event. We will have your registration information on hand at the door if you have registered for the event.

What is the refund policy?
There is a no refund policy, however we will credit your ticket for a future Las Vegas Footnight if you notify us no more than 5 days prior to the date of the event.

The name on the registration/ticket doesn't match the attendee. Is that okay?
No. Tickets may not be transferred, so the name in the ticket must match the name of the attendee. A new ticket will have to be purchased if the name does not match.

I'm A Little Shy - How Can I Have The Most Fun At The Party?
This is a fun party where you can meet and enjoy the feet of ladies who truly love having their feet pampered, worshipped and adored... all night long :-) You might be either new to the foot parties, or a little shy to approach girls. But just remember, these ladies LOVE having you at their feet, and are waiting there HOPING that you will come up and ask them to play. Feel completely free to strike up a little friendly conversation with one of the girls that is standing around. Then jump in and enjoy what you love most! If there is a particular girl that you want to play with, and you see her standing and chatting with other girls or guys for a long period of time, do not be afraid to politely interrupt and ask her for a session when she breaks free. She wants her feet worshipped and would love to join you for some foot fun.
Can I Take A Lady To A Nearby Hotel For A Private Session During The Party?
No guests or models are to leave the party venue for private sessions in other locations during the course of the party. If anyone does so, they will not be allowed back into the party! We invite a certain number of girls to ensure the best possible girl to guy ratio. If girls are taken away from the party, it hurts the party. It is also not safe practice for the ladies.
 
What is your cell phone policy?
No Cell Phones are to be used inside the club. If you need to take or make a call, please do so in the lobby or outside the club.
Can I bring a friend with me?
Please remember that only invited guests that are on the private guest list will be allowed into the party. No friends, escorts, or anyone else who has not registered or been officially invited by the party host(s) personally will be allowed into the party.
Will our names or personal information be given out?
No. Any information obtained when you sign up or attend the club is kept strictly private and confidential. We will never contact you by mail or phone. The only info we keep on file is your email address so that we may send you info on parties and events.
Is this a party with dancing, entertainment and festivities?
Although we refer to Footnight as a "foot party", it is not really a party with dancing, partying, festivities and entertainment as one would normally imagine a "party" to be. Although we have no problem with people dancing if they wish to.. in fact that would be great!... Footnight is an evening where ladies and gentlemen with a preference for feet are able to indulge in and enjoy their favorite foot fetish activities such as foot worship, trampling, tickling, foot smothering, foot massage, toe-sucking, foot domination, foot smelling etc. It is a very private, discreet, low-key event, where foot lovers can come to fulfill their private foot fetish fantasies in a safe, comfortable, non-threatening environment.
Can I just show up at the door the night of the party?
No, only people on the guest list will be allowed into the party. You will need to register for the particular party you are interested in. Once you have registered, you will immediately receive a personal invitation/confirmation.

What time does the party start?
The parties start at 8:00 pm SHARP and usually go to 12.30am - 1.00am. You need to be there before 11 pm. We close the doors at 11:30pm.
The ladies arrive between 6.30pm - 7.30pm so they are there when the guests arrive.
Can I dress casually to the party, or is there a specific dress code?
We want you to be comfortable. So feel free to dress casually. If you usually wear fetish clothing to the parties, please wear a jacket or coat until you are inside the club. Please do not come sloppily dressed. No cut-offs or sweats.
Will I be able to get food and drinks at the party?
We will have snacks, soft drinks and water available. Most Footnights are BYOB, however this depends on the city or state regulations for each individual event. No alcohol will be provided.
How safe and secure is the party?
There is always security personnel for your safety and protection. The party host will also be available at all times if you need anything. Your security, safety and comfort is a personal priority of ours, so please rest assured that you will be well protected. Also, please also do not hesitate to ask for an escort to and from your vehicle.
 
I am a female coming to the party. Can I bring an escort with me?
We have no problem with you bringing personal slaves, submissives or friends who are into the foot fetish "scene". However there are two important guidelines in this regard: All gentlemen will need to be on the guest list to be admitted into the party and All gentlemen will be asked for an admission tribute at the door on arrival.
 
How big is the venue? Will I have enough room to play at the party?
The venues are always selected to provide adequate play space for the number of people expected at the parties. You'll no doubt find every venue very classy, safe, comfortable and euphoric.
 
What is the cost of admission for the parties?
We try to keep our party admission consistent and affordable so that you are not left short of cash for what you come to the parties for in the first place... footplay with the ladies. The admission for gentlemen is $65. The admission donation is asked for at the door on the night of the party... Ladies always get in FREE.
We're sure you'll agree that this is extremely inexpensive considering that you get the opportunity to meet and enjoy the feet of up to 70 beautiful, handpicked ladies for 5 hours all in the same night, under the same roof.... as well as the fact that you usually have to pay anywhere from $150 to $400 PER HOUR for a private session with just one lady outside of the Footnights.
 
How much do I give the ladies?
There is a customary $20 donation for every 10 minutes of foot interaction. However, if you have a special rapport with a particular girl, feel free to give her an additional tribute if you like. There is also our new "5-4-2™" Mini Foot session ($5 for 2 minutes)
 
Do the ladies approach me, or do I ask them to worship their feet?
Usually the guests approach the ladies. There is certainly no need to be nervous about going up to a lady and speaking to her. Every girl that comes to the parties are there for the same reason as you are there... foot fetish fun!! They all love having their feet worshipped, and most of them are always more than happy to share your personal foot fantasies with you. Whether you enjoy sensual foot worship, tickling, trampling, facestanding, or foot smelling, the girls would love to indulge in any of these activities with you. You will never be judged at the FootNight.com parties. This is your personal haven to live and experience your feet dreams and fantasies!
 
Are sexual activities allowed at the parties?
Sorry, but no. Offering, agreeing to, or participating in sexual activities or acts of prostitution or solicitation is strictly forbidden while in attendance at the party. This is strictly a fun foot fetish party arranged for the enjoyment of those people interested in foot fetish activities. Please understand that these rules are to protect all of us from potential legal problems. FootNight has developed an excellent reputation for hosting the safest, cleanest, most fun foot parties. The last thing we want to do is soil the credibility we've worked so hard to attain... or encourage activities that might put our guests, ladies, the venues and FootNight at risk.
 
Can I bring a camera and take pictures at the party?
This is a very "touchy" subject with a lot of people at the party. Respect for our guests privacy and total discretion is our #1 concern - over and above anything else. For these reasons we have a NO-CAMERA policy unless expressed authorization has been provided by the party host personally.
If you would like a picture as a souvenir with a particular lady, please feel free to approach the organizer of the event and we will try to accommodate you.
I host my own foot parties... Can I give out my card and promote my parties at the FootNights?
NO.. absolutely not! We have no problem with you networking with other people in the industry. However if you are a party organizer putting on similar events, soliciting FootNight.com models and guests for your own parties is strictly forbidden. Please respect out parties as we would respect yours. If we find out that you are soliciting our guests and/or ladies, you will immediately be asked to leave the property and will be banned from all future events.


Will I be able to arrange private sessions for before or after the party?
Absolutely. We understand that some of you have already arranged privates for after the party, but if not, you can arrange for a private the next day or whenever.
How many girls will be at the party?
We have more than 3,000 beautiful ladies in our model database. The ladies are usually hand-picked according to the theme of the party. Depending on the geographical location, we usually choose 15 to 65 of the best quality girls for the party, depending on the size of the party.
 
Hygiene is very important to me. Will the girls clean their feet after each session?
Hygiene is a major priority at the parties. The ladies' feet will be cleaned after each and every session with Witch Hazel, an anti-bacterial cleanser. The cleanser dries very quickly, and is unscented and tasteless, so the ladies' feet will retain their natural fragrance and flavor:) and will be perfectly safe for you.
 
Will my pictures ever be taken at the party?
Absolutely Not! We have a no-camera policy at all events. However, if you would like to model for pictures for our member-based foot party site, you can sign a models release and we'll consider including you in the shoot.
 
Where do you do your Footnight parties?
There are Footnight parties across the United States and abroad. Go here to see our present locations http://www.footnight.com/parties.html
How can I be a Footnight model?
You need to register at the Models Application page at http://www.footnight.com/modelsapplication.html and include shots of your face, full body, and tops and bottoms of your feet. We will review them and contact you.
 
Is there a way for me to talk online to the Footnight ladies other guests?
No, though many of our models are on social media sites like Facebook, Twitter, Instagram and Fetlife.
Twitter - @Footnight

Facebook.com/footnight
Fetlife.com/footnight
 
This is my first Footnight. What should I expect?
Our guests range from first timers to long time attendees. Feel free to move at your own pace in a friendly and comfortable atmosphere. We are all here to have a great time enjoying feet in a comfortable, no pressure environment. The girls are all friendly, warm and extremely receptive to being approached about sharing some foot fun with them. That's what they are there for. In fact they are hoping for you to ask them if you can worship and enjoy their feet. So don't be shy or nervous. Have fun and enjoy this great opportunity for you to fulfill your foot fetish dreams and fantasies!
When & Where

Risqué Las Vegas Estate
Private Event. Location provided only to registered guests
Eastern / Flamingo
Las Vegas, NV 89148


Thursday, April 28, 2016 at 8:00 PM (PDT)
Add to my calendar
Organizer
Footnight™ - Making Dreams Come True - Two Feet at a Time
Footnight Las Vegas Pajama Foot Party - April 28, 2016