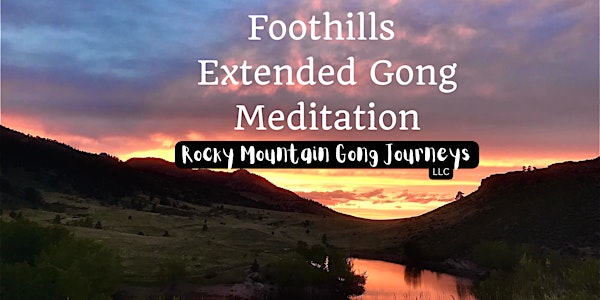 Foothills Extended Gong Meditation - At The Golden House
Serious Meditation for Gong Lovers - 2 Hour Journey -
When and where
Location
The Golden House 3616 Soderburg Drive Fort Collins, CO 80526
Refund Policy
Refunds up to 1 day before event
Eventbrite's fee is nonrefundable.
About this event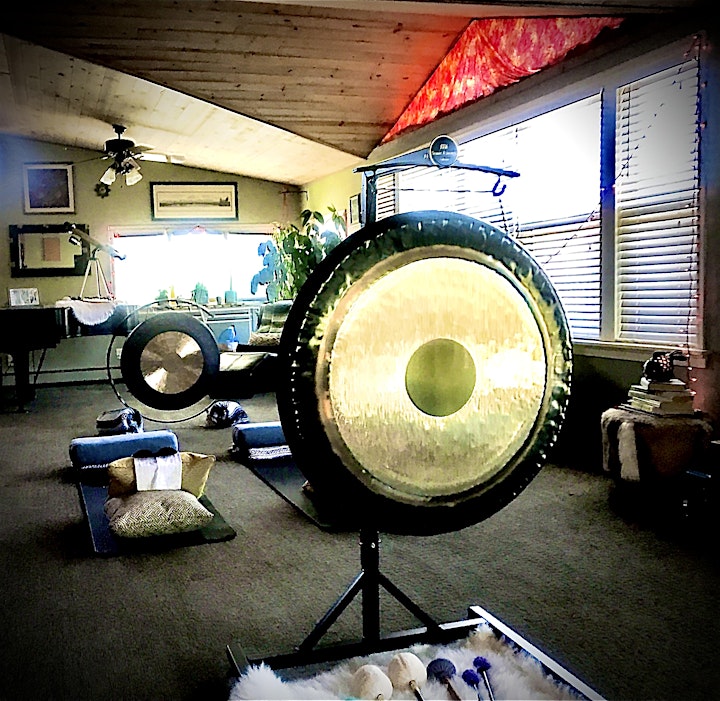 Event is held at The Golden House near Horsetooth Mt./Reservoir in Fort Collins -
You are welcome here! Tea and treats served after.
Limited lounge chairs available for those unable to sit/lay on floor. Message us to reserve.
PLEASE - NO ALCOHOL OR OTHER ALTERING SUBSTANCES ALLOWED.
Please bring a water bottle and whatever items you need (favorite pillow, sleeping bag, etc.) to make your body comfortable for this EXTENDED SESSION. We offer mats, cushions, bolsters, pillows, blankets and eye masks.
Subject to cancellation if attendance requirement not met 24 hours before scheduled time.
A sound & vibration transformation for your whole body, mind, and spirit. The sounds and vibrations of The Gong run long and deep here. We graciously welcome you, grateful to hold this safe space for you.
RESERVATION ONLY - LIMITED to 8 participants for max. comfort.
Love journeying with The Gong but feel like it's never long enough, deep enough?
We will gather, allowing time for setting intentions at the beginning, and grounding back in after our journey. Tea/treats and community after if it feels right for you.
Our 2 hour session allows you to gently wade into the ocean of healing frequencies.
Level up your meditation with 2 continuous, mesmerizing hours of gongs to induce deep relaxation, meditation and healing. May NOT be suitable for beginners. If you're new to gong, you may want to try one of our shorter private or community events first but the decision is always yours as to what is best for you.
Questions? Just ask. We are happy to answer.
If you can't make this special immersion session, grab your friends and schedule your own extended session by contacting us. Learn more here: Private Group - Extended Sessions
For comparison, our private, 1 hour sessions are $120. For the this special price you can journey for 2 wonderful hours in a small group setting, with like-minded others, in our gong space in the foothills, just minutes from Fort Collins. We hope you can join us for this special session.
Release - Receive - Renew
Reported benefits of a gong session with us:
Aid in deep relaxation - greater stillness, contentment.
Be a gateway for those who feel resistant to meditation
Improve concentration and memory
Reduce anxiety and stress
Help move emotional & physical blockages
Stimulate altered states of consciousness
Relieve and reduce pain
Improve mood or negative emotions
Improve sleep quality
Improve self-image and motivation
Create clarity and balance
Enhance creativity and more
You are welcome here!
*Dogs on premises at THE GOLDEN HOUSE - Our rescue dogs, Yadi and Nova will happily greet you upon arrival and retreat to their space. They enjoy receiving The Gong and give it 2 paws up!
TERMS & CONDITIONS - By purchasing your tickets you confirm that you and any guests have read, understand and agree to the Terms, Conditions and Contraindications. Additional waivers may be required for this session.
DISCLAIMER
Energy work, Breath work, Gong Meditation do not diagnose, prescribe, treat or cure any diseases or condition - either physical or mental. Advice, information or instruction is not intended to be a substitute for professional, medical or psychological treatment and care. Patty Hayes/Rocky Mountain Gong Journeys LLC does not accept any liability for participant´s medical or psychiatric conditions, which may exist prior to or which may arise during, after or subsequent to any participation to any service offered. You understand and agree that you are fully responsible for your own wellbeing. We do take your welfare and wellbeing very seriously. Please make sure you read the medical information relating to Gong events and if you are unsure of whether to attend please speak to your medical practitioner/doctor.
LIMITATION OF LIABILITY
Attending classes in person or online, you release Patty Hayes/Rocky Mountain GongJourneys LLC from any and all damages that may result from such participation. You accept any and all risks, foreseeable and unforeseeable arising from such participation. You agree that Patty Hayes/Rocky Mountain Gong Journeys LLCwill not be held liable for any damages of any kind resulting or arising from including but not limited to - direct, indirect, incidental, special, negligent, consequential or exemplary damages happening from the use or misuse of online services. You agree that the use of services is at your own risk. Patty Hayes/Rocky Mountain Gong Journeys LLC has no liability for loss incurred by you whether financial or otherwise.
GONG MEDICAL CONTRAINDICATIONS
MAY NOT be suitable for pregnancy, people with pacemakers or other implants, those suffering from serious heart conditions, acute or serious mental health problems or those who may suffer from sound induced epilepsy. If you are in any doubt about your suitability to attend these sessions, please consult your medical practitioner for advice.
Patty Hayes/Rocky Mountain Gong Journeys LLC cannot access your suitability to participate. If you are in any doubt about your suitability to attend these sessions, please consult your medical practitioner for advice.
CANCELLATIONS
In the event of Rocky Mountain Gong Journeys LLC canceling an event – you will receive a refund. Eventbrite's Fee may not be refundable if you request a refund. NO refunds for no shows.
Meet your hosts
Patty is a former, well-known PSD teacher, Certified Sleep Science Coach, Certified Sound Healer, popular Certified Health & Life Coach, - CSU Family & Consumer Sciences Graduate.
A lifelong lover of learning and challenging her brain and body, She enjoys engaging with others on topics surrounding whole health and wellness.  She is an avid hiker, nature & dog lover and consumer of holistic health information, a partaker in self-inquiry and spiritual exploration, and an appreciator of the gifts that Earth and our Universe provide.  Patty sees The Gong as a gateway for those, like herself, who struggled with attaining deeply relaxing and enlightening meditative states.
Andrew is a life-time culinary master, well-known restaurateur and music aficionado. He enjoys gardening, fishing and relaxing with the guitar, uke or mandolin. A believer in the mystic, living with intention, and respecting the Earth and Cosmos he has awakened to connecting with his highest self and expanding consciousness for the greater good. For Andrew, The Gong allows him to tune into his heart and true essence and explore his spiritual core.
Patty and Andrew now truly live in abundance in the beautiful foothills of Fort Collins with their 2 rescued dogs, Yadi and Nova. They have 2 wonderful, grown daughters that inspire them everyday. Come journey with us!
Frequently asked questions