Foot-care packages for people with inflammatory arthritis - a New Zealand p...
Event Information
Location
Mary Seacole Building, MS 3.02,
Statham Street
M6 5ST
United Kingdom
Description
Dr Keith Rome is currently a Professor of Podiatry at AUT, New Zealand. With over 25 years of experience within education, his research focus is on long term chronic foot conditions, specifically in inflammatory arthritis. He collaborates with rheumatologists in New Zealand, USA, Singapore and the UK. Since 2009, he has been the Co-Director of the Health & Rehabilitation Research Institute in the Faculty of Health and Environmental Sciences. In 2008, Keith was awarded a fellowship from the Society of Podiatrists for his contribution to podiatric research. Keith has published over 100 peer-reviewed journal articles. Keith is currently supervising six PhD students in a range of projects relating to the foot and inflammatory arthritis. He has recently published a textbook 'Management of chronic conditions in the foot and lower leg." Keith is on the editorial board for Arthritis Care & Research, BMC Musculoskeletal Disorders and the Journal of Foot and Ankle Research.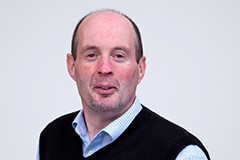 Date and Time
Location
Mary Seacole Building, MS 3.02,
Statham Street
M6 5ST
United Kingdom