Description
We're gathering at 3 of our favorite local restaurants and bars in East Harlem for a taco crawl you'll love. East Harlem is rich in quality food & culture, and we'd be doing a disservice by not showing you some of what they have to offer. Our goal with this meet up is to introduce you to the spots that we already love, in hopes that you'll keep going back for more. Plus stuff our faces with every great taco we can find. Costumes Optional!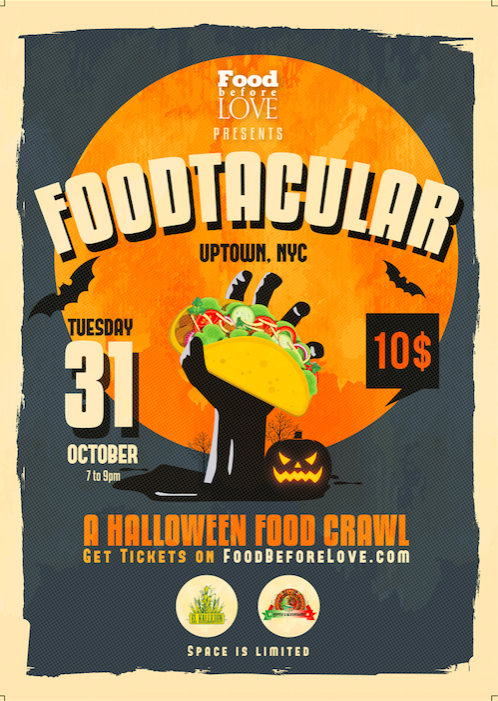 How We Crawl:
-We'll start at Lupitas, the first location to get everyone situated and then we'll be on our way. We will visit two locations to follow.
-We'll be spending about 30 minutes at each stop. It'll vary!
-Your host will have on her signature FBL Pin, get yours before the crawl http://bit.ly/FBLPIN or wear it if you have one!
Ground Rules:
-Check-in begins at 6:30pm — and space is limited.
-Come ready to eat.
-Wear warm clothes and comfortable shoes, we're gonna be active!
-Have some cash with you – this helps the night go easier and faster! (Suggest to bring $25-30)
-Bring a current state ID & MetroCard just in case
-As usual bring love & good spirits
*All Participating locations will be added shortly*
Lupita's:
Mix & Match Your tacos (Chorizo, Vegetable. Sensina Salty Beef)
2 Tacos + Mexican Soda for $10
Shrimp or Fish Tacos + Mexican Soda $12
Frozen Margaritas, Mojitos, Tequila Sunrise, Pina Coladas $6