FoodNiche Global Summit
One virtual summit you cannot afford to miss! Connect with the most remarkable minds in food connect, learn and share.
About this event
FoodNiche Summit brings together the most impactful leaders & the brightest minds in the food industry for thought provoking conversations on creating a healthier and sustainable food system. We are looking forward to another gathering of great minds shaping the future of food.
Visit summit site here>>gfhisummit.com
Our summits provide opportunities to:
- Join insightful conversation with forward thinkers and experts.
- Expand your network of powerful change agents in the food industry.
- Discover innovative brands redefining the future of food.
- Find collaborators or partners for the next level of success with your venture.
Join The Virtual Auditorium, For Engaging & Insightful Sessions On The Future Of Food.
All sessions are recorded and can be easily accessed on the platform for 30 days post summit.

Easily Navigate, Discover Brands & Ask Questions In The Virtual Lobby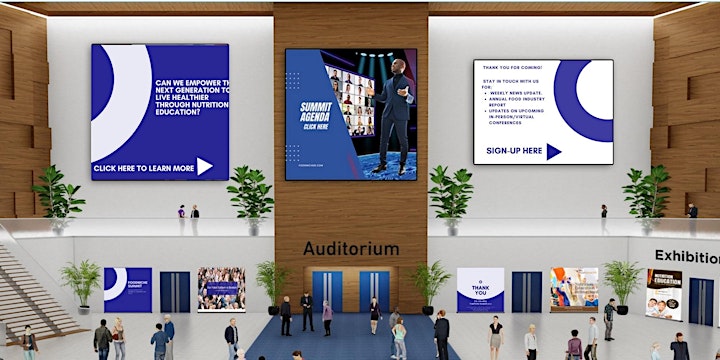 Over 20 speakers and 10 sessions it promises to be a day packed with insightful conversation and learning opportunities. Speakers at this conference includes:
Raymond M. Wheeler PhD: Senior scientist at NASA's Kennedy Space Center where he has led the advanced life support and plant research groups. Ray's research has focused on controlled environment crop production, including the use of recirculating hydroponics, crop responses to light, CO2, and measurements of canopy photosynthesis and respiration. Ray has been co-investigator or collaborator for experiments.
Anabelle Broadbent PhD- CEO Verde Ops, is an internationally renowned pathogenic food microbiologist, food/nutrition research scientist, biochemist, and food safety expert with over 35 years of experience working in government, private industry, and academia. She was the President and Chief Science Officer for Fusion Farms, a hurricane-protected indoor vertical aquaponic farm. She is currently the CEO of Verde Ops
Gioia Massa PhD- NASA scientist at Kennedy Space Center: is working on space crop production for the International Space Station and future exploration endeavors. She led the science team for the Veggie validation and she heads an interdisciplinary team to study nutrition, flavor, and food safety of space-grown crops.
Nona Yehia - CEO Vertical Harvest: Trained as an architect, Nona built Vertical Harvest from the ground up as North America's first vertical hydroponic greenhouse. She also pioneered the company to focus on inclusive, customized employment for people with physical and/or intellectual disabilities alongside her co-founder Caroline Croft-Estay. She conceived the company based on her experiences growing up with a brother with developmental disabilities, love of fresh and local food, obsession with great design and long-standing community involvement. And her organic connection to all aspects of the enterprise continues to fuel Nona's insight into the business and her dynamic leadership style
Alexander Gillett co-founder and CEO of HowGood, a SaaS data platform with the world's largest product sustainability database for the food and personal care industries. Since 2007, Alexander has guided HowGood's business trajectory, driving innovative partnerships with like-minded companies and organizations.
Maha Tahiri PhD - CEO Nutrition Sustainability Strategies. Dr. Tahiri is best known for developing game-changing strategies that translate science and technology into business opportunities. With deep knowledge of the global regulatory landscape, she anticipates and mitigates risk and creates competitive advantage to accelerate growth. Previously Maha was Chief Health and Wellness Officer at General Mills.
Paul Shapiro - CEO, Better Meat. Paul is the author of the national bestseller Clean Meat: How Growing Meat Without Animals Will Revolutionize Dinner and the World, a four-time TEDx speaker, and the host of the Business for Good Podcast.
David Benzaquen- CEO, Mission:Plant. David is one of the world's leading experts in the plant-based food industry. Among his experiences, he spent nearly a decade leading a corporate strategy consulting firm for plant-based consumer products, founded one of the first plant-based seafood companies, and has invested in a number of businesses in the space. David serves as an adviser with multiple food accelerators and venture capital funds and has spoken at conferences all over the world about the plant-based industry. He and his companies have been profiled in The New York Times, USA Today, Los Angeles Times, Fast Company, Wired, Inc, CNN and more.
With more than 20 speakers and more than 10 sessions the summit promises to be highly informative, a must for food industry professionals, entrepreneurs and investors.
Tickets prices are mainly to cover the cost of putting this event together. However we do not want price to deter people from participating. Students, interns can register using the student ticket tab or can email to inquire about scholarships by sending a message to connectteam@foodnicher.com. We also have discount codes available, please do not hesitate to reach out and share.