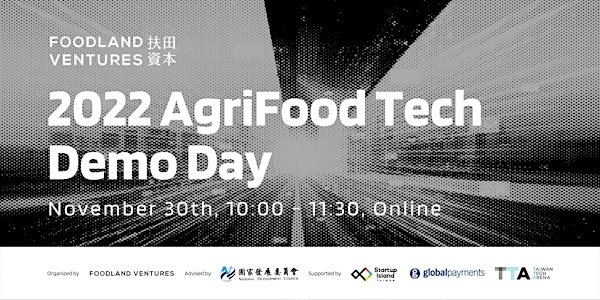 Foodland Ventures 2022 AgriFood Tech Virtual Demo Day
Join our AgriFood Tech Demo Day online. Learn about the latest AgriFood tech investment trends and connect with our startups on Nov 30th.
About this event
Foodland Ventures - 2022 AgriFood Tech Virtual Demo Day
-----《中文在下 Chinese Below》-----
Foodland Ventures' annual Demo Day is back! We'll be hosting the online event on Nov 30th, 10:00 AM Taipei Time (GMT +8), and it will be 100% virtual for you to join anywhere in the world.
▎Get to know our startups with their pitches, and connect with the teams.
This year, we're extending our reach to upper-stream teams in the supply chain. We'll be showcasing AgriFood Tech startups in the categories of #AlternativeProtein, #SmartAquaculture, #SmartPoultryFarming, #Circularity and #BioTech to present their innovative solutions. Also, we'll be joined by top-tier investors to share their insights on global investment trends in AgriFood Tech industry during our fireside chat session.
*Fireside chat speakers to be announced soon
▎Who shouldn't miss this event?
We welcome startup founders, VCs, CVCs, investors, entrepreneurs, food industry professionals and executives, restaurant chains' owners to engage and connect with our startups.
▎Date
November 30th .2022 (Wed) 10:00 AM - 11:30 AM (GMT+8)
▎Agenda
- 10:00-10:10 Opening
- 10:10-10:40 Startup Pitches
- 10:40-11:25 Fireside Chat
▎Showcasing Teams
1. Lypid
US-based Lypid is a pioneer in alternative protein solutions. Their signature product, PhytoFatTM, is a proprietary line of plant-based fats made from 97% vegan oils and water. It's a creamy, juicy animal fat analogue that is all-natural and trans fat-free.They've successfully commercialized their product and are now working with major food chains.
2. ID Water
ID Water has developed the world's first smart farming model that integrates water quality monitoring, AI data analysis and IoT automation technology. They are partnering with energy providers to create fishery and electricity symbiosis farms that would combine farming and photovoltaics, to increase efficiency and sustainability.
3. Calyx
Calyx's mission is to apply advanced bio-materials to create inexpensive and power-efficient sensors for the real-time detection and characterization of airborne chemical compounds. By leveraging genetic engineering and chemical modifications, Calyx has designed a highly sensitive and selective sensors for airborne chemicals, making poultry farming more efficient and sustainable.
4. Pullulo
Pullulo uses disruptive fermentation technology to upcycle fresh agriculture waste and bi-products from food industry to create highly nutritious, affordable and sustainable food. Pullulo's sustainable food can meet the fast-growing demands for food globally, and at the same time tackling food inflation and food security concerns.
5. BonchaBio
BonchaBio uses their deep understanding in biotech to create a revolutionary nutrient delivery system for supplements. Using nanotechnology, they're turning nutrition supplements into "candyceuticals," making it easy and joyful to for people to get the nutritions they need.
-----《中文在此》-----
臺灣第一個食農餐飲科技創業加速器與創投基金 扶田資本 Foodland Ventures ,年度食農餐飲科技 Demo Day 將於 11 月 30 日(週三)上午 10 點線上登場,想了解科技團隊如何解決食農餐飲供應鏈的產業挑戰,並掌握投資先機,立即報名參與!
▎透過新創 Pitch 了解最新科技,並鏈結團隊創辦人
今年,扶田資本擴及產業上游,實現「從產地到餐桌」的新創扶植與投資。此次 Demo Day 將邀請 #替代性蛋白、#智慧養殖、#智慧家禽畜牧、#永續循環以及 #生物科技 團隊向您介紹他們的創新科技。
另外,也將邀請國際投資人分享全球 #食農餐飲科技 投資趨勢。掌握產業新知及投資先機,您千萬不能錯過。
*論壇講者即將公開
▎誰不該錯過這場食農餐飲科技盛會?
誠摯邀請創業家、創投單位、天使投資人、企業投資單位、餐飲品牌經營者、媒體、新創生態圈等各界來賓共襄盛舉。
▎日期
11 月 30 (週三)上午 10:00 - 11:30 (台北時間)
▎議程
- 10:00-10:10 Opening
- 10:10-10:40 Startup Pitches
- 10:40-11:25 Fireside Chat
▎發表新創
1. Lypid 《植物性替代脂肪 讓植物肉更多汁好吃》
矽谷團隊 Lypid 獨家研發出的純植物油脂 PhytoFat™ 在質地、口感、風味傳遞、烹調表現皆完美重現動物脂肪水準。除了與全台 500 家路易莎、宇宙生煎合作,也即將在美國市場推出全新樣態革命性產品,近期更受邀至聯合國氣候峰會 COP27 分享。
2.艾滴科技 《AIoT智慧水產養殖 讓「蝦電共生」規模化》
艾滴科技致力於領導全球水產養殖業革新。透過研發創新,獨立開發出全球第一套整合水質監測、AI數據分析、IoT自動化設備技術的智慧養殖模式。結合太陽能發電,與能源商攜手打造漁電共生之綠能智慧養殖場。
3. Calyx 《畜牧氣體感測平台 智慧化提升家禽飼養效率》
Calyx 利用先進生物材料來製造高精度,高耐用和低成本的傳感器,用於實時監控和分析空氣中的化學成分。搭配團隊開發的"偵測網"系統和雲端監控及大數據智慧分析服務,除了有效的幫助家禽畜牧產業提升環境安全及生產效能,更能幫助客戶達成現有技術無法解決的應用需求。
4. Pullulo《植物性益生菌蛋白 永續生產提升營養價值》
來自新加坡的團隊 Pullulo 以升級回收來生產植物性益生菌蛋白質,使用顛覆性醱酵過剩農產品或產線副產品,以不造成任何污染環境的方式來生產世界上最實惠且富含氨基酸的的營養植物性益生菌蛋白質。團隊致力於滿足全球快速增長的食品需求,同時解決食品通脹和食品安全問題,讓植物肉更健康、更永續且更經濟。
5. BonchaBio 糖話生醫 《奈米技術將保健食品變身糖果 解決吞嚥困難》
BonchaBio 糖話生醫是一家具高度技術創新的生物科技公司,專注於提升保健食品的次世代先進劑型,透過奈米技術讓保健品攝取像吃糖果一樣愉快。不只賦予保健成分更友善的服用體驗,更進一步提高了機能活性的保留率及營養吸收率,讓保健品攝取更有效且更令人愉悅。
Foodland Ventures is the VC & accelerator investing in the new generation of food tech founders changing the global food industry with technology. With operations in Asia and North America, we leverage our partnership with leading F&B brands, industry partners, mentors, and investors. Helping startups fundraise effectively while growing their business.
臺灣第一個食農餐飲科技創業加速器與創投基金,由餐飲科技連續創業家與飲食產業專家等創立,專注於扶持顛覆性科技與餐飲產業共創成長,包含智慧農業、替代性食品、自動化機器、智慧供應鏈及軟硬體服務等專業領域。透過臺灣及北美營運據點,串接海內外科技新創協助導入餐飲企業,引領餐從產業到餐桌的創新發展。
*If you're interested in joining our VC & accelerator, please visit our website for more information: https://www.foodlandventures.com/accelerator